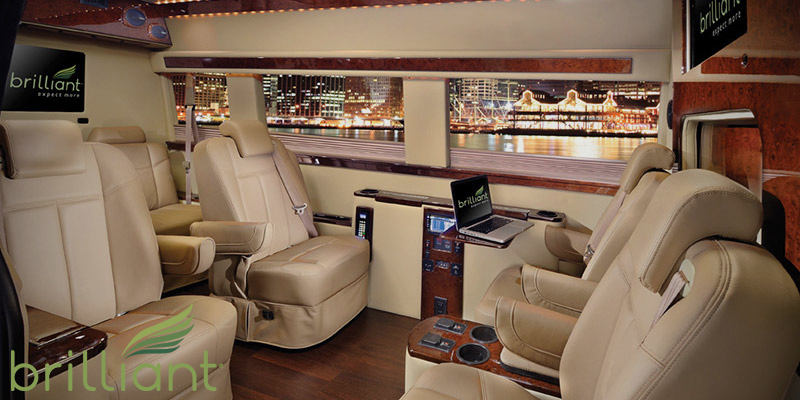 Chartering a limo from New Your City to Philadelphia is a popular route for Brilliant. Executives have realized the benefit of traveling in a mobile office to/from the city. You're probably looking for luxury chauffeured transportation because:
You need to travel comfortably to work/meetings
You need to remain productive in transit
Don't want to deal with Penn Station
To entertain clients


This is where we truly specialize. Our custom Mercedes Sprinter Vans are configured to replicate an office on the road.
How Much Does Limo Service From New York to Philadelphia Cost?
---
If you're just looking for one-way from Manhattan to Philadelphia then our flat rate is $1,030. However, chances are, you're looking for more customized travel - not just pick up, drop off.
Maybe you have a few destinations you need to be at in Philadelphia before you return to NYC. Maybe you need your breakfast already on-board in the morning and lunch after your meeting. The point is, we will provide you the most customized travel experience, guaranteed.
In order to accomplish this we need to learn more about your needs and then we can create solutions. As such, we're always available to give you a custom quote. Simply fill out the online quote form.


Imagine this:



You wake up and go through your typical morning routine.
Today you have a big meeting in Philadelphia and you've chosen a new way to travel there.
You open the front door and waiting for you is a custom Mercedes Sprinter Van accompanied by a Brilliant chauffeur to greet you.
You step into an office on wheels and find your favorite bagels already on-board.
Immediately, you pull out a stowaway desk and connect to wifi to go over your presentation and check the latest reports.
You turn on the TV so you can listen to news in the background.
After a seemingly quick trip you've arrived in Philadelphia more prepared than ever.
The meeting is a success but you need make a few more stops in Philly before heading back to NYC.
It's been a long day so on the way home you decide to close the privacy shades, recline in the leather captain's chair, and decompress.

Comparing this experience with the typical Amtrak experience is unparalleled. Brilliant's service has truly changed the way executives commute between cities. If this sounds like the type of experience you need to be successful then we'd be delighted to provide you with a custom quote. Simply fill out the online quote form.

We look forward to hearing from you soon!