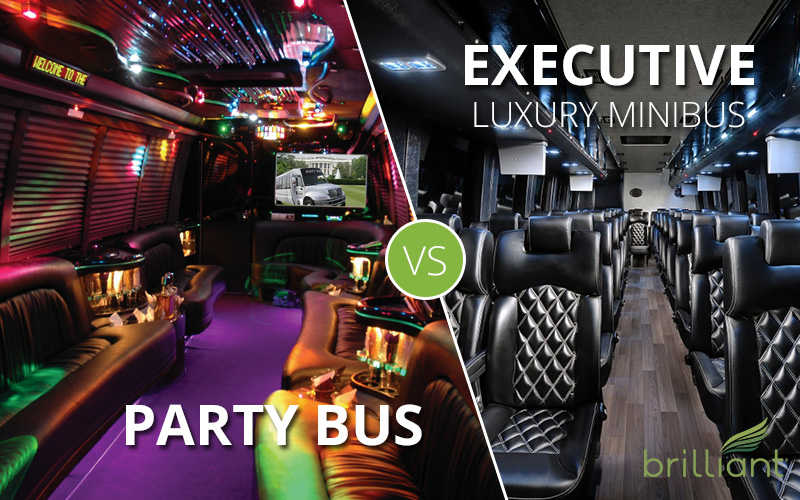 We get a lot of questions regarding our luxury minibuses and if they should be used as opposed to party buses for different types of events. Some people want a real party atmosphere when others want a luxury, leisure experience for their group during transportation without a dance club kind of atmosphere.
Which one is better depends on your specific needs. We've been able to compare and contrast the executive style luxury bus with the all-out party bus and we've narrowed it down to a few factors to consider when choosing which one to go with.
Things to Consider:
1. Budget
The first consideration, for most people, will be their budget. How much can you afford to spend? How much transportation you need depends on how many guests you need to move, and how far.
Some companies are more expensive than others. When it comes to getting a party bus or an executive mini bus, you're considering one of the more expensive vehicles in most fleets. So you may want to drop down and get a lesser expensive option if your budget is a limitation.
However, if you're looking for a certain type of experience during transit, getting one of these vehicles will definitely make an impact on your guests, either way you decide to go.
2. Dealing with the Right Company
There are many providers of transportation services, and you should call at least a couple different providers to compare their customer service and pricing. You'll want to find a company you feel comfortable working with and one that will provide the level and quality of service you are looking for.
Some companies may advertise a cheaper price up front while hiding a lot of fees. The way to make sure you're not going to be surprised by hidden fees is to get charges, and the factors for additional charges in writing up front.
Some companies may have great pricing, and no hidden fees but are horrible to work with. All of this can be determined before you book with a company. We recommend calling four or five different companies and, while you have them on the phone, let them know you're comparing them to other companies to find the best one. When companies know they're being graded, they tend to provide better customer service.
3. Desired Experience
The third consideration is what type of experience you would want to use for your upcoming event. It's this consideration where you decide on style and image. • What type of vehicle would look best at your event? • What type of atmosphere do you want to provide to your guests?
Obviously, a large 55 passenger coach arriving at your event will create quite a different impression than a fleet of stretch limousines or luxury vans.
Many people have had a personal experience using a party bus by having gone to prom or graduation or perhaps a bachelor party. In fact, for the transportation novice, the party bus may be the only impression they have of what a limousine ride should look and feel like. And for a certain niche, the party bus serves it purpose well.
They usually come equipped with a long or curving bench that runs the length of the vehicle, a stocked bar, gaudy lighting and lots of flashy surfaces with bright or busy patterning on the fabric lining or upholstery. Some may even come with a disco ball, or even a stripper pole is not unheard of! They also come in different sizes, like a passenger van or a larger mini-coach that can fit anywhere from 10 to 30 people.For loud and raucous parties where a lot of drinking is expected, especially for the 30 and under crowd, this could be a very good choice.
If you're planning a more sedate, upscale event, especially if it is a wedding or corporate event, then, you'll probably want to steer clear of this type of loud vehicle. Again, it really depends upon the type of tone you want to set for your party and what kind of guests you are expecting. There are many other luxurious vehicles you could choose from, particularly if you are dealing with a provider who specializes in executive or corporate transportation.
Conclusion
The basic rule of thumb is found in the name: A party bus is usually better for a loud-music, dancing kind of party atmosphere. An executive luxury minibus is commonly better for an upscale, classy sort of atmosphere for a cocktail party or business event.
We currently don't incorporate pure "Party Buses" in our fleet. However, we do provide a lot of our clients with our luxury executive minibuses, which fit their occasions very well. If you're interested in comparing prices you can get a quote here, which you can compare with other companies if you wish. Either way, each type of bus is bound to bring your event some good times, and a positive impression on your guests.