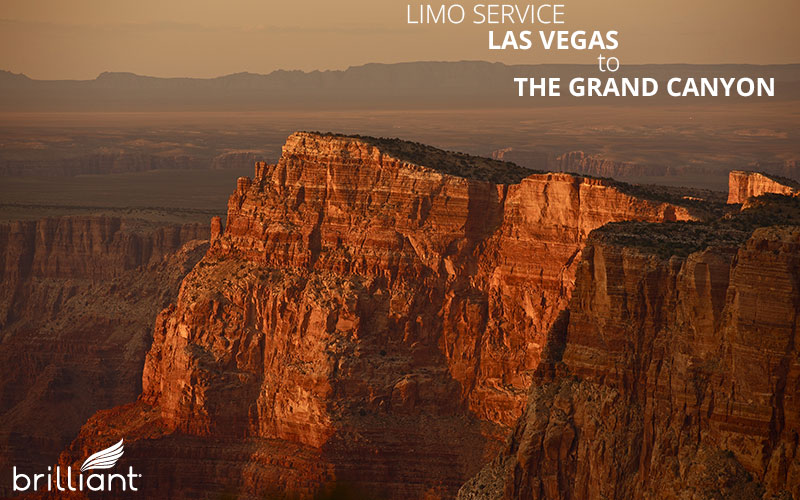 Las Vegas is famous for being the Sin City, where one can find all of the gambling, entertainment and all you can eat buffets that one could possibly want. However, what some people don't realize is that Las Vegas is also strategically located close by some of the America's top outdoor attractions. Places like Hoover Dam, Death Valley, the Grand Canyon and Zion National Park are all within a few hours' drive from the Strip.
As we are in the transportation business, many times potential customers have asked us about pricing to various destinations, including this one: "What is the price of limo service from Las Vegas to the Grand Canyon?"
There are a couple of different ways one could answer that question, and as we do so, I would like to lay out a couple of concepts about limousine pricing that should help you make a better informed decision next time you want to make a reservation.
Getting to the Grand Canyon by Limousine
Just to give you an idea of the distances involved, although The Grand Canyon may not look far from Vegas on a map, it is still almost 300 miles away by car, as there is no direct highway linking the two sites. It is roughly a 4 hour drive from Vegas. A round trip would take over 8 hours, even if you spend no time at your destination. It would make for a long day trip for a daily excursion; more relaxing would be to schedule at least one overnight at the Grand Canyon so you could spend more time exploring the area, maybe even going for a hike down the canyon walls.
Limousine Hourly Rates and Travel Time Charges
In terms of what this could cost, you need to first realize that limo companies charge by the hour, so at a minimum with a one way drop off at Grand Canyon National Park would require 8 hours of billing. Why is that you might ask, given that it would only take about 4 hours to drive the customer there from Las Vegas?
The reason for this is that limo companies charge for travel time and use garage to garage billing. What that means is that for a limousine charter, the clock starts as soon as the vehicle leaves it garage and it doesn't stop until that vehicle returns to the same location.
The travel time charged in this scenario would be the time it takes the limousine to travel back to its base or pick up point in Las Vegas after dropping off at The Grand Canyon. While this might seem surprising to travelers unaccustomed to limousine charters, the reasons for it are sound.
Limousine companies operate on a charter basis, meaning that all trips are pre-arranged. They are not out cruising the streets looking for new passengers like a taxi. When a limousine is out on a job, it must fully complete that job, meaning going back to its base to be cleaned, refueled and restocked, perhaps even a driver change before it can accept a new job. After dropping off the clients, limos can't just pick up another passenger on the fly and so it cannot be used by another passenger until the previous job is closed out. Due to its somewhat limited ability to accept new jobs, limo companies therefore charge clients for a round trip, even if the client is going one way.
Selecting the Right Style of Limo
So the time while the vehicle is in use is one of the major factors that will impact the cost of your limousine reservation. The other main factor is the type of vehicle you select, and consequently the number of passengers you have. Limo companies are used to transporting diverse numbers of passenger and could accommodate anywhere from 1 to 60 passengers in a single vehicle (the latter being a full sized motor coach), so the number of people in your party will definitely affect the type of vehicle you choose and the price.
To look at the smaller end of the spectrum, transporting 1-3 passengers which is pretty common, you could opt for a black car service. This is your entry level vehicle for a limousine service, typically a four-door Lincoln Town Car. In many cities, Las Vegas included, black car service usually starts at around $55 per hour and can go as high at $80 per hour. These are nice, comfortable cars, with the use of your own chauffeur being the main advantage. However, they don't offer much in terms of special features or outright luxury. In order to enjoy that you have to move upscale. The next choice would be to stick to the sedan format, but go with a more exclusive vehicle, like a Mercedes S-class sedan or an Audi A8. These lovely cars will set you back in the range of $80-$100 per hour.
If that's not big enough for you, you could always go with an SUV like a Cadillac Escalade or a Lincoln Navigator. These larger vehicles can hold up to 6 passengers and plenty of luggage. The rate for these vehicles is typically in the $80-$90 per hour range.
If you'd rather go in a traditional stretch limousine, which offers plenty of style and luxury, and which typically seat up to 8 passengers, that is also a good choice. Stretch pricing ranges from $70-$120 per hour for the most common vehicles.
Group Transportation to the Grand Canyon
For small groups, if you need to transport up to 15 passengers, a passenger van would be your best option. These vans, very similar to what you'd see as an airport shuttle are great for small group tourist excursions, to places like the Grand Canyon. They are relatively inexpensive too, at just $65-$75 per hour in most cases. There are no frills here though, just basic transportation. For groups of 20-40 passenger, a minibus or limo bus is your best option. The prices range there from $150-$300 per hour, depending upon the number of seats.
Lastly, let's not forget the premium category, reserved for exotic vehicles like Rolls Royces, or decked out luxury vans that offer every convenience. For this category prices start in $150-$200 per hour range, and can go even higher.
The Brilliant Option
For premium luxury, one option you'll want to consider is using one of Brilliant Transportation's Mercedes Sprinter luxury vans. These vans have every comfort and convenience you'd want on a long road trip. The interior is more like that of a private jet than a regular van and it also offers 6'3" headroom and room to walk around while you are underway.
Leather covered, reclining captains chairs will envelop the passengers in total comfort while they enjoy 185 channels of DirecTV on our 2 large flat screen TVs or chat with their fellow passengers, or just enjoy the view. The vehicle also comes with a mini-fridge and wet bar, a Sony Playstation, a teleconferencing phone and WiFi is standard.
Brilliant Transportation can provide limo service to Las Vegas or the Grand Canyon from Los Angeles and we can fit 7-8 passengers in our luxury van, or up to 14 in our Mercedes Sprinter passenger van as well.
With our premium pricing and exclusive vans, we understand that we won't fit the bill for every customer who comes our way. But if it's not right for you, there are many other competent limousine companies who would be happy to assist you.
However when you know you need the best in luxury, convenience and customer service, don't hesitate to contact Brilliant Transportation for a custom quote for your upcoming trip at 1-800-543-1001.