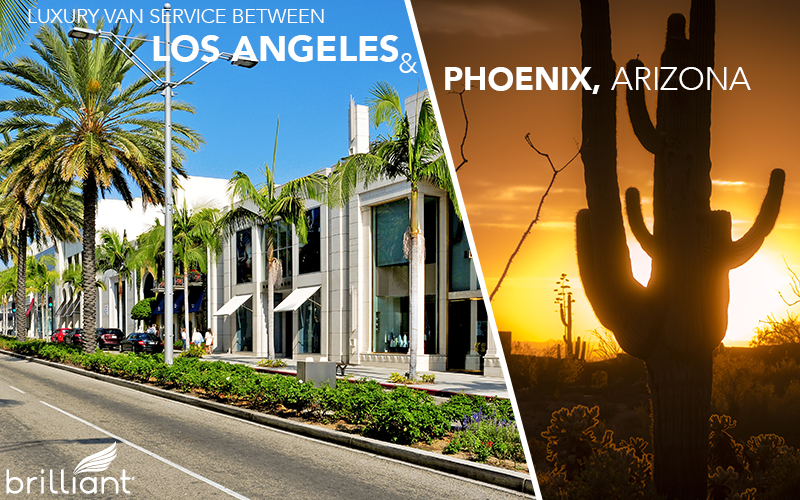 The Valley of the Sun is what they call the region surrounding Phoenix, Arizona. These words usually conjure up the image of heat waves rising off the asphalt in summer for me, but for our Midwestern snowbirds, there's nothing more more exciting those brilliant clear and warm days Phoenix gets in wintertime.
There's no doubt Phoenix is hot though, even hotter than Las Vegas in the summer. Winter is my favorite time to visit Phoenix, and it offers an abundance of outdoor recreation from golfing, swimming, hiking, horseback riding and mountain biking in the lovely local mountains.
Every so often we are asked to take long road trip with our clients, going from state to state. On the East Coast this isn't as big a deal as it is out West where the distances are much greater!
Many times customers have asked us what a limo van service might cost going from Los Angeles to Phoenix? Actually a vehicle trip to Phoenix isn't as bad as it sounds. The distance is 370 miles one way, or about a five and half hour drive with minimal traffic. It is actually farther to drive from L.A. to Lake Tahoe.
The Cost of Luxury Van Service LA to Phoenix
In terms of what such a trip might cost, there are various factors you have to consider, especially because there are many different ways you to arrange this trip. I will give you an idea of cost, but the main point of the blog is to help you become familiar with limo billing practices so that you have a leg up when it comes time to make your reservation.
Hourly Billing and Paying For Travel Time
The most important thing to understand about limo billing is that the price is hourly. The more hours or fraction thereof you use the vehicle for, the more costly it will be. The other two factors to consider are what type and quality of vehicle do you want to use, and how many people do you need to transport? Limo van service companies won't charge you per head but the the hourly rate will be higher for the larger vehicles, dependent upon how many passengers they can hold.
For a long road trip to Phoenix, one factor you will have to contend with is travel time. Limo companies charge for services from garage to garage, meaning that the clock starts as soon as the van leaves it base and the clock doesn't stop until the van returns to the shop. What this means for a long distance, one-way trip for the passenger is that he or she will be billed for the empty return portion of the trip home, also known as the dead leg. It is basically a round trip for the vehicle and it is the return portion that is billed as 'travel time', using the regularly hourly rates. For a five and half to six and half hour outbound trip, depending on traffic, that means a possible 13 hour billable trip.
Now if you were to book a multi-day reservation with overnight stays (something that Brilliant but not all limo companies will do), the clock won't run 24 hours a day, but rather a minimum number of hours will be agreed upon for each day. Any excess service time will simply be billed as additional hours.
The reason for garage to garage pricing in the industry is that limo trips are by law pre-arranged charters with a single party. There is no schedule for limousine trips, they happen randomly based on customer need. So there's no real way to pick up an extra fare on your way home from wherever. If a client plans on taking a van limo over 300 miles outside of its service area, that vehicle is unavailable for the next customer until it returns home. That is why the customer must pay for travel time, because the vehicle is still being used for the customer's convenience until the current trip is concluded with a return to base.
Vehicles and Prices in Los Angeles
The next main factor that impacts the cost of your luxury van service is the type of vehicle you rent. As I mentioned before, this choice will depend on how many people are in your party. If it's no more than 3 passengers, then the most economical option is to go with a black car service. That would be a standard 4 door executive sedan, typically a Lincoln Town Car or something similar. This is your entry level 'limousine.'
Cost on the West Coast for this type of service generally starts in the $55 per hour to $75 per hour range. If you need a fancier vehicle but wish to stick with a sedan, your next option would be to go with a European import, like a Mercedes or Audi sedan. These are slightly more expensive, usually going for around $75-$95 per hour.
If you need more seats, up to 6 passengers your best option could be going with an SUV like a Cadillac Escalade or a Chevy Suburban. Prices in this class generally go for $75-$95 per hour also. If you have a small group up to 15 people, your best option would be to go with a 14/15 passenger van, usually a Ford or Chevy for around $65-$75 per hour. For the largest and best vehicle in this class, the Mercedes Benz Sprinter minibus (14 passenger), rates can go as high as $165 per hour.
Not to be left out, there is also the old standard, a stretch limousine, usually based on the Lincoln Town Car. These vehicles are fun to rent and provide a lot of luxury features you won't find in a standard SUV or sedan. They're not typically used for intercity transfers, but they can be quite comfortable on long road trips. Rates vary according to vehicle specifications, as there are so many custom vehicles in this category. Rates generally start at $70 per hour and can go as high as $150 per hour.
For the very high end traveler there are also more options, in what I call the premium category. Here you will find the most expensive and desirable vehicles as well as top notch customer service. Rates for the premium category start around $150 per hour and can go as high as $300 per hour. Vehicle selection might comprise something like a Rolls Royce, Maybach, or very high end Mercedes luxury van.
Premium Passenger Van Services
We are luxury van transportation experts covering high end travel for the most discerning of clients. Our peerless fleet of custom converted Mercedes Sprinter vans will put other fleets to shame. The interior of our luxury vans are more like private jets than a simple passenger van, with as many amenities and features as offered in first class air travel.
I think our service is actually better than first class air travel because you have the privacy of your own vehicle with your traveling companions. No need to share a space with strangers when you're paying top dollar. Our vans feature 6'3" headroom, reclining captains chairs with fold out desks, lights and outlets, and plenty of leather and wood used throughout the cabin. The vans also feature satellite TV with large flat screens, Playstations, teleconferencing equipment, WiFi, a premium sound system, and plenty of elbow room. There is no better way to travel on land.
Rates for these exclusive vehicles are are $225 per hour. So for a trip to Phoenix, with an 11 hour round trip, it would come out to approximately $2,475. It is a premium price, but you couldn't get 7 first class plane tickets for the same amount. So for a certain group, it is definitely a great way to travel.
We understand that our fleet and our pricing structure cannot accommodate most travelers. But we are not interesting in competing with Greyhound. Our clients expect the best and are willing to pay for it as well.
If you think that our 7 passenger Brilliant Van could be the ideal travel solution for your next trip from Los Angeles to Arizona, or any other points in between, give Brilliant a call at 1-800-543-1001 to get a custom quote. We'd be happy to be of service to you.