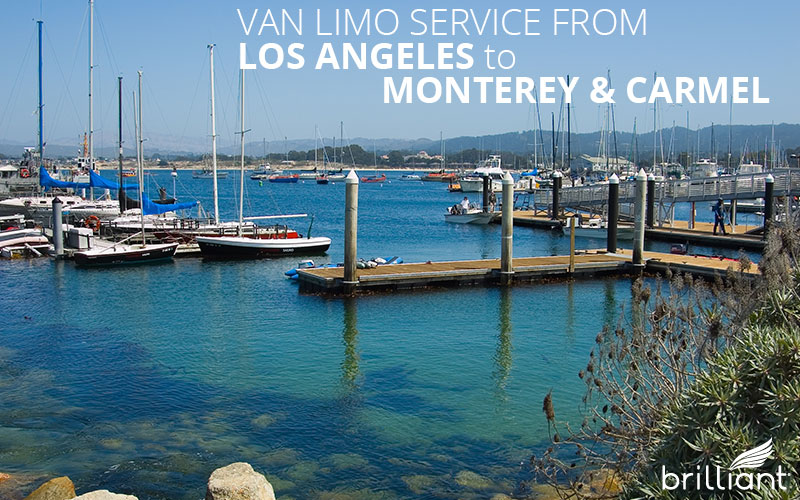 Carmel is one the most scenic small towns in America and definitely a hit with tourists traveling through California, especially those keen on golfing. When you combine a stop in Carmel with a visit to Monterey and the Monterey Peninsula, and particularly the Monterey Bay Aquarium, then you have a pretty full itinerary!
Being in the executive transportation business, many times we have fielded questions about the price of limo service from Los Angeles to Monterey/Carmel. Since there are many different ways you could accomplish this trip, I think it would be worthwhile to review a few facts about limousine service and pricing so that you have greater confidence next time you make a reservation.
Limo Service to Monterey and Carmel
The drive from Los Angeles to Carmel is over 300 miles and takes around 5-6 hours to get there. There are a couple of different ways you could go. The quickest way is to take I-5 to Hwy 46, cutting over by Paso Robles to the US 101, then on to Salinas and then heading west on Hwy 68 all the way to the ocean. With no traffic delays or other stops, that route should take no longer than 5 hours. Alternatively, you could take US 101 all the way from Los Angeles to Salinas. This routing is a few more miles and would add about 30 minutes to your trip, but it is also a much more scenic route, taking you up the coast through Ventura County and into Santa Barbara and San Luis Obispo, which are also great places to stop for lunch or dinner.
For the leisurely traveler, there also exists a great scenic option as well, traveling up the Central Coast on CA 1, which is one of the most famous scenic drives in the world. The route is great for photography and also takes you by Hearst Castle and Big Sur, both of which make for terrific stops.
Hourly Pricing and Travel Time
In terms of cost, in general you should know that limousine companies charge by the hour, and all rates will be based on the amount of time it takes to complete this trip. Hourly rates vary by the type and quality of the vehicle you select, also the size in terms of how many passengers a vehicle can accommodate will influence the hourly rate. The larger the vehicle and the more passengers it can hold, the higher your hourly rate will be.
Another important concept to understand when dealing with long distance, one-way transfers is the that of travel time. Travel time is what is charged to get a vehicle to or from a pick up or drop off location when it is far away from its base. The reason for this is that industry wide, limousine companies will charge you "garage to garage." What that means is that the meter starts running as soon as the vehicle leaves the garage and continues until the vehicle returns to that same location.
So for a trip to Carmel or Monterey, which is a 5 hour drive from Los Angeles at a minimum, it will take the vehicle another 5 hours to return to base if your trip is only one way and the vehicle is returning empty.
This does increase the cost of your limo trip greatly, but limousine operators would have a hard time operating without that extra margin.
The reason for this is that limousine service is not like taxi service. We can't just pick up extra passengers along the way back as limousine trips are pre-planned charters. If a client's trip takes a limousine vehicle 5 hours outside of its service area, the vehicle can't possibly accept another trip until it returns to its home base, plus the fact that the limo has to be cleaned and restocked as well as a driver change carried out, as drivers aren't allowed to drive more than 10 hours in a day.
The other major factor impacting your price will be the type of vehicle you select and the quality of the company you hire. Although the industry has a price floor, like many other product categories, limousine companies can range from high end to low, and generally the higher cost one will afford you a higher, more personal level of service as well as better vehicles.
Vehicle Sizes and Typical Rates
In terms of your entry level cost level, a black car service featuring a Lincoln Town Car or something along those lines would be the most economical. The biggest limitation here is size; a four door sedan will only hold 3 extra passengers and so much luggage. Town Cars are nice and comfortable but don't offer much in the way of extra features or real style. Prices generally range in the $55-$75 per hour range for these vehicles. If you only need a sedan but want something more exclusive, most limo companies can also offer you a luxury import like a Mercedes, Audi or BMW sedan. The cost for vehicles like these would be in the $75-$95 per hour range.
If you need something a bit bigger, your next best option would be to opt for SUV service in something like a Cadillac Escalade. These larger vehicles have more room and can hold up to 6 passengers and their luggage. For a small group up to 15 passengers, a vehicle like a Ford or Chevy van would be standard in the category and usually go for $65-$75 for hour.
If you're looking for traditional luxury, you always have the option of going with a traditional stretch limo as well. These cars, though not as popular as they used to be given all the newer choices, offer a lot of style and comfort as well as premium luxury features like a bar or satellite TV. Since styles and features vary dramatically, the price range is larger too, anywhere from $75-$120 per hour for these vehicles. Standard seating arrangements will usually accommodate 4-8 people.
Premium Limo Van Service
Last but not least is the premium luxury category in limousines; this category includes specialty and exotic vehicles like Rolls Royces or Maybachs, and also include the emerging category of luxury vans. Prices in this area start around $150-$200 per hour and can even go higher.
Brilliant Transportation specializes in executive luxury van transportation, with a dedicated fleet of Mercedes Benz Sprinters on both coasts. Our vans, which come in 7, 9 and 14 passenger configurations, offer the most luxury and special features that you can find on the road today. The interior of these van are more like that of a private jet than your typical passenger van.
These tall vans offer 6'3" worth of headroom and plenty of space to move around during a drive if you need it. They also come with rich leather captains chairs with extending footrests and reclining backs. Each seat also has a stowable desk, as well as a light and outlet for plugging in your equipment. The interior set up makes it easy to use the van as a productive space or a mobile lounge with it 2 large flat screens, DirecTV, satellite radio and standard WiFi.
Brilliant's rate to Monterey is based on a 9 hour round trip (the quick route) and costs $1,995, which works out to our hourly rate of $225. This is a premium price for an exclusive, premium product and we understand it might not work with everyone's budget. But we are not trying to be all things to all people; we simply want to provide the finest in private transportation for those discerning clients who are willing to afford the best.
There are many other fine limousines service that could offer this trip as well, albeit with their own different vehicles. However, when you're faced with an occasion when only the best will do, contact Brilliant Transportation to arrange your next private luxury tour up north at 1-800-543-1001.