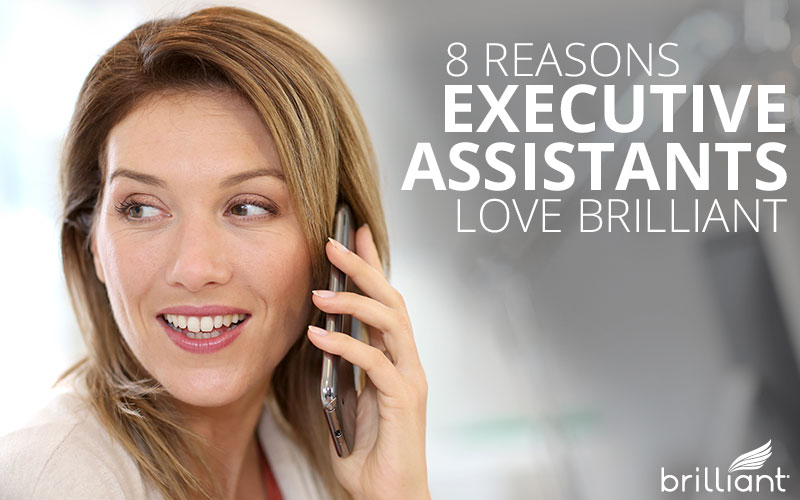 Executive Assistants choose Brilliant Transportation because when the chips are down, Brilliant always comes through for them. We get their bosses and VIPs where they need to go, on schedule, and in supreme comfort and style.
That's a good place to start! But in order to make sure that they are pleasing their boss, executive assistants need to be able to trust the company they are hiring, and know that they will do a good job. There are many factors involved in preparing for trip as well as running an efficient transportation company overall. We'll explore some of the factors in this post.
So, why do executive assistants love using Brilliant Transportation? Let me count the ways…
8 Reasons EA's Love Brilliant Transportation
1. Outstanding On-Time Record and Reliability.
We're never late, because we leave early. If we can't take the time to show up to your location at least 15 minutes before the schedule pick up, how can we expected to make your deadlines on time? The best chauffeur is a prepared chauffeur, so they look at the route carefully before leaving, to make sure no traffic or weather or road work situations will interfere with your carefully laid plans.
As a matter of fact, we pride ourselves in being reliable. We do our best to take the stress of getting the job done right upon ourselves. This includes proactive communication, and making sure every detail is covered, the the drivers are on time and the vehicles are spotlessly clean. We've even written an article about the benefits of developing relationships with vendors you can rely on: Stop Doing What You Pay Others To Do: How To Be A More Efficient Executive Assistant.
2. 5-Star Customer Service.
Unlike some companies, we're happy to hear from you and we want to make sure your trip experience is pleasant and non-taxing from the moment you pick up the phone. We'll double check your reservation to make sure no detail gets missed or misrepresented. If you have any special requests or would just like some advice and information about planning your trip or event, we'll take whatever time we need with you to make sure you get what you want.
3. The Best Luxury Vehicles On the Road.
People come to us when they're looking for uncompromising luxury. They want the best, so they come to us to get it. Our custom converted luxury Sprinter fleet is like having a fleet of corporate jets on wheels. No amenities or comforts that you could hope for on a road trip is missing.
Many companies will say they offer luxury vans, but what they're usually offering is a standard passenger van with leather seating, and perhaps some optional equipment. But our vehicles broke the mold. They are fully customized, luxury vehicles offering extra space, full connectivity and productivity features (like desks and WiFi), complete entertainment packages (satellite TV and radio, DVDs, Playstations, conferencing phones, etc). Like I said, this van cabins have more in common with corporate jets than they do with a regular van.
4. We're Event Transportation Specialists
Are you planning the corporate event of the season? Do you need 20 or more Sprinter Vans or larger buses to provide group transport for your next big corporate event. No worries, we've handled all this and more before and we can do it again for you, even though we're just a small company. We have even done off-shore weddings, where we had to transport our clients in luxury vans on ferry boats to get to a private island! No logistical or event scenario is too complicated for us to handle.
5. Turning Travel Time Into Productive Time
Too many times business travelers chalk up travel time as lost productive time. When you're crowded in a vehicle, like stuck between two occupied seats in coach class, or bouncing around in a sedan, it can be hard to focus on work. There's nowhere to place your laptop, or plug it in. Well, Brilliant Transportation and their luxury vans have solved this problem for you. Our luxury vans and buses are configured like mobile offices, and we have your productivity needs foremost in our minds.
In one of our luxury vans, you'll have your own comfortable leather captain's chair, with a stowable desk you can work on. You'll also have household outlets to plug your laptop or portable electronics into, an individual reading light, storage space and on-board WiFi. Plus the biggest luxury of all, plenty of elbow room and privacy in your own privately chauffeured van. No crying babies to worry about here, unless you bring one of your own!
6. Attention to Details Most Companies Ignore
Would you like some on-board catering to go with your road trip? No problem, we can arrange a boxed lunch or dinner with wine while you travel with us in our vans. What other limo company even offers this option? None that I can think of! Or perhaps for your wedding or corporate event you want the drivers to wear a special uniform, or place certain logos or decorations on our vans. Whatever special request you have, we'll accommodate it within reason. Other limo companies hate dealing with special request, it's just a lot of extra work and time that doesn't really add to the bottom line. But at Brilliant Transportation, we're concerned with more than the bottom line: the customer experience is what really counts. So we'll do whatever we can to make your special day truly special.
7. Corporate Flexibility and Transportation Solution Planning
Need a medium to long term solution to your company's transportation situation? We can set up a custom operation for you that's just like having an in-house transportation company. Maybe you would like to lease one our special vans for 6 months, or 12 months. Unlike other companies that might say, we don't do business that way, we'll find a way to make it happen. Many vendors don't have the flexibility to offer long term leases on vehicles and drivers for extended projects, or perhaps you want help purchasing and customizing your own special vehicles. We can work with you on those long term goals and come up with satisfactory solution. We don't just provide transportation by the hour, but we aim to serve your executive transportation needs over the long term. We love being able to forge long term relationships with our clients, taking them from success to success. We hope we're a company you can grow old with.
8. Outstanding Safety, Client Tracking and Hospitality Training.
In addition to doing all the things we're supposed to do as a limousine service, we do that and much more, offering bespoke transportation services that is more akin to 5 star hotel hospitality than your average limousine service. Since we're a transportation company, we have to focus on safety as much as we do hospitality, but we believe in offering clients the entire package. Our reservation staff and chauffeurs are trained to the highest professional standards, so that we can provide consistently excellent service over the life our relationship with you.
We keep track of our clients' requests and profiles, so that when you call to book a trip, we already know which movies you or TV show you like to watch, which beverages you like and what particular routes you prefer taking. Once you've been with us once, coming back is like working with an old friend. That's service you can take to the bank!