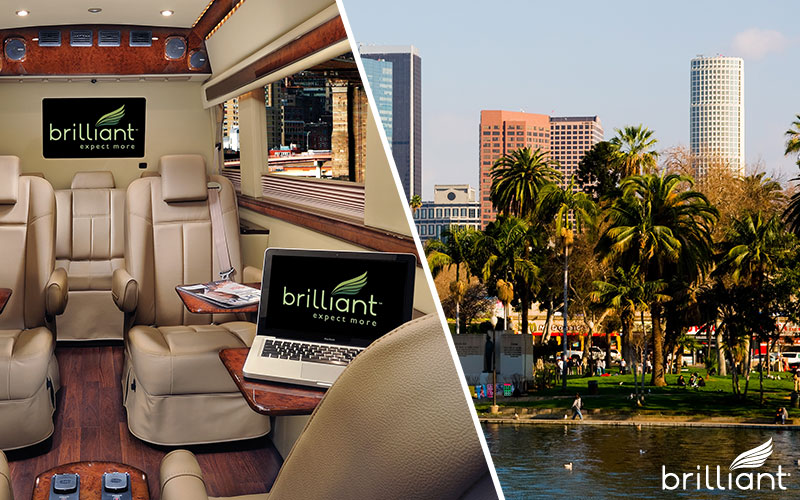 For tourists and business people alike, Los Angeles can be a great city to visit, with it's lovely outdoor attractions and world leading media industries, there's no shortage of things to do both during and after business.
Many times potential customers have asked us about prices for limo service for multiple days. Brilliant Transportation handles multi-day reservations all the time. Most often our clients may only use for a day or an evening, but when you have a week long itinerary here in Los Angeles, sometimes there's no getting around the fact that you may need a vehicle and driver at your disposal for several days in a row. That is the type of customer we love to serve.
Limo Services and Hourly Pricing
To help you understand what such a reservation might cost, it helps to review some key concepts in limousine pricing. The first thing to know is that limousine companies charge by the hour. However many hours you use the vehicle for over however many days times the hourly rate would be your approximate cost for a multi-day reservation.
Some companies may offer a discounted rate for rentals after a certain amount of hours per day or per week, but it really depends upon the operator. Other firms, like Brilliant, stick to their hourly rate, regardless of the total hours booked. That is for retail work however. For contract jobs, which would entail several weeks or months of dedicated service on a defined project, these jobs are usually negotiated as a package and the customer has the most leverage in this situation to ask for discounts. In the context of guaranteed work over several months, this is often worth the discounted price for the transportation vendor.
Most limo companies will also charge you a minimum number of hours per day or per reservation. Mostly commonly it is set at a minimum of three hours, sometimes you see a two hour minimum.
The way companies bill this minimum time is done differently depending upon the firm. Some may allow you to use the minimum towards your total daily usage, if you are doing several pick ups/drop offs timed throughout the day, while others like Brilliant Transportation will charge you the minimum for every garage out. In that case, if you are using the vehicle for less than 6 hours per day, it would be more economical to keep the vehicle for a solid block of time, as opposed to several separate point to point transfers, which will incur the minimum.
Other clients may choose to use the vehicle continuously for multiple hours for an 'As Directed' trip, in which case it is very simply to calculate the costs; it is simply the number of hours times the hourly rate.
Billings gets more complicated if you decide to do several, distinct trips or transfers throughout the day, because as long as the limousine has to come back to base in between trips, it requires a new reservation and a new minimum.
Once the clock stops on a trip, usually the reservation is over. Limo companies don't like to start and stop the clock for clients to make their appointments because it ties up the vehicles for the day and there's no revenue. Unlike taxi service, the customer has to pay for the convenience of having a chauffeur wait around for the next trip. That's part of the luxury of having limousine service; it is ready and on site exactly when you need it! If that doesn't work for you, then you should call a cab!
Paying for Travel Time
Other factors to consider when pricing a limousine service is the concept of travel time or garage to garage pricing. If you are taking an out of town trip during your multi-day reservation, the limousine company will charge you travel time for the return trip if the vehicle is coming back empty. Usually travel time, or wait time, is billed at the same rate as hourly.
Like the taxi comparison I mentioned earlier regarding minimums, if a vehicle is coming back empty from an out of town trip, it can't be used on another reservation until it returns to base and is cleaned, which is why the client would pay for this time usage. Of course, if the client is returning with the vehicle, travel time is not the issue. You are simply paying the regular hourly rate again.
Vehicle Size, Selection and Rental Rates
The other major factor that will determine the price on your multi-day reservation beyond time is the type and number of vehicles you select. This is also where the number passengers comes into play because bigger, larger passenger count vehicles come with higher hourly costs and bigger minimums. This makes sense because it costs much more to operate a large bus than it does a sedan. Group transportation is really a separate topic however, so for the purposes of this blog, we'll just stick to a single vehicle reservation.
Vehicle hourly rates go from low to high based on the size and exclusivity or luxury of the vehicle. At the low end of the scale is a black car service, usually a Lincoln Town Car. This would be appropriate size for no more than 3 passengers. Town Car rate generally start at $55 per hour and range up to $75 per hour. A more exclusive sedan, like a Mercedes or Audi sedan would cost slightly more, in the range of $75-$95 per hour.
For up to 6 people you could also choose to go with an SUV which is also a good choice if you're bringing lots of luggage. Frequently the vehicle choice will be a Cadillac Escalade or Chevy Suburban. Price is likely to be in the $80-$90 per hour range. For larger groups up to 15 people you could opt for a standard 15 or 14 passenger van, rates for these are generally in $65-$75 per hour range. One exception is the Mercedes Sprinter 14 passenger vans. These are larger, taller and more comfortable than your Ford Econoline. Expect rates for the Mercedes in the $80-$150 per range.
Premium Luxury and Brilliant Sprinter Limos
Finally we reach the premium category for our high end travelers. In this segment you'll find exotic and specialty vehicles like a Rolls Royce sedan or a tricked out luxury van.
Speaking of luxury vans, Brilliant Transportation has fleet in Southern California of the finest custom converted luxury vans in the nation. Using exclusively the Mercedes Benz Sprinter vehicles, these luxury vans are more akin to traveling in a private jet than a normal passenger van. In Los Angeles we offer the 7 passenger model which offers leather captains chairs, 6'3" headroom, hardwood floors, privacy shades, tinted windows (of course) and a plethora of the latest in entertainment and connectivity hardware, including 2 large flat screen TVs featuring 185 channels of DirecTV.
After spending a full week traveling around in one of these vans, you'll have a hard time getting used to riding in anything else! Indeed you'll feel like a king or queen being driven around in one of these coaches, which is why they are a regular favorite of our many celebrity clients here in L.A. In fact, you never know what famous actor might have sat right where you are the day before!
The cost for use of one of these very exclusive vehicles is $225 per hour with a 3 hour minimum. We understand that this price range is beyond the reach of the average traveler, which is why I provided you with average rates of other vehicle types above so you can find something that works best for you.
Of course, if you're in the super premium market and you know only the best will do for you or your clients, well you know who to call. Brilliant Transportation is standing by at 1-800-543-1001 to help plan your next trip in L.A. and make it something extraordinary!