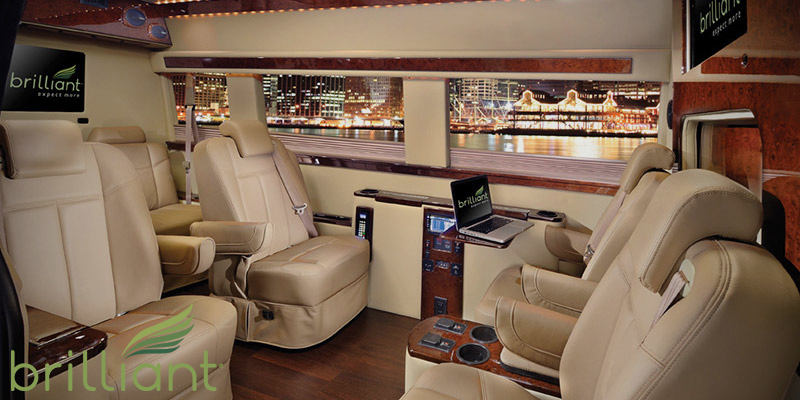 Chartering a limo for an entire day is quite common here in New York City. You're probably looking for luxury chauffeured transportation because:
You have multiple destinations throughout the day and need stand-by service
You're entertaining clients

You simply want to enjoy NYC in the best way possible
Well, you're in the right place. However, rather than filling our fleet with standard stretch limos we specialize in a better way of travel, custom Mercedes Sprinter Vans.
Renting a Limo for a Whole Day in New York (Cost and Price Information)
---
We use custom pricing for every charter. But the fact that you're searching for all day chauffeured service in NYC is enough to tell me that you'll need custom service.
What I can tell you is we charge $250 per hour, but there are all types of variables that determine the final price.
The good news is we're always available to provide you with quick and painless quotes. Simply fill out the online request a quote form and we'll send a quote directly to your inbox (we will be in touch to gather more details). You'll find that our team is dedicated to providing you the experience you desire.
Imagine this:
Your family has made the trip to NYC to see the sights and enjoy all the city has to offer.
You head downstairs at the hotel to find a custom Mercedes Sprinter Van waiting for you accompanied by a Brilliant chauffeur.
He helps all the elderly members into the van and goes over the itinerary for the day.
Inside you find the authentic NYC bagel platter you requested.
As you're enjoying breakfast the driver takes the family through Times Square offering amazing panoramic views.
First stop, the Metropolitan Museum of Art.
The driver again helps the elderly members out of the van and kindly reminds you that he will be waiting outside for your return.
After exploring one of the greatest museums in the world you step back into one of the greatest vehicles in the world.
As the day continues you can't help but to think of all the great family time you're enjoying that's made possible by such brilliant service.
If this is the experience you're envisioning then it would be our pleasure to provide you a custom quote right now. Simply fill out the online quote form.
We look forward to hearing from you soon!