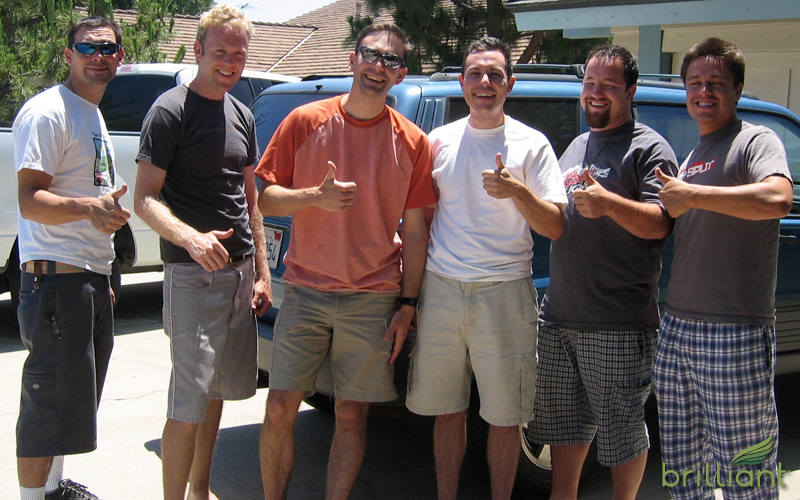 Weddings can be stressful events to plan and organize. Always so many details to attend to, vendors to pay and important deadlines to be met. However, there's one tradition that is a lot more fun to plan and enjoy: the Bachelor Party! This is the chance for the groom and his best buddies to let their hair down and rekindle some of that lost glory before the "Until death do you part" part.
In any case, it can be worthwhile to make it a memorable experience because whether your future union lasts a couple years or a lifetime, how many times in your life will you be privileged to walk down the aisle with someone? If you're like most people the answer is not that many.
Now bachelor parties can vary greatly in terms of quality and expense, just like weddings do. On the simple end of things, it could be basic as celebrating for a couple hours with friends at your local watering hole, or for the elaborate it could involve a trip out of town with many friends and the additional expense of hotel rooms, bar and restaurants tabs, entertainment venues, and many other related expenses. How you choose to celebrate is really up to the individual and amount of money they plan on spending.
Finding the Best Limo Service for your Bachelor Party in NYC
Whether your occasion is relatively simple or very elaborate, chances are you have considered renting a limousine for your special night out, celebrating you. And many limo companies look forward to the business of catering to your needs. Depending on how much you have budgeted for your party, I would recommend matching the level of limousine service to the size of budget you have reserved for the event. if you are planning to put on a lavish event at a high-end restaurant or club then it would make sense to offer your guests service in a high-end limo service with a suitably impressive vehicle.
In terms of finding the right vehicle for your bachelor party, there are many choices available and the decision will rest on a couple of factors. The most important is the number of passengers that will need transporting, and then pricing of course. The size of party will be the first step in determining which vehicle or vehicles you need. Obviously a party event would mostly likely need a vehicle to accommodate a minimum of 5 to 10 people, unless you really don't have that many friends!
I would start by looking at SUVs like the Cadillac Escalade. That vehicle can carry 6-7 guests. For twice that number of guests you could do 2 SUVs or the other option would be to look at stretch limo.
A stretch limo would certainly be a good fit style wise for a bachelor party and they usually include such amenities as a bar, perfect for this kind of party. A typical stretch limo can accommodate around 6-10 people. For larger groups you may want to go with a super-stretch limo or an SUV stretch limo which can usually fit around 12-16 passengers. Some of the SUV limos can fit even more than that.
Party Buses and Stretch Limos in NYC
For larger groups or the having the convenience of a larger vehicle, (even with a smaller group), you could also consider a 14 passenger van. These vehicles are typically used for executive transportation and not parties, so they won't have the party styling or amenities that a stretch limo would have. The advantage is that the plain passenger van will cost less than a stretch limo and also not everyone needs to have bells and whistles for the ride to the party.
If you have a larger group and you do plan on having the limo ride be an integral part of the party experience, then I would recommend using a party bus specifically for your event. These come in various sizes, with the most common seating capacities at 14 passengers, 28 passengers and 36 passengers. Some companies also offer full sized coaches (56 passengers) styled as party buses as well.
At Brilliant Transportation, we have done many weddings and bachelor parties but our market niche is very high-end and more corporate and executive transportation oriented than some companies. We don't offer any stretch limousines or party buses, but we have a beautiful fleet of luxury vans based on the Mercedes Benz Sprinter vans. If that is what you're looking for, I have more to say about our luxury vans in a minute. For those customers looking for mid-range to more economical pricing as well as interest in booking a stretch limo or party bus, here are couple of recommendations for other good limousine services in New York City (in no particular order)
A Review of Bachelor Party Limo Services in NYC
New York Limousines
This company serves the entire Tri-State area and they have a large fleet of stretch limousines, SUV limousines, including Escalade and Hummer H2 stretches that seat up to 20 people. These guys do a lot of weddings, bachelor parties and proms so they are set to up facilitate your party night, and their rates are reasonable.
NYC Limousines
This is another local company that specializes in doing parties and weddings, although they do plenty of corporate work and airport transfers as well with reasonable rates all around. They offer promotional pricing too. They also have a full fleet of larger minibuses, party buses and SUV stretch limos to accommodate larger party groups.
Black Tie Limousines of Nassau
Serving both Metropolitan New York and Long Island, Black Tie is a one-stop shop for your next party event. They have stretch limos, exotic cars, party buses and larger coach buses as well, you will be well provided for your bachelor party. They also do package tours, special events and winery tours as well. I really like the quality of their vehicles and their vehicles come in white (many limo companies carry black only vehicles)
Brilliant's Bachelor Party Limo Service
If you're the type of bachelor one might expect to see on ABC's The Bachelor, in other words very high-end and exclusive, then we have a luxury van service you might like for your bachelor party. Our fleet of luxury vans are Mercedes Benz Sprinter Vans with models that seat both 7 and 9 passengers. These vehicles offer a very upscale and corporate feel, more black tie and less 'party animal'.
The vans look like a corporate jet on the interior with adjustable captains chairs, hardwood floors, stowaway desks, 2 flat screen TVs with 158 channels of DirecTV, and a wet bar and mini-fridge. These vans epitomize high style and class. It is the perfect complement to a man of means getting reading to embark on a new journey in his life.
As I mentioned before Brilliant Transportation does not try to be all things to all people and our services won't be the right fit for everybody. If you think we'd be a good match, you can get a quote from us. If not, check out some of the other providers mentioned on this page.