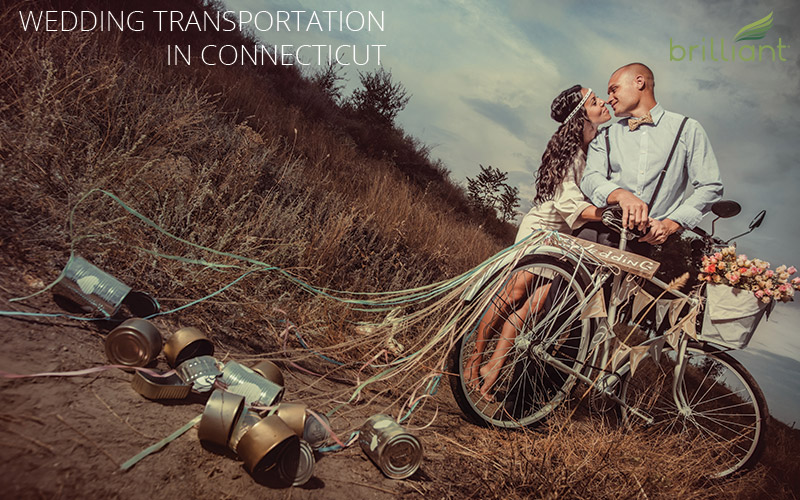 A wedding can be an occasion of a lifetime! And sometimes planning a wedding can be a headache of a lifetime. But it doesn't really have to be that way. Especially if you've done your research and you have a couple good vendors lined up, planning and executing the wedding can be a pleasurable experience.
At Brilliant Transportation, we provide high end chauffeured service in New York City and throughout the Tri-state area. We specialize in providing transportation for large and complex celebrations.
Choosing Transportation for a Wedding in Connecticut
Many times customers have asked us, 'what is best wedding transportation in Connecticut?' Naturally, we'd like to think that Brilliant Transportation provides the best wedding transportation in our neighboring state! However we realize there there is no 'one-size fits all' solution in the transportation.
As I mentioned, we specialize in very high-end, customer service intensive transportation experience, featuring our premium fleet of Mercedes Benz Sprinter vans. We realize that our price point and vehicle selection may not be what every wedding customer wants or needs.
That's why we're willing to acknowledge that there are other service providers out there can also do a good job moving your wedding, and that what they have to offer may in fact be more in line with what you are seeking.
The Connecticut Wedding Transportation Plan
To that end I'll provide a few suggestions of excellent limousine providers in the Connecticut area. But before we get to that, it would be worth taking a quick look at some of the considerations that go into planning transportation for your wedding.
Before you start looking at vehicle types and different levels of service that you may want to provide, you should first figure out what you're willing or able to spend on transportation for the wedding, and the see if you can meet those expectations by seeking out different quotes.
But even before that step, you need to figure out how many people are attending the wedding and how many of those require transportation. If you're doing a large wedding, you should look into large group transportation, which could be a combination of passenger vans, minibuses, and perhaps some SUVs or stretch limos thrown into the mix.
If it is a wedding on the smaller end of things, getting just a couple of stretch limos or sedans may do the trick, or perhaps go with one or two luxury vans. It really depends on your plans and how many different events and locations you are hosting.
Different companies specialize in different vehicles. Some companies, like Brilliant Transportation, specialize in luxury vans. Others specialize in buses, exotic or classic cars or stretch limos. Still others may specialize in party buses. So it's worth looking at a couple different providers and figuring out which type of vehicle and which price ranges will work best for you.
Local Transportation Options for Weddings in Connecticut
So for the Connecticut brides and wedding planners out there, here are a few wedding transportation specialist that you can contact for further information.
Premier Limo
This company was founded in 1985 with a focus on providing exceptional service. They have a lot of experience providing limo service for weddings in New England. Starting out as a limo company, they expanded into a bus line as well and now have a fleet of over 100 vehicles, including full sized coach buses for 56 passengers. They have the largest limo fleet in Connecticut. They can accommodate a wedding of any size. Although they cover a wide geographical area, they are based in Hartford and so have strong ties to central Connecticut as well as strong tradition of customer service there. They are able to provide exotic vehicles for wedding parties upon request and also offer transportation concierge services to help you arrange your plans for the upcoming wedding.
Teddy's Transportation
Located in Norwalk, they cover Connecticut's Gold Coast, Hartford and Westchester County, NY. They also offer a full ranges of services, including wedding and event transportation, corporate shuttles, airport pick ups, meeting and convention services. Teddy's can help you plan the transportation for your wedding as well as the right mix of vehicles. They also have a full range of vehicles, including luxury sedans, SUVs, executive vans and mini-coaches seating up to 28 people. They also have full sized motorcoaches which accommodate up to 59 passengers at a time.
Lindsey Limousine
Located in Windsor, CT Lindsey is another full service limousine company with a great reputation for service and reliability. In fact they were voted top limousine provider in the nation by LCT Magazine (limo industry) in 2010. They do executive transportation as well as they do weddings and special events. They also have a full range of vehicles, sedans SUVs mini-coaches and stretch limousines. In fact, they boast the longest stretch limo in the state, the custom designed Mega stretch Starship 2000. That would certain make an impression at a wedding!
Having the Best Connecticut Wedding
If you're interested in our wedding transporation services, we would love to get you a quote. We still have a large fleet of luxurious Sprinter vans that are unsurpassed in the industry, providing guests a taste of the jet-set lifestyle when they travel with us.
Brilliant also specializes in high-end weddings with complex logistics. For larger groups we also have custom built luxury minibuses for 28 and 36 passenger counts. We can also provide a free wedding transportation consultation. We're not the best fit for everyone, but if you think we are, we would love the chance to make your wedding the most amazing day of your life.
Making your wedding unique and amazing is the ultimate goal, no matter what transportation company you choose to go with. Make sure your needs are met, and the limo service you choose is dialed into your needs and ready to perform for a seamless wedding experience. Sometimes, paying a bit more for better service is worth it, and when it comes to weddings, knowing you won't have to be holding the chauffeurs hand all day makes a big difference in stress levels.