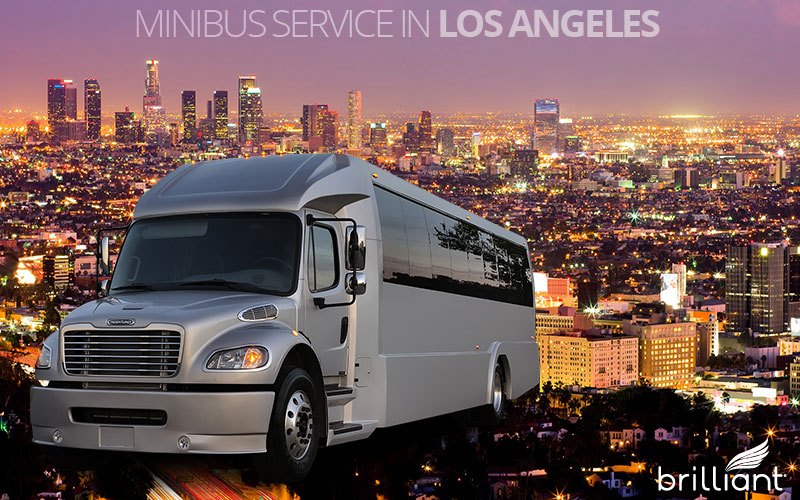 Most of the time when clients request executive transportation, it is usually for a car or van service for less than 7 people. But there are those occasions when you have a medium sized group to transport, and in those situations, a larger vehicle is required. When you're dealing with a group of between 20-40 people, or more, it can become impractical or simply too expensive to book a car or van service that can only carry several people at a time.
In situations like this, a minibus would be your most practical option. Even if you haven't booked minibus transportation before, if you are a frequent user of chauffeured transportation services, making the switch to a minibus can be quite easy.
The Best Minibus Companies in Los Angeles
Many of the same companies that provide chauffeured sedans, vans and limos also do large group transportation. Having a fleet of minibuses can be a useful sideline for a limousine company because many times regular clients, such as travel planners or corporate travel departments will also host large events that can require moving hundreds of people at a time.
Thus is you already have a satisfactory relationship with your provider of chauffeured transportation for smaller jobs, it would be worthwhile to see if they can also provider larger buses. Oftentimes, this is very possible.
However, if they don't (some limo companies only provider car or limo service), or if you're interesting in finding a new provider who might be able to deliver a higher quality service, then by all means continue your search. A high quality provider is always an asset and in terms of cost and logistics, user one or more larger vehicles to move a large group is much more efficient than using a dozen smaller vehicles to move a group.
The Uses of Minibus Service in LA
Minibuses are a category of buses that are smaller than a full sized motorcoach, which would normally hold 60 passengers, but larger than a 14 passenger van. This right in-between size is perfect for groups numbering between 20 and 40 passengers. Depending upon the size of your group, you should speak to one or more executive transportation providers to located the correct sized vehicle for you party.
Minibuses come in many different styles, sizes and configurations. Popular sizes include seating options for 21, 24, 28, 31, 34 and 36 passengers. You won't commonly find minibuses that seat more than 40 people because if you add 5 to 10 more seats, you are practically the same size as a standard motorcoach and there is no reason to create a specialized vehicle for that number of seats when convenient alternatives already exist.
The types of event where these minibuses could be used are practically unlimited, but you'll often them working events like trade shows, business conventions, sporting events, tour groups, on commuter runs, at airports, as well as festivals and weddings.
Different Versions of Minibuses in LA
Just as you'll find many choices in terms of the size of the bus, the quality and style of the interiors also come in many different variations. On the low end of the scale for use as airport shuttles or public transit, you find very basic outfitted buses with cloth seats, luggage racks, air-conditioning and not much else. For high end charter work, it is possible to find minibuses that are outfitted as luxuriously as a limousine, with leather seats, large screen TVs, DVD players and similar entertainment technology.
Individual bucket seats generally come standard in the the minibuses and there is often overhead luggage storage as well as underneath the seats. You won't find the standard undercarriage luggage spaces you get with a full sized motorcoach because minibuses are not as tall and the bus entrance and seating area will be on the same level. For the larger minibuses, seating between 30 and 40 people it is often possible to find a minibus model with a lavatory for longer road trips.
Getting Customer Service, not Just a Rental
But no matter which size or style of bus you end up choosing for your trip, the most important factor to consider when booking a minibus is to find a provider who will offer you the best customer service. This might be seem pretty obvious but you don't want to miss the forest for the trees! Even if you have booked the nicest minibus on the planet, if the service leaves something to be desired, or worse yet, the operator makes a bunch of mistakes, the quality and experience of your entire trip or event could be compromised! It is much better to do your due diligence and be sure you have found the right company before embarking on your adventure.
Quality transportation providers will understand the importance of providing great customer service, from the very start of your reservation and all the way through your trip to the end. The chauffeur should always make your guests feel welcome and be able to assist with whatever passenger need arises at a moment's notice.
But besides handling the guests well, the other important component of great customer service is doing the job right! For chauffeurs and the reservation staff at the transportation company, that means getting the reservation right, being fully prepared for the trip, having a clean and well-maintained vehicle, as well as being able to deal with any unexpected detours or problem while on charter.
These are basic things to deal with, but when they're not done correctly or with much forethought, you can set yourself up for a lot of trouble later. Good transportation companies will be prepared!
As there are many different price levels and trip specifics that will apply to different clients, it makes sense that one company could be a better fit than another for any given party. If you do a little research, you should be able to find a company and a vehicle that both match the style, price and level of service to go along with your trip or event.
Reviews of the Best of Los Angeles
There typically isn't a transportation company that would be right for all customers as there is a lot of variation and specialization. In that vein, we wanted to provide you with a couple of recommendations of quality minibus provider in the Los Angeles area. Here they are (in no particular order).
Avalon Transportation
Avalon Transportation has been a reliable and friendly limo service provider on the Westside of LA (Culver City area) for many years. Like many firms, they started small, with one or two cars doing airport runs and have grown into something much bigger. Much of the their business is corporate oriented, but they are also perfectly suitable for private functions and retail clients. They maintain a large and diverse fleet of cars vans, SUVs and minibuses. Their largest minibus seats 28 and they have a luxury minicoach versions as well as as more standard 28 passenger people movers.
Empire CLS
Empire is one the bigger limo companies nationally, with a presence in many U.S. cities and affiliates worldwide. One of the nice things about this national reach is that you can work with them here in L.A. and use them on the road as well when you're traveling the country. They also offer great attention to detail in terms of their vehicles and service. They also can provide a full range of vehicles and sizes, from Ford passenger vans, to Mercedes Sprinters, to 34 passenger mini-coaches as well as full sized luxury motorcoaches.
KLS Worldwide
KLS is another great professional service organization. KLS has handled some of the biggest industry events in Los Angeles, including the Oscars. But they also excel at corporate events and private parties like weddings and graduations. KLS was also recognized as the Operator of the Year 2013 by Limousine Charter & Tour Magazine. Their minibuses are of high quality, with their 34 seater offering leather seating, overhead luggage storage and a smooth ride.
ITS LIMO
ITS is a family owned transportation business that made it big in Los Angeles. They are known for providing great service to the entertainment industry and also cater to the out of town crowd with many sightseeing packages and rates for tourists. In addition to a full line of cars and vans, they carry both minibuses and larger luxury coaches as well.
Wilshire Limousine
Affiliated with many of the top end hotels in Los Angeles, also in partnership with Midway Car Rentals, Wilshire Limousine is a popular choice with high end travelers as they are known for providing great service in the luxury segment. Wilshire offers a great assortment of high end vehicles, both chauffeured and also to for rentals through Midway. Their minibuses and larger coaches are also well regarded for their quality and comfort. Wilshire is great choice for attending any first class or red carpet event.
Those would be a our recommendations for good transportation partners in Los Angeles. However, we wouldn't want you to forget about Brilliant Transportation either. Although we're based in New York City, we have a base of operations in Los Angeles as well in order to serve the West Coast.
Brilliant's Luxury Vans Are a Great Choice Too!
Brilliant is relatively new the in the Los Angeles market, but our experience and our expertise is not. We are a small, but influential niche player in the ultra-luxury charter space for high end events and individuals.
We have distinguished ourselves from other operators by having an all custom, Mercedes Sprinter fleet that caters to the most discerning and trend-setting travelers. Our extraordinary vans are literally like a Gulfstream jet on wheels, offering the very best in passenger comfort and technology.
In addition to offering the Sprinter luxury vans, Brilliant also provides group transportation in luxury minibuses upon request. While we use different manufacturers for our minibuses, they are all of the highest quality.
Our exclusive service offers the best possible service at a premium price point, for those who understand that true bespoke quality service cannot be had on the cheap.
Now we understand that our service and pricing is more than the average traveler might be prepared to pay, yet our focus remains on providing the best service for an exclusive clientele, and not trying to please everybody. After all there are many different possible services one could choose from in Los Angeles, and we would like to help potential customers find the best fit for them, even if it means going with another company.
However, for those who recognize that second best will not do, and those who are looking for an extraordinary experience beyond what normal transportation provides, then you should definitely contact Brilliant Transportation, so that we can furnish you with custom quote for your next occasion. Contact us at 1-800-543-1001.