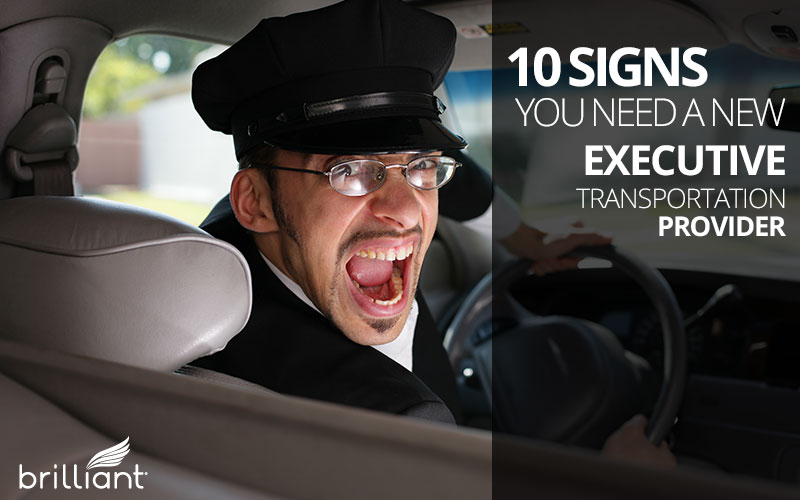 When you're in need of executive transportation for business purposes, its a fairly good bet that many times, it will be for a very important occasion or involve very important clients or top management. Naturally, you wouldn't want anything to go wrong in these cases. In fact, for just these types of occasions, you'd really want everything to be perfect.
So when expectations are set high, you need to work with a transportation vendor who not only promises excellence, but delivers it as well. Most of the time, things will go right. But transportation can be a slippery slope; sometimes problems can occur that might reflect badly on you, even though it's not your fault.
Signs of a Bad Transportation Provider
If you're currently a user of executive transportation, what might be some of the signs that you need a new transportation provider? Well, let's take a look at some issues so you can be aware if you have problems that need to be addressed.
1. The service was inadequate or deficient
This first category would fit under the 'obviously something wrong here' situation, where you know things have gone wrong. Things like the driver getting lost or being late for a very important pick up. Even if that's not the case, there could be some other obvious problems, like a driver arriving with a dirty vehicle or worse yet, perhaps the vehicle breaks down while you're on charter, or perhaps a key item of passenger equipment isn't working, like a TV or radio.
This is definitely not a situation you want to face when you've paid a lot of money of luxury transportation and you have VIPs involved. Now mistakes can happen to anyone and sometimes equipment just breaks down randomly. And sometimes a failure can be attributed to a single person, like a driver who maybe wasn't prepared, or it can also be a group failure. Groups failures usually happen when there is poor communications, perhaps between the reservation and operations departments, or between client and vendor, or perhaps dispatch made a mistake and the driver was sent to the wrong address.
But generally, these are avoidable problems if you working with reputable company that puts care and effort into their operations and preparations for upcoming trips. If all of the reservation details were double checked in advanced, then it's unlikely the driver would be late or went to the wrong address.
In the case of dirty or broken vehicles, it could be maintenance or scheduling problem. Maintenance would be on the hook if perhaps they missed an important service date, or scheduling if the same vehicle was booked on back to back jobs and there just wasn't enough time to clean the vehicle properly.
But the point is, you shouldn't have to worry about these details! That is the responsibility of the transportation vendor. And like I said, mistakes can occur with anybody, but for those who are committed to excellence, these typical errors can generally be avoided 99% of the time.
If a mistake or breakdown happens one time, you may be charitable and decide to give your vendor another chance. They may deserve it. However, if you have problems over multiple reservations or you start to notice a pattern, then it could definitely be time for a change!
2. The service was only so-so
So perhaps on some of your recent trips, you didn't encounter any major problems, the driver wasn't late and the vehicle didn't break down or arrive dirty, but perhaps the service still left something to be desired. It might even be an intangible quality, like chauffeur not being particularly friendly or helpful. Or it could have been some other minor detail that went unnoticed by the vendor but it made the passengers uneasy.
There may not be any overt faults on the part of the vendor, but then again if the service didn't delight you, you may still have some unmet expectations. And if you're paying good money for the service, and it involves your company's VIPs, then you really should be 100% satisfied. If that's the case, then you might want to start looking around for a new company to work with.
3. Dealing with the company was a hassle.
Sometimes you might encounter difficulties or aggravations not with the transportation service itself, but perhaps with the front office. Perhaps you called over to make a reservation or to get a quote and you were put on hold for long periods of time. Or you interacted with a reservations representative who wasn't in a great mood, or seemed indifferent to your questions or concerns.
Another concern, perhaps the reservationist didn't seem to know what he or she was doing. Perhaps they were unsure about pricing or company policies. Or in some cases, they might not even speak good English. Other clients may have a hard time getting final billing from the company or have to deal with bureaucratic procedures or paperwork that is really a time waster for the client.
While in the end, this may not hurt the final product, if the experience of booking the job was taxing on you, that might be another clue that you could find better service elsewhere.
Sometimes a company might have its strengths in the operational area, but not in the customer service or front office area. This may not be indicative of a larger problem with the organization, but in general, a good quality transportation company should be strong in all areas of the business, including operations, maintenance and customer service. The best companies would offer you a seamless experience, from booking, all the way to the end of your trip and billing afterwards.
4. They didn't sweat the little details!
Again, at Brilliant Transportation we practice a philosophy of providing the best possible customer service and delighting the client. We feel that other top notch transportation companies should act in the same way, but not all put as much effort in. Executive transportation can be a luxury product, so your experience should reflect those high aims. When you check into a 5 star hotel, besides the luxurious surroundings, it's often the little details that delight the customer. The turned down bed, the chocolate mint left on the pillow, the way the fold the towels and present the toilet paper are those little things that customers notice.
These little items may not seem important, but they add up to a greater whole that contributes to an awesome customer service experience. There's no reason transportation couldn't do the same as in the hospitality business.
If you're planning an important personal event, like a wedding, you want everything down to the last detail to be perfect. Your quality transportation provider should ask you specifically about every aspect of the reservation; how the vehicles are to arrive, at what entrance, in what order, how the chauffeurs are to proceed. etc. This is the mark of a top notch transportation company. If you aren't receiving that kind of customized attention, you wouldn't be wrong for thinking that you could do better!
5. Underwhelming Experiences
Even if you have received satisfactory service, it could be underwhelming in the sense that the you really wanted something a little bit fancier, a little more top notch and luxurious and you just didn't get it!
If you feel like you're missing that extra panache, perhaps it's time you get serious about going high-end. There are premium transportation provider out there, such as Brilliant Transportation. When you're tired of the standard old stretch limousine, or perhaps those standard black Town Cars aren't doing it for you anymore, you should reach for something out of the ordinary!
Brilliant's premium, custom luxury Mercedes Sprinter vans could be just the solution! These Sprinter vans aren't your ordinary limousine vans. The interiors are more like the inside of a luxury corporate jet. Passengers are swaddled in luxurious, leather covered captains chairs with their own desk, outlet and reading light. You can do work on your business trip, or entertain yourself or your clients with our 2 large flat screen TVs with 158 channels of DirecTV. Or watch a DVD of your choice or listen to satellite radio. The luxury vans also come standard with WiFi. Leather and rich wood burl surfaces abound in the passenger cabin. And tinted windows, privacy shades and a full driver partition give you the privacy and exclusivity you crave.
Plus your chauffeur is not just your driver, but your personal concierge as well. It's 5 star luxury hotel service for your vehicle. That's definitely not your standard executive transportation!
So you if you need to step up your transportation services a notch, consider going Brilliant! We may cost more than your standard transportation provider, but we also deliver far more in the bargain. And sometimes, delighting the right important people in your life or business, well that's priceless!