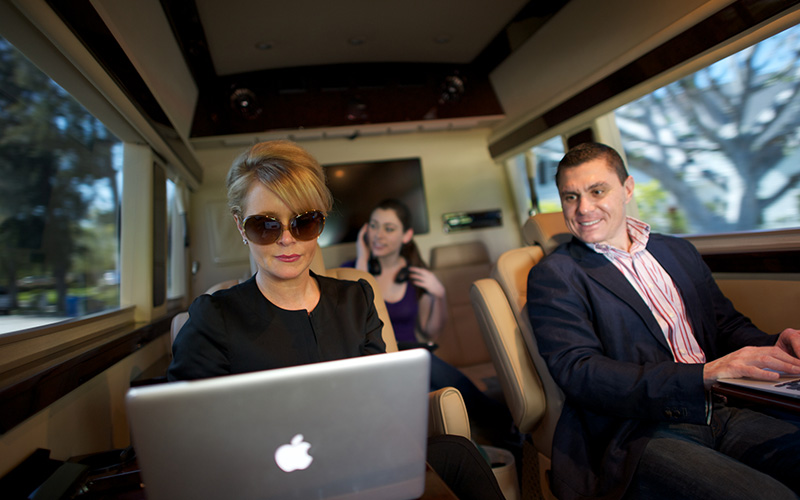 The Corporate Roadshow is a time honored business tradition. It's all about saddling up and hitting the road, visiting all those diverse cities and regions and getting the word out on your company's products or services.
In the world of marketing and sales, sometimes there is no substitute to being there on location, at the places where your customers hang out and do their shopping. It is a chance to interact with the public in a face to face capacity and establish trust and credibility.
Offering roadshow transportation and coordination is an important part of our industry, and many executive transportation companies offer expertise in this area, as well as custom pricing and logistical support. In addition to figuring out itineraries and managing supplies, one important consideration is deciding what type of vehicles would best fit the needs of the customer's plan.
Sometimes companies that sell consumables directly to the buying public will have a fleet of specialized vehicles (custom RVs with graphics wraps are very common) that fan out to their various sales regions and do trade shows, festivals, shopping malls and other special events, where they distribute free products and get people familiar with their brand.
However, not all companies do this (especially the smaller ones) and even the ones that do will often need additional support on the road, like vehicles to take their executives and salesforce around to various meetings and events.
How To Decide Which Vehicle is Best For Roadshows
Many times clients have asked us about planning for a roadshow and one of the most common questions that keeps coming up is which vehicle works better for this occasion, a stretch limo or a luxury van? Well, both could work in different circumstances, so it's important for the end user to decide what the strategy and execution will be for any given marketing campaign. What works best for you depends on your needs, budget and what style or image you are trying to project.
Some of the issues that have to be considered are how many people do you need to move and how many vehicles can you plan for, what are the distances involved and how many different cities or locations do you need to cover?
All of these factors will play into your vehicle mix and logistical planning. If you need group transportation for a large group, you will have to consider using coaches and minibuses as part of your planning. For smaller groups, you could use vans, sedans or even stretch limos for certain occasions.
Luxury Limo Service for Roadshows
For small groups of executives, the stretch limo and a luxury van could both work work well. For any type of red carpet event or media event, the stretch limousine can make a good impression. Also if the marketing event that you're putting on is more social in nature, with perhaps music, entertainment and alcohol involved, then the stretch limo might be a better choice, style wise.
Also, some old school executive simply prefer the look and the experience of riding in a stretch limo. But with vehicle choices, it's not strictly one style versus another. There can be variation, it really depends on what types and style of vehicles your provider specifically offers. Sometimes a stretch limousine will set the right mood for a straight laced business event, other times a luxury van that is styled like a party bus would be more appropriate in terms of size and equipment for your party event.
Luxury Van Service for Roadshows
The luxury van type would be an excellent choice for those who are taking an extended road trip, perhaps traveling between cities and needing the use of a mobile office. When I speak of the luxury van type, I speaking primarily about executive styled transportation, and not a party bus. Because that is the primary advantage of the luxury van versus the stretch limo is that there is more interior space and headroom, as well as an interior configuration that would be more suitable for getting work done on your laptop, tablet or whatever.
If you need to be able to hold meetings while you're on the road, whether you're parked on the street or traveling down the interstate at 60 miles an hour, usually the luxury van will be your better option.
Using Our Mercedes Sprinters for Roadshows!
Brilliant Transportation has a customized fleet of Mercedes Benz Sprinter vans that are particularly well suited to conducting business on the road. Specifically we offer 7 and 9 passenger variations that both offer comfortable captains chairs, stowaway desks, individual lighting and electric outlets at each seat, audiovisual equipment, a teleconferencing system and plenty of cubby spaces to hold extra papers and folders.
Our Sprinters feature 6'3" standing room and are very easy to get in and out of. They are also extremely luxurious. This is the perfect combination for the high level executive who has to travel and do business for an extended period on the road. The pricing scheme is hourly, but we have many clients who will use our vans for weeks at a time.
The pricing for these vans is in the premium price range, so it would be most suitable for top management, or certainly, VIP talent or important clients if you are bringing them on your roadshow.
We may not be the best choice for your roadshow, depending on your budget and the kind of experience you're hoping for. We would love to be your luxury transportation provider but if we're not a great fit for your trip, there is a universe of many high quality executive transportation companies you could chose from.
If you're interested in booking with Brilliant, you can easily get a quote for you roadshow. Regardless, we hope you have an amazing trip!