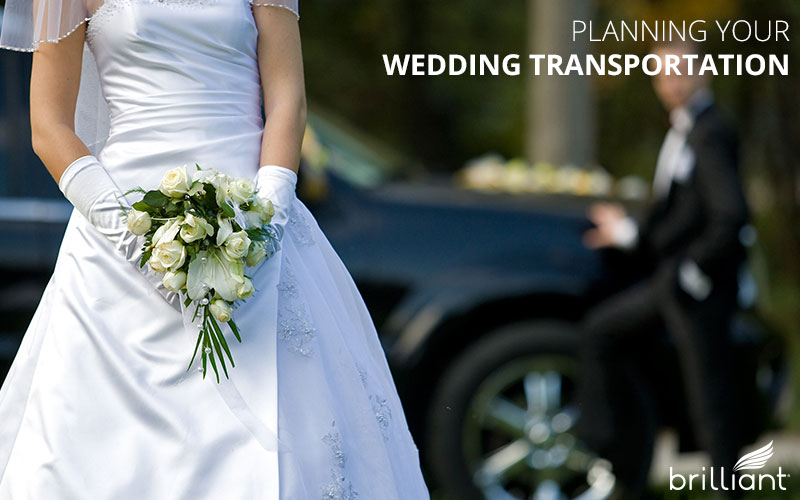 Weddings are one of the those life occasions where limousine service is de rigueur. And at Brilliant Transportation, we have helped countless brides make their day the very best it can be. We've done very simple weddings with one vehicle, to complex, society events, with dozens of vehicles in special locations and extensive transportation plans.
Whatever vision you can conjure, we are happy to come with a plan for it!
Being in the wedding transportation business, many clients come to us with 'which is better' type questions. For example, one we heard recently is, 'which is better: stretch limos or luxury vans for wedding transportation?'
In trying to come up with an answer to that question, it's helpful to keep in mind that each wedding is different and what works best for one couple might not be the same for another. So it really does come down to your individual circumstance: how big of a wedding are you planning in terms of budget, number of guests and style? We've also written about providing the best transportation for your our of town wedding guests if that is in your plans.
Planning Transportation For Your Wedding
Obviously there are many different transportation options for weddings, so you should come up with a rough plan and budget before seeking bids from transportation providers. Figuring out what you can spend and how many people you need to move should be the first considerations to look at in your wedding planning.
Secondly, I wouldn't recommend narrowing down your transportation options to just two, at least to start. Preferences aside, when coming up with your plan, at least consider all of the options that are out there before making a final decision.
For example, for very large weddings involving hundreds of guests, it is not unheard of for families to use full sized motorcoaches to move 60 people at a time from venue to venue. When you're dealing with large numbers, this can be the most efficient way to go, both in terms of cost and logistics. Generally to contain costs, you want to go with the minimum number of vehicles you can afford and still get the job done. For families where cost is a secondary concern, then you have more room to be creative.
Another option to move large groups of people would be to use one or more minibuses, which can accommodate anywhere from 20-40 people at at time. A fleet of passenger vans, especially, the handsome and stylish Mercedes Benz Sprinters, are also good options.
But, let's face it, most weddings are not that large. Larger buses or a fleet of minibuses are an option in only a small percentage of weddings out there. Most likely you will be looking at using 5 or fewer vehicles of the smaller size: limos, sedans and SUVs or vans.
Choosing a Stretch Limousine
Let's take a look at the comparative advantages of stretch limousines and luxury vans. Stretch limousines are the old standard when it comes to wedding transportation and they still hold up nicely. They offer spectacle, style and are lots of fun to ride in.
Generally, stretch limousines can only accommodate 6-8 passengers max, and that's with the longer ones. So it wouldn't be terribly practical to use them as your primary venue transportation when you have dozens of guests to move. But for providing rides for the bride and groom and their immediate families, this can be an attractive option. Also, another benefit compared to larger many-passengers vehicles, stretch limos are comparatively a good deal.
Many stretch limousines come with with fun features like a bar, satellite TV, mood lighting, laser effects, and moon roofs. And since there is so much variety to be had among stretch limousines, you can also be picky about what style of stretch you want.
Obviously, some are more geared towards boisterous party occasions and others have a more business like, executive feel. For the brides keen on having a classic, elegant style wedding, which many do, I would recommend going with a more executive style stretch limousine, and not the 'night club' version.
Also, for those who want bigger and better and are stuck on the idea of a stretch vehicle, you can also go with a stretch SUV limo. These are generally more popular with the party crowd than with elegant wedding set, but to each his own. They hold more passengers and come with more features, so they are more expensive than a stretch sedan, but comparing the merits of a stretch SUV is actually the subject of another blog post!
Using Luxury Vans in Your Wedding
Compared with a stretch limo sedan, a luxury van can offer you more flexibility in terms of wedding transportation. Luxury vans are generally custom vehicles, just like stretch limos, so there are many unique vehicles out there.
Generally the luxury van will accommodate 6-12 people, and many of the them come with high roof lines, so the head space is vastly improved over a stretch limo. This makes them easier to get in and out of, and when you're dressed in our wedding finest, you generally don't want to have to do a lot of bending and stooping or anything that will rumple your outfit. Also they work just as well as a passenger shuttle or as the primary vehicle for the wedding party.
Brilliant's Wedding Transportation Options
Brilliant Transportation has an exclusive fleet of Mercedes Benz Sprinter luxury vans which are perfect for any high-end wedding event. Our fleet comes in a 7 passenger and 9 passenger luxury van configuration, and for wedding shuttles, we also have a 14 passenger Sprinter van, which is the more basic of the three options, but also very stylish and comfortable.
Our luxury Sprinters come with a cream colored leather interior, with reclining captains chairs and beautiful hardwood floors. They are chock full of entertainment goodies, like two large flat screen TVs, satellite programming and a premium sound system.
Each chair also comes with a stowaway desk, household outlets for your devices and reading lights at each station. Like I said, they are perfect for the wedding couple, a honeymoon vehicle, or even just shuttling family or your VIP guests from the church or temple to your reception.
Getting the Vehicles That Fit Your Special Occasion
We recognize that we are not for everyone, after all, we don't carry any stretch limousines or even any sedans, and our pricing is on the premium end, in line with our first class concierge service and our one-of-kind vehicles. If you're planning a very stylish and high-end wedding, you'd be remiss not to consider one of these incredible luxury vans. If you're interested in what we offer, you can get a custom quote online, or even a wedding consultation to talk about your wedding transportation.
But for those who want something different, I definitely recommend you shop around. There are so many different limousine companies in New York and Los Angeles, you are bound to find the right one for you if you're willing to do just a little research!