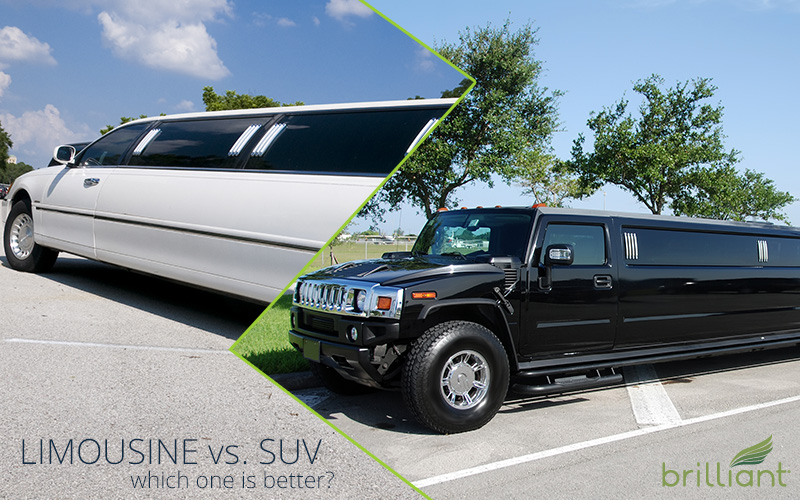 Our clients come to us all the time looking for the best limo service. A lot of them are surprised to learn our fleet is different than the traditional stretch-limousine company fleets. When they learn of our flagship vehicles, Mercedes Sprinter Van limos, they realize their is actually more options than just the hummer and old-style limousine.
However, not everyone we talk to is open to luxury custom vans. Some people are looking for that traditional stretch limo or stretch hummer for their trip. We understand our vehicle type doesn't fit everyone's needs, and that some people are looking for a particular type of vehicle.
So, in the pursuit of informing and educating our readers, we're going to use this article to discuss the differences in stretch limousines and stretch SUVs, and help you decide which one is better for you.
Which limo is best: Stretch Limousines or Stretch SUVs?
Honestly, there's no final answer to this question. Which one is best depends on the person renting, and the type of event their renting it for. The label of "best" is better defined as the best choice for you at a certain time. For instance, a stretch limo might be best for your date on valentines day, while a stretch hummer might be the best option for that girls' night out you have planned.
Now that we understand that the best approach to finding the perfect vehicle goes beyond a simple label, let's get into the most common uses of each vehicle so you can better determine if a stretch limo or stretch SUV limo is the best option for your trip.
A Review of Stretch Limousines
Stretch limousines are the traditional symbol of class and style. The sleek, long car is a time-tested symbol of affluence. When your event calls for a classical style of luxury, the stretch limousine could be your best choice. Stretch limos are usually associated with tuxedos, evening gowns, red carpets, and fine wine.
If you're looking for a car for your wedding or a romantic evening of fine dining or a night at the theater or a Broadway show, the stretch limousine is the perfect vehicle. It will bring an element of refinement and elegance to your evening in the way no other vehicle can.
While a lot of people love stretch limos, there are some downsides to them as well. The main downside is the difficulty of getting in and out of. Especially if there are more than two passengers, getting into a seat usually takes a lot of crawling around on the inside of the long car. If your night calls for tuxedos and evening gowns, a stretch limousine could be a frustrating night of fighting with evening gowns and messed-up hair.
A Review of Stretch SUVs
If you're looking for a little more of a rowdy night, a stretch SUV can get your party started from pickup and let it end at the last drop-off. Stretch SUVs are synonymous with parties and clubs, especially when you're traveling around with a group of friends.
Most stretch SUVs come equipped with not only a wet bar, but they also feature premium audio systems, and some of the higher-end even allow for an on-board DJ.
The downside of SUVs is they are only slightly better for moving around inside than a limousine. The low-headroom makes getting in and out a tiring chore having to squat and crawl to the seats. For a group, this can get really annoying over time, especially if there are a lot of stops.
A Third Alternative to Traditional Stretch Limos
At Brilliant, we cater to some of the most influential clients in New York City and Los Angeles. We're proud of our service with top-of-the-line vehicles, well-trained, professional chauffeurs and customer service you won't find anywhere else.
We've found we're a perfect match for less than half the people that come to us. We understand our level of service, premium pricing, and specialty vehicles aren't always the best fit for everyone. If you're interested in the cost of our service you can get a quote.
If we're not the best fit for you at this time, we totally understand. If you're looking for either a Stretch SUV or Limousine, there are plenty of services out there that will be able to provide those vehicles.