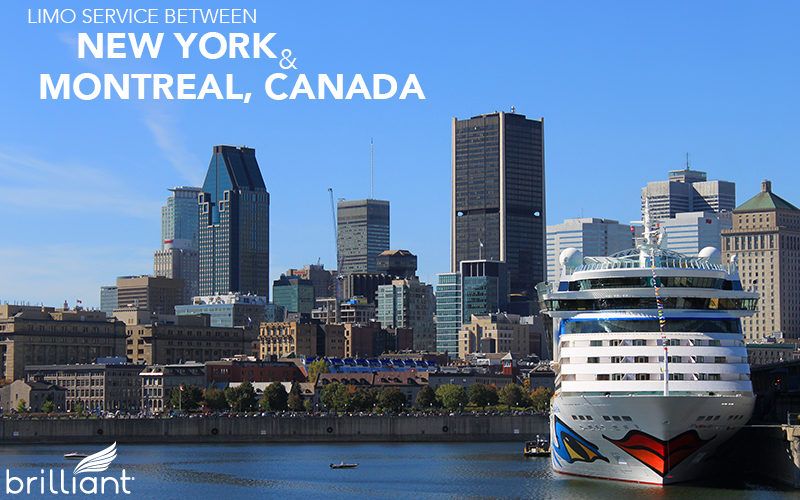 Montreal is one of Canada's most exciting and scenic cities. Renowned for its arts and cultural scene, as well as its food, this francophone metropolis is extremely cosmopolitan and is surprisingly welcoming to American visitors these days.
Many times we have had potential customers ask us what the cost of limo service to Montreal might be? We have actually done this trip many times so we have a standard transfer rate from NY to Montreal.
Before I give you that information however, it is important to realize that there are many different options you could choose in terms of arranging this trip, so there is more than one answer to this question. In order to help you understand the choices you face, I want to review some basic limo billing practices in this blog to make you more comfortable with the situation.
Limo Rates New York to Montreal, Canada
One of the most important concepts to understand is that limousine service is billed hourly. So for extended or long distance road trips, the more hours you use, the most it will cost you. Even if a company offers you a flat rate going somewhere, this rate will be determined by the average number of hours it takes to make this trip. So if your trip goes long because of planned or unplanned stops, it will add to the hourly total, regardless of what the original quote was.
Hourly Billing and Travel Time
Besides time, the other major factors that will impact the cost of your trip are the type of vehicle you choose and the number of passengers in your group. Limo companies won't charge per head, but the more passengers a vehicle can hold and the larger it is, the higher your hourly rate will be.
Another important consideration for a trip like this will the inclusion of travel time. Travel time is the amount the limo company will charge you for the time it takes a limousine to return to its home base if it is on a long distance, one-way trip.
Travel time is necessary because limo companies regularly bill 'garage to garage' which means the clock on the reservation will run as soon as the vehicle leaves its base and it won't stop until the vehicle returns. Multi-day and overnight trips would be an exception to this rule, where a daily minimum would be used instead, but this is explained in greater detail in another blog.
So in this case, if it takes 6 hours to drive from New York to Montreal, then the client would be charged for 12 hours in order for the vehicle to complete its trip back to base. The reason for garage to garage billing is that each limousine trip is a unique, pre-arranged charter.
If a client is going to need the vehicle for 6 hours to go to Montreal, when the client reaches his or her destination, the vehicle still cannot book another job until it returns to its normal service area. Because of the unique nature of each trip, it is not practical for a limo company to try to book another passenger to return on the same route and at the same time as when the first passenger is finishing up. So if the client's use precludes the vehicle being used by another customer, the original client pays for that time.
Matching a Vehicle to the Size and Style of your Party
Getting back to other considerations, the type of vehicle you choose will also impact the price. Your options in a nutshell would be going from large to small and from fancy to plain. Obviously the smaller, plainer vehicles will cost you less.
Thus for your entry-level limo option, you'd be looking at a black car service. This is usually delivered with a Lincoln Town Car or something very similar. The Town Car is a nice comfortable, executive vehicle with a driver and not much else. It would be appropriate for 1-3 passenger. Prices for this basic service range from $55 per hour up to $75 per hour.
If you want to go with something fancier, many limo companies will also have more exclusive vehicles available, like a Mercedes or Audi sedan. Rates for these cars would likely be in the $75-$95 per hour range. Again, this is only for 3 people or less.
If you need to seat up to 6 people, you could opt for an SUV like a Cadillac Escalade or a Chevy Suburban. Also for parties traveling with lots of luggage, this could be a better choice than a sedan as well. Rates for these vehicles are generally from $80-$90 per hour.
If you need to seat up to 15 passengers in one vehicle, then your best choice by default becomes a 15 passenger van. Many limo companies will also have practical vehicles in their fleets as well as they usually cost from $65-$75 per hour. Sometimes bigger vans will be offered, like the Mercedes Benz Sprinter minibus (although it seats same number of people) and these will cost more, up to $165 per hour in some cases.
If your party is smaller and you're more concerned about luxury than convenience, you could also choose to make the trip in a traditional stretch limousine. These vehicles can be very stylish and certainly make a good impression for a celebratory affair. They also offer many more luxury features than a standard sedan or SUV. But because styles and equipment vary so much there is also a bigger price range, anywhere from $70-$120 per hour generally.
Premium Travel Options With Brilliant
But a traditional stretch is not the only option for the luxury focused consumer. There is also a category of premium vehicles beyond what we have discussed. These would be exotic cars like a Rolls Royce or Maybach sedan, and even high end luxury vans like a Mercedes Sprinter. Prices for this level would generally start at $150-$200 per hour and could go even higher.
Brilliant Transportation operates in this premium realm and we have the best and most luxurious fleet of luxury vans available on both coasts. Our custom converted vans put the ultimate in executive travel. The interior of the vans more closely resemble that of a private jet instead of an ordinary passenger van. Available in 7 and 9 passenger configurations, these vans feature large, leather swathed captains chairs with foot rests that also can recline. Each seat is set up like an individual work station with a foldaway desk, reading light and outlet for your laptop.
This makes them ideal for use as a mobile office for working executives, or a mobile entertainment lounge for friends, family, or business clients. There's plenty of entertainment options with two large flat screen TVs, offering 185 channels of DirecTV satellite programming. A premium sound system could also keep you happy as well as on board WiFi that comes standard. The vans also offer plenty of privacy with tinted windows, window shades and full wall partition between the driver and passengers in the 7 passenger.
Pricing for these exclusive vehicles is $225 per hour. It's the type of vehicle more likely to be selected by CEOs, VIPs and celebrities. The transfer rate from NY to Montreal in one of these would cost $2,800. Yet this is actually a competitive price when you compare the cost of flying 7 or 9 executives to Montreal first class.
We understand that this is niche market and it wouldn't be practical for the majority of travelers who approach us for a transfer. Which is why I laid out more typical pricing scenarios above for other kinds of vehicles.
But if you're faced with a special occasion, or just need to get some VIPs to Montreal in a comfortable and efficient manner without relying on the airlines, perhaps to accommodate a more flexible travel schedule with multiple stops, you should give Brilliant Transportation a try. We would be happy to provide you with a custom quote for your particular itinerary and help you discover what truly great customer service can be about!