It's the start of the ski season and many ski resorts on both coasts have already opened for business. You're restless to get out from behind your desk and hit the slopes on your next weekend, or perhaps you're planning on using some of that long delayed vacation time.
For New Yorkers, a popular option is heading up to New England. There are wonderful resorts to choose from, like Sugarbush, Stowe, Bretton Woods, Smuggler's Notch and Killington among many others. All within easy reach of the Tri-State area with Brilliant Transportation.
For our friends in Southern California, many famous ski places are beckoning you to a winter bliss. In the Southland, you can take your pick from Big Bear, Mountain High, Snow Valley, and closest to L.A., Mount Baldy! A little farther afield up in the Sierras/Lake Tahoe area you have your choice of Mammoth, Heavenly, Squaw Valley and Kirkwood too.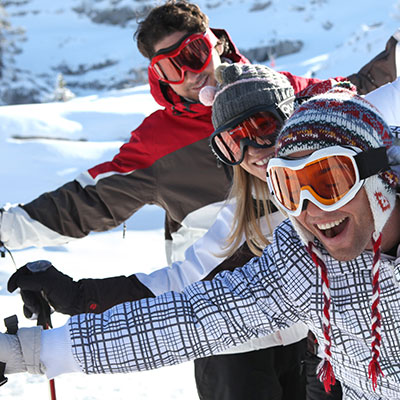 There are good options available for local ski bums, regardless of whether they live in New York or Los Angeles. You don't need to get on a plane to go skiing, you can simply hire a luxury van or bus from Brilliant and allow our superior chauffeur service to get you to your snow destination in the utmost luxury, all within just a couple hours.
When planning a luxury ski trip, it's a popular option to go with a group in order to maximize your fun and economy. All our vehicles come standard with large luggage spaces, big enough to fit everyone's skis and other bulky winter sport equipment comfortably. If you're taking a group ski trip, you'll have to arrange some sort of transportation. Why not use the best?
Instead of renting a van and driving yourself on snow slicked roads, leave the driving to the experts. That way you can relax and enjoy the trip up to the mountains with your ski buddies instead of worrying about missing that turnoff on a darkened Interstate at 10 at night.
With all of the planning that is involved with bringing a group of skiers to the mountains, transportation can present itself as a major challenge, but it shouldn't have to be. The smarter option would be to leave that in the capable hands of an expert, like Brilliant, while freeing up your time to attend to the other details of the trip. Obviously it's important to sort out transportation early because without it, there's no trip.
Once we accept your job, consider it handled! From the moment we pick up the phone until the end of the day when the door on your vehicle opens at your residence, we are putting our non-stop focus on you. And we go the extra mile to make sure your trip goes off without a hitch!
When you use Brilliant Transportation, you run the risk of turning your ordinary ski holiday from an average trip into an exceptional one! It's a benefit and an experience that will keep your friends talking about the fun they had long after the trip is done! So while planning for your next Winterland excursion, pick up the phone and give us a call and get a quick, free quote!