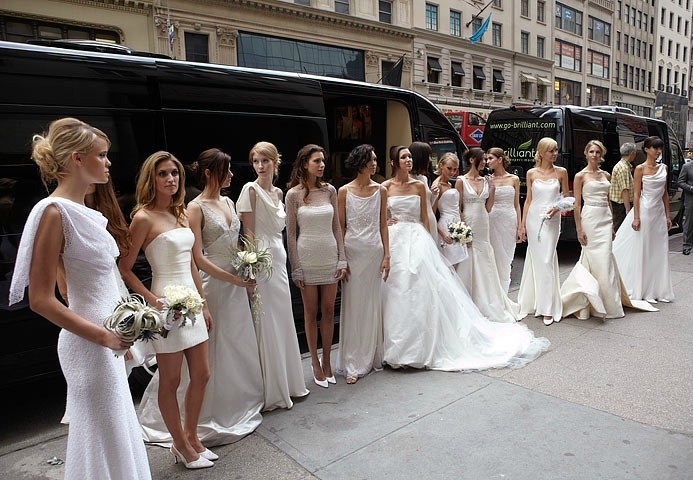 Every bride to be knows that they only have one shot (potentially) to get their special day right, so they focus obsessively on the details, hoping to make everything perfect! When you consider all the stress that bridal couples can face to pull off a successful event, one area where they don't need added problems is in the transportation department.
Especially if you're planning a big wedding, with different locations spread throughout the area, transportation is the critical element that will bring everything and everyone together. But more often than should be the case, hiring the limos or buses is an afterthought, and often done at the last minute.
Using a Luxury Van as a Wedding Vehicle
But I can tell you, that's simply a receipt for mistakes. It's always better to plan your transportation early, and with some forethought and care, because when things go wrong, it can literally ruin the whole day!
Extra Attention Paid To Transportation Will Pay Dividends on Your Wedding Day
In addition to carefully selecting your transportation provider, with special attention paid to reliability and customer service, you'll also want to put some thought into what type of vehicle would work best for your wedding celebration.
And an excellent choice, for both small and large groups is to go with a luxury van, especially the Mercedes Benz Sprinter vans! These, comfortable, capacious vehicles are easily retrofitted to serve as limo vans, and provide much more space and luxury than what can be found in a standard stretch limousine.
In fact, gone are the days when wedding planners would simply order up the standard Lincoln Town Car or stretch vehicle. Customers have so much more choice today and the options have greatly improved. To honest, stretch limos have kind of gone out of style, but especially among the 'in' crowd.
Mercedes Sprinter Vans Are the Ultimate Wedding Vehicle
Experienced travelers realize that they can do better, and travel in more comfort and have better features that the traditional limo. In fact, the major car manufacturers have already stopped building the sedan models that these traditional limos are based on, so limo providers have had to find other options as well.
But in terms of their size, the Mercedes Sprinters cannot be beat. They come in a variety of different models. For transporting small groups, the standard 14 passenger minibus (Sprinter van) is an excellent choice and is gaining popularity as the go-to vehicle for many limousine providers.
Not only do these minibuses work well as a solo vehicle, several of them can also be combined into your own mini-fleet if you have multiple dozens of passengers to transport, or even hundreds. Many times, hiring one or two of these minibuses (vans) are less expensive than hiring a larger, mini-coach (for upwards of 20–40 passengers). The Sprinters also offer better road handling and styling than the custom manufactured mini-coaches, which are built on the chassis of a large truck- the cargo hauling kind!
Extra Room For Well Dressed Passengers
One of the best attributes of the Sprinter vans are their height. They can be ordered in a tall version, which is what is used my most limo companies that have them. With the tall roof, you get over 6 feet of head clearance, which enables most adults to stand up tall inside, making it much easier to move around and get comfortable. It also makes entering and exiting the vehicle a breeze as well. No more crawling around or crouching in order to get in and out. Limo Sprinter vans come equipped with a large sliding side door and running boards, facilitating loading and unloading.
This is especially important during a wedding when the bride and bridesmaids will be wearing long dresses and sometimes veils or headpieces. Now the ladies don't have to worry about messing up their fine outfits as they're transported to and from the ceremony.
The large picture windows in the vans are also great for looking out the windows, an especially nice feature if you're driving through a scenic area. And the elevated views put you above traffic and give you a better perspective.
Another advantage is in the style department. Made by Mercedes Benz, the Sprinters offer first class automotive styling and comfort, and they're not pretentious. Personally I've always thought that stretch limos looked ungainly and unnatural. Just very strange looking cars, and based on recent preferences, I think many limousine customers agree also! The Sprinter limos look just like they were made to bring the VIPs, and they do it exceedingly well.
You Can Go Standard, or Four Star Luxury Too
While the standard passenger Sprinter is nice enough, the real McCoy is to go with a luxury Sprinter. These special vehicles are almost always custom converted Sprinter, designed and detailed with the limo customer's preferences in mind. At Brilliant Transportation, we specialize in VIP and executive transport, so all of our custom Sprinter limo van have an interior that would make any private flying CEO feel right at home.
In fact many of our customers refer to our 7 passenger luxury vans (the Brilliant Van) as the 'jet van' because it compares so favorably with traveling in a Gulfstream, except you're on the ground! We feature all back exteriors on our Brilliant Vans, and a beautiful beige leather interior (not black, which is too harsh!)
These warm, inviting interiors also feature lovely blond hardwood flooring, leather and wood accents and trim throughout, and in general a first class cabin. The seven passenger also comes with large captain's chairs, which recline and have foot rests, and a comfortable rear bench for additional seating. There is also a full chauffeur partition, tinted windows and privacy shades, you your bridal party can feel enjoy their own private and peaceful space, even while being in the middle of New York City!
Our electronic entertainment package comes standard with the van, with two large, flat screen TVs, satellite channels and radio, an outstanding speaker system and WiFi so you can stay connected during your trip to the church or temple.
Let The Detail Masters Handle Your Wedding Transportation
Besides the ultimate selection in luxury vehicles, what really sets Brilliant apart in the luxury transportation space is our attention to details and our outstanding customer service. Of course it goes without saying that these traits are imperative when it comes to executing the perfect wedding!
While many transportation provider pay lip service to quality and attention, it is a much smaller group of players who can actually pull it off on a consistent basis, than what you'll see advertised. All of Brilliant's employees, from the drivers to the reservationists, are trained to the highest standards in customer service. Just because we're a limousine company doesn't mean you shouldn't expect the same type of four star service you'd find in your favorite hotel.
And Brilliant delivers a superior customer service experience, time after time. In a way, delivering top notch service at weddings provides an excellent challenge and training for all other transport jobs that follow. Whether we're taking you and your guests to the wedding of a lifetime, or just to the movies, you can expect the same attentiveness and concern to creating a delightful experience, no matter the occasion.
When you have to bring your A game everyday, it reinforces those good habits that will stay with you. Our primary concern is that we not just transport, but delight all of our guests, who are all VIPs, and that we follow the letter of their wishes and requirements, every time.
More than just being the driver, we can help you plan and execute all the transportation related issues related to your wedding, whether it's taking you on your honeymoon, or bringing the caterer. Brilliant's wedding specialists will integrate the transportation on a practical and aesthetic level into a seamless melding of your carefully laid wedding plans.
This can be as mundane as making sure all the vehicles you ordered can actually fit on the roads and pathways of the venue you've chosen, to as detailed as providing custom welcoming videos on board our vehicles, to special uniforms for the drivers, or custom art and logos, inside or outside the vans.
We have the experience of doing many society weddings in New York, which tend to be high end and on a grand scale. Need a fleet of gleaming Sprinters to whisk your guests down to that fabulous estate in the Hamptons? No problem, we do that kind of thing almost every weekend.
We are the wedding transportation experts. Let us make your next family celebration a brilliant occasion to remember. Our reservations specialists are standing by help you plan the wedding of a lifetime at 1–800–543–1001.