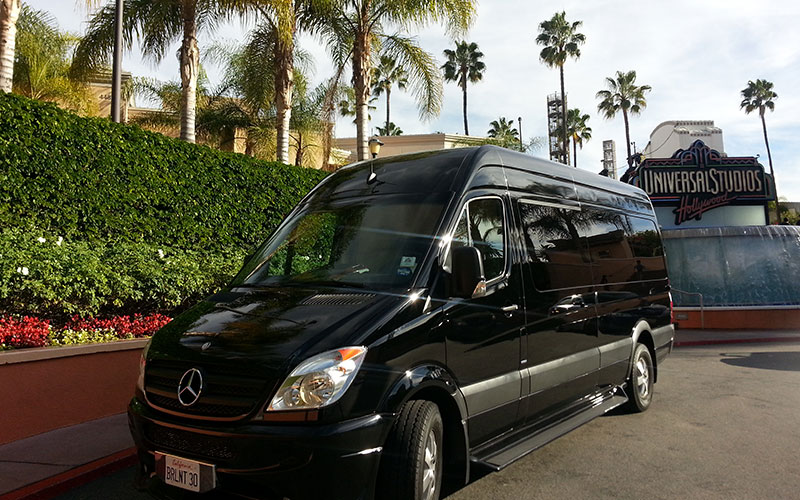 As a transportation specialist, many times I have heard the question, "What is the best way to get around Los Angeles?" Obviously, there are many answers to that question for a visitor to the Southern California. One could consider taking a bus or light rail, or renting a car, or if the budget allows it, renting a chauffeured black sedan or limousine. The latter is a fun and comfortable way to get around, especially if you have many stops to make and wish to focus on your agenda at hand, instead of driving and trying to figure out directions.
Luxury Transportation in Los Angeles
For those interested in top flight luxury transportation, there is another option worth considering. Brilliant Transportation in Los Angeles has a fleet of Mercedes Benz Sprinter vans that have been converted into custom, executive transporters.
These specialty vehicles have been designed and built with an emphasis on premium comfort and style and would be a good choice for a customer who needs someone else to handle the transportation while they focus on a their business agenda, or who simply want to enjoy a mini-vacation in a luxury ride. Indeed, an A-list celebrity wouldn't feel out of place riding in one of these vans to a red carpet event.
The vans, which seat up to 7 people in the back, is, depending on your needs, a mobile office or alternatively, a mobile lounge for a night out on the town. The van includes four facing leather covered captains chairs which have multi-way electric adjustments. Each seat also comes with its own reading light, stowaway desk, cubby holes and individual 110 outlets. There is also a comfortable back bench which can seat an additional 3 people or fold down flat to act as a sleeper.
Executive Transportation in Los Angeles
For the busy executive, using the Brilliant Van can be a great time saver because while you are on the road, you have a set up at your disposal that makes for an efficient little office space. With an extremely comfortable chair and desk, and the addition of your personal laptop, it is no problem to continue to work on that project with a tight deadline as you are chauffeured to your appointments. The onboard WiFi will ensure that you stay in touch with the home office, or your cloud sourced database. The layout and amenities in the van are also very conducive to conducting a business meeting on the fly, or also for entertaining clients while you visit the West Coast.
Speaking of entertaining, this is a role the Brilliant Van is particularly well suited for. Many celebrities and VIPs have used these vans for their personal transportation needs, and also when they are working and entertaining. The Brilliant Van looks very much at home whether going to a concert at Staples Center, stopping by the Ritz Carlton or just going for a club and bar hopping night out in Hollywood.
The amount of elbow room and headroom in the Sprinter Van is impressive. There is 6'3" clearance in the van so moving around the van is no problem for just about anybody. Unlike riding in a stretch limousine, there is no need to bend in half in order to move around or get in and out. Another advantage to traveling in a spacious and luxurious compartment is that the passengers are insulated from the stresses and strains of having to deal with LA traffic. If you are trying to get across town during rush hour, being in the Brilliant Van won't get you there any quicker than a car, but the real difference is you won't mind the extra time in traffic because even though you're still stuck in it, your mind and body will be a world away.
This is what we call reclaiming valuable personal time at Brilliant. A major traffic snarl on the 405 ceases to be a problem when the travelers can enjoy watching one their favorite movies on DirecTV using the large flat screen, or perhaps sharing a drink with friend, or even using the onboard PlayStation to enjoy playing one of their favorite games. Traffic worries melt away when you have the chance to enjoy yet another hour of reclaimed personal time.