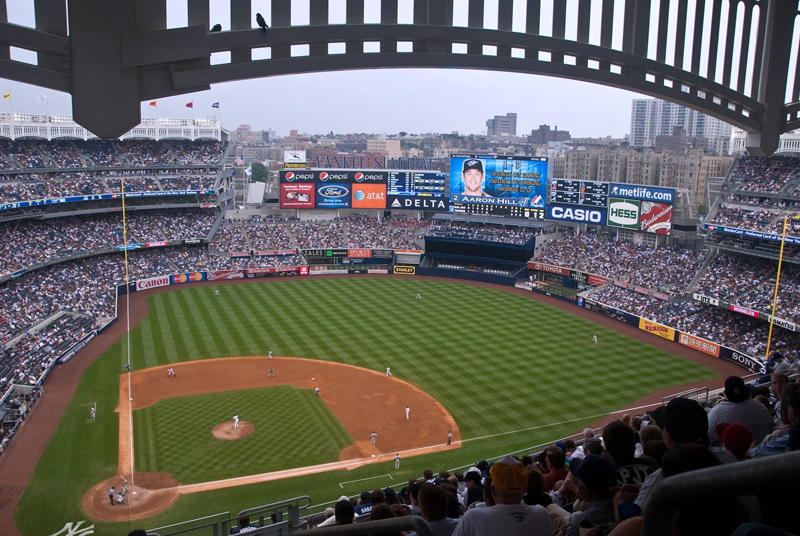 Taking a corporate outing to a MLB game is great way to reward employees and help with team building. For the many baseball fans out there in the corporate world, I can think of no better way to enjoy an afternoon than watching your favorite team at the ballpark!
When undertaking an event like this, you want to make sure you arrange for reliable transportation in order for things to go smoothly.
For nothing could ruin the day quicker than having your whole team waiting for a late bus to arrive or for the driver to get lost on the way! If you're in New York, or any other city in the Northeast, chances are you have plenty of different local transportation providers you could choose from.
Luxury Transportation to Yankee Stadium
But not all transportation is the same. While some companies do a great job, others are not always as reliable. So make sure you do some due diligence before deciding to go with any particular company.
Besides vetting a company for quality, the other variable you'll need to decide on is what type and size of vehicle you'll want to select. And that choice basically comes down to how many people you have in your party. In terms of executive transportation, there are many different options you could go with.
Vehicle Size and Selection
For groups smaller than 15 people, an obvious choice would be to go with a 14 or 15 passenger van. These vans are used on a daily basis to shuttle people back and forth from the airport, or hotels and are also used by various companies to shuttle employees to their different facilities. A standard passenger van is basically a no frills vehicle that just an efficient people mover. And one of their main advantages is that they are inexpensive to hire and to operate. And if you have more than 15 people, it usually just as economical to rent a second or third van as it would be hire a larger vehicle.
If you're interested in using a passenger van that is nicer than standard issue, I'd recommend going with company that uses Mercedes Benz Sprinter vans. These vans come in different trims and configurations, but altogether than a nicer, larger and more comfortable van than your standard Ford E-Wagon or Chevy van.
In terms of equipment and ride, they are far superior to the Ford and Chevy products. The Sprinter vans also come with a high roof option that makes it very easy to get in and out (they have 6'3" headroom clearance inside-perfect for standing) and come with many more optional features.
Brilliant Redefines Luxury Transportation
Brilliant Transportation is a high-end executive transportation company in New York that specialize in an all Sprinter fleet of passenger vans. We carry the standard 14 passenger version which is perfect for a small group outing like catching a Yankee's game.
Another possible option with Brilliant is that if you have an even smaller group, or if your guests are going to be important clients or top management, you can really up the game by going with a luxury van option.
Here Brilliant also has the perfect solution: our custom converted luxury vans are the finest in the industry. Perfect for transporting top executives or valued clients. Riding in one of these vans, the kind preferred by rockstars and Hollywood celebrities, will make your guests feel like a million bucks!
These luxury vans have an interior that is very similar to a corporate jet. Reclining leather covered captains chairs will keep your passengers comfortable whether they have a long or short journey before them. Leather surfaces and wood accents, including a gorgeous hardwood floor give the interior a top notch appearance.
Guests will also have use of the two large flat screen TVs, where they can watch 158 channels of DirecTV or listen to satellite radio. WiFi also comes standard, as does stowable work tables, electric outlets and reading lights for all the passengers.
Our luxury vans come in two configurations, a 7 passenger model with four facing captains chairs and a foldable rear bench, or our 9 passenger Executive Van, with 9 forward facing captains chairs. That is the high end of the spectrum. If you have more than 9 VIPs on your trip, you can also order multiple luxury vans to cover the headcount.
Large Group Transportation
If you plan on taking an even larger group, say between 20 and 60 passengers, then your best option might be to go with a mini-coach. Brilliant has two models of mini-coaches, including a 28 seat bus and a 36 passenger bus. The 36 seater also comes with an on-board lavatory, great for long distance trips.
Both sizes of our mini-coaches are luxury vehicles, meaning they're much fancier than the average mini-coach people transporters so often seen on city streets. Luxury versions of these mini-coaches can be harder to find, so when you have a bigger group that requires a vehicle with a premium feel and greater comfort, our luxury coaches are a fantastic choice.
Our mini-coach models come with a beautiful metallic grey exterior as well as a sumptuous interior. Lovely hardwood flooring, and premium leather captains chairs inside will keep your corporate group extremely comfortable throughout their trip.
The coaches also come equipped with a PA system, premium sound, a large screen TV upfront as well as LCD screens throughout the cabin so everyone has a view. The DVD player is also standard and WiFi is available upon request.
Outstanding Service Is Required
Regardless of which vehicle size you select with us, what you'll find in common is an absolute commitment to superior customer service and outstanding job performance. Transportation can be very straightforward, however it can also be very easy to slip up and make mistakes.
That's why we practice total vigilance when it comes to making reservations and preparing our vehicles and drivers for upcoming trips. There are so many moving parts that have to be attended to before a trip is dispatched, and we attend to all the details. Reservation itineraries will be checked and re-checked, our vehicles will be cleaned, detailed and preventative maintenance done. Safety checklist and equipment checks will be performed and reported.
It's all part of a an elaborate ballet that is performed beforehand, in order to ensure that your corporate outing goes off without a single hitch!
In terms of customer service, we expect the best from our employees every day, and we know that in executive transportation, clients who are paying more for better service and a better experience deserve to get exactly that, and nothing less. There's no reason why luxury transportation shouldn't give you the same relaxed and confident feeling you get when you are checking in to your 5-star luxury hotel room.
Special Requests
And that commitment to customer excellence also extends to the way we handle special requests for our clients. Many transportation companies will offer you transportation, but nothing more. At Brilliant, we understand that the journey is part of the experience and if there are things we can do to enhance that experience, we will gladly do it!
For example, custom catering is an option with your reservation. Would you like to be provided with a breakfast or lunch on board with beverages of your choice? No problem, we can handle that! Or perhaps your marketing people would like to take the opportunity to wrap the vehicles or put on a company logo to get some free PR? We can do that as well.
It's all part of the total effort we put forth to make sure your next corporate outing is really memorable and worthwhile. Your hardworking employees or guests deserve to be pampered, if only for a couple hours so that your company can show your appreciation to them.
To find out more about our rates and how we can make your next road trip extraordinary, contact Brilliant Transportation at 1-800-543-1001 for details.