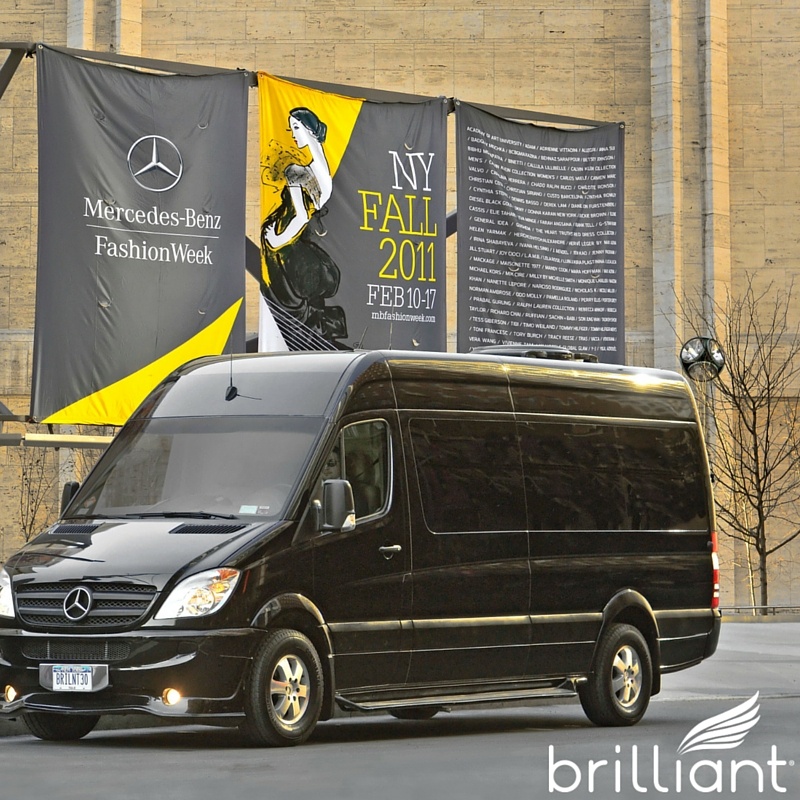 New York's Mercedes Benz Fashion Week Spring 2015 hits the Big Apple on September 10th.
It seems that Fashion Week will be a little more spread out than usual, and for devoted attendees and fashion insiders, many may be planning on booking executive transportation. This will give them the chance to make their week go smoother and help them stay focused on their business, instead of worrying about getting to the various venues. All in all, event organizers are expecting 100,000 attendees from around the world, including executives, buyers, retailers, designers, editors, celebrities and VIPs. There will be over 80 designer shows over 8 days. That's a lot of extra people moving around the city to make this event happen.
The Best Transportation for New York Fashion Week
How will they all be getting around town? As I mentioned, the smart money will probably be looking to book executive transportation for the week. However, not everyone has the same needs, scheduling or budget. So let's take a look at some of the other options available.
1) Subway
The New York City Subway is the every-man's method of getting around New York. It is reliable and quick and can take you most anyplace in the 5 boroughs. Although most New Yorkers wouldn't hesitate to jump on the subway, it's not everyone's cup of tea. Subways stations are often dirty and noisy and you can encounter all kinds of unsavory types.If you're all dressed up to go to one of the fashion shows, it might not be your most comfortable option. In addition, the last time I used the MTA subway, I had trouble with some turnstiles not working and repeated attempts to get through ended up draining my Metrocard pass! Not fun.
2) Taxi cab
The ubiquitous yellow cabs are a New York City institution. There are over 46,000 taxis citywide. It is perhaps the most common way to get around Manhattan for tourists and business visitors alike. New Yorkers have a love/hate relationship with cabs because your quality of your experience can vary dramatically. If you're standing with a crowd of passengers, sometimes competition for the next ride can be fierce.
3) Black Car Service
A black car service is a step up in transportation. You can have your own nice, (hopefully) clean and private Lincoln Town Car ferry you across the city as you go from event to event. This is a much more 'business class' way to travel. But again, quality in these car services can vary wildly. Some are really good, and others not so. Prices in this segment are also quite variable, but the average might be around $50/hour with some of the more obscure providers costing less.
4) Custom Mercedes Sprinter Van
If a black car service simply won't do, and you're accustomed to travel in a finer style, then you have another option. The luxury van segment is a relatively new and quickly growing segment in the executive transportation industry. The segment is so new that there really isn't a standard vehicle being used, but perhaps the one vehicle is that becoming very popular in the premium segment is the Mercedes Benz Sprinter van.
Brilliant Transportation has a line of custom converted Sprinter vans outfitted like a private jet. These particular vans have become a favorite among celebrities and VIPs in New York City and beyond. If you are entertaining business VIPs or talent for Fashion Week, this may not only be a good idea, they may come expect this kind of top-notch ride.
Brilliant's luxury vans are configured in 7 and 9 passenger arrangements and they are extremely spacious (with 6'3" headroom) and outfitted with the best entertainment and Internet technology available. Not only does it feel like a first class limousine (but much bigger inside), and with its captain's chairs and stowaway desks, it can function as mobile office or even a conference room on wheels.
If you would like a quote from us for your trip to Fashion Week you can click here.