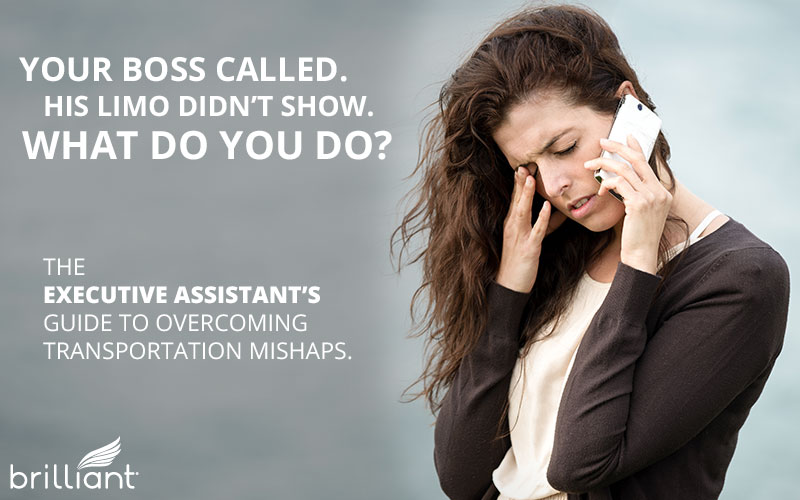 Your Boss Called. His Limo Didn't Show. As His Executive Assistant, What Do You Do?
First of all, don't panic! If you boss's arranged limo doesn't show and he has somewhere he needs to be in a hurry, get him a cab and sort out the mess later!
It's unfortunate that sometimes limousine services miss their pick ups, but like any transportation business, trips and roadways can be unpredictable and sometimes dates and times do sometimes get missed!
The EA's Guide to Fool-Proofing Transportation
Like many people, you probably work in a business where failure is not an option. Your boss may have a plane to catch, or an important meeting to attend and missing his pre-arranged trip is a hassle that you don't need to deal with.
How do you deal with this?
First of all, you need to work with a reputable, quality transportation company that won't let you down. Sure, mistakes can happen, but that doesn't cut it in your world, and neither should it for your transportation company.
Choose A Company With Excellent Customer Service
Companies that have excellent on-time records and offer superior customer service, they don't get that way on accident. They have to work hard and smart at what they do, and they have to prove themselves on the road, in action, to clients in everyday situations before they can make such promises.
And because mistakes can occur with anyone, one needs to have robust systems and checks and balances in place to make sure the inevitable doesn't happen. The best way to deal with is mistake is to catch it before it goes live, and does some real damage to your clients and your business.
There are many areas where mistakes can happen, so quality transportation companies have to be on guard during every phase of the trip, with pre-trip preparations being the most important.
The first place where mistakes can happen is in the reservation making process. All relevant trip information needs to be checked by the reservations to make sure everything is clear and accurate. Details would include things like passenger name, passenger contact, pick up address, drop off address and billing information. Any additional details are also important like the number of passengers, what type of trip they're taking, what kind of luggage they have.
Create A System To Avoid Mistakes
Once these details are understood and recorded then the trip can start off on the right foot. But there's more preparation involved than just taking the reservation. The driver and vehicle have to be briefed and prepared for the trip. The driver should familiarize themselves with the route, if they don't know it already, and have some alternative routes ready in case there is a detour.
Drivers and dispatchers also need to be aware of traffic and weather conditions the day of the trip to make sure there are no impacts.
The vehicle also has to be prepared as well. It needs to be cleaned and washed thoroughly if it has been out on a recent trip. Drivers also need to conduct pre-trip safety and mechanical inspections to make sure everything is working.
In addition, if there is technology inside the vehicle to serve the passengers, like satellite TV, WiFi, or a DVD player, the driver also has to check to make sure those items are in good condition as well.
In addition to these immediate issues, the company also has to perform regular maintenance on its vehicles, hitting all scheduled factory services, so that you won't have anything like a breakdown occur during your trip.
Book a Company With Highly Trained Chauffeurs
For the staff members, the company also needs to provide thorough driving and safety skills training for their drivers so that they can be safe, courteous and efficient while on the road. In addition to executing their job duties with confidence, good chauffeurs should know how to be hospitable, or be trained in the art of hospitality so that they can render good customer service.
So, as you can see, there is plenty of long term and short term preparation that goes into creating an efficient and comfortable transportation service. Things can't be done on the fly or without forethought, otherwise unexpected situations are guaranteed to crop up that will create problems for the operator and their clients.
And because ordering executive transportation isn't like just buying a product off the shelf, clients and corporate users also need to prepare themselves, mainly by researching and vetting transportation services to make sure they can find one that is reliable and one that fits their needs and desires. That also takes time!
Discover What You Need Before You Need It
My best advice for avoid the bad situation in the title is work at building relationships with quality vendors, in this case executive transportation, before they are really needed!
Often companies that book corporate transportation will have various demands throughout the year, at different times for different events. This gives clients a chance to work with several different companies on smaller jobs, in order to weed out the bad ones and promote the ones you want to use.
Thereafter, when that really important business conference comes up or you boss of bosses needs to go somewhere in a hurry, you can wow corporate with your efficiency and hopefully get pats on the back for arranging a pleasurable and efficient business trip!
The Brilliant Difference
Brilliant Transportation is one such executive transportation company that puts a tremendous amount of time and energy into getting things right, and being the best possible service it can be! It's a striving that you won't find at any company, and it shows in the way we treat our clients everyday, the care and polish we put on our first class fleet of vehicles.
Brilliant's entire goal is to set a higher bar for the executive ground transportation industry, and every day that we complete another successful trip, and delight another customer, the closer we get to our ever-expanding goal of being the best in the business.
We are lucky in the sense that, as we work in a very exclusive luxury marketplace, we get to work with extraordinary individuals everyday, clients for whom superior service and superior life performance, are an everyday fact of life. Their excellence inspires us to do better and vice versa. We are also privileged to be able to offer such a high level of service, and transport people with the best vehicles and equipment that money can buy.
As a result of this positioning and our work in the luxury market, we provide a service that costs more to provide and are able to charge higher prices for it. For clients who are budget minded and only concerned about the cost of things, this service may not be the best fit for them.
But for those who recognize excellence when they see it, and are willing to pay a fair price for a service and customer experience that is beyond the ordinary, then they should give Brilliant a call when they next require executive transportation in the Northeast, or in Southern California.
We will be waiting for their call, ready to serve and please in the best way we know how: by creating a luxury transportation experience that is second to none.