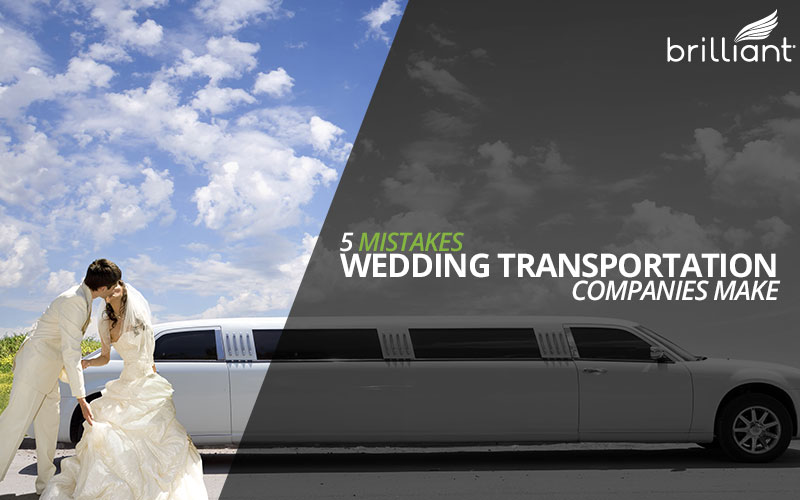 When you planning for your wedding or for one of your close family members, or at least paying for it, you certainly want everything to go right. At the very least, you would certainly want your wedding transportation to enhance the event and not detract from it.
Yet unfortunately, transportation for your wedding can go wrong, just like transportation can go wrong on any other occasion if things haven't been properly planned or prepared for. Hopefully this will never happen to you on your wedding day, and most of the time, transportation providers do an adequate job. However, the potential for screw ups always exists, so we thought we'd put together a list of common problems so that you can anticipate and avoid these problems before they ever come up!
5 Mistakes Wedding Transportation Services Make
1. The Limo is Late; The Driver Was Lost.
This is a simple and avoidable mistake that could potential cost you your whole day! Even if that's not the case, even a limousine being 15 minutes to your ceremony could throw your whole schedule off. That's certainly not what you would have signed up for when you booked transportation. And even if you suffer nothing more than a minor inconvenience, the addition of stress and anxiety over potential problems is certainly not what you want on your wedding day either!
2. No Attention to Detail
Like problem number one, this issue is related to poor job preparation and also could have been avoided entirely.When book and preparing for a trip, it's not just the chauffeur who has to worry about getting the details right, but also the reservation staff that stands behind him or her.
Once the trip itinerary is laid out, it is the chauffeur's responsibility, as well as the dispatcher, to make sure those instructions are followed to the letter. But what if they don't have to correct instructions to start with? You can see that this is where the problem starts! Make sure your wedding plans and all the attendant details are confirmed and double checked long before your special day arrives.
Reservation details go beyond the basics of time and location of the pick up and routing details. It can also be specific requests like the vehicles be stocked with particular beverages or champagne, it could a request for particular decorations be added to the exterior or interior of the vehicles, it could be a custom request that the driver(s) wear a special garb or coat for the occasion.
Perhaps you even requested that the vehicles pick specific supplies or even the wedding cake in addition to your passengers. The point is: whatever your particular requests or instructions are for this reservation, if they are not followed or plain out forgotten, it could cause a lot of distress beyond the typical problems like the limo being late or the driver getting lost!
When it comes to wedding preparation, no details is so small that it should escape the attention of your transportation provider, particularly if you're paying them extra to take care of these special requests!
3. Mechanical Problems / Dirty Vehicles
Not to add any further dimension to worries here, but we're not done with all of the potential problems you wedding transportation might encounter. Let's say you've had no problems with your chauffeur: he's on time and didn't get lost, and all of the special requests you mentioned were included in the service.
That's all well and good, but what if you have a problem with the vehicle you hired? Perhaps the vehicle didn't show up looking sparkling clean like you expected? Worse, may it showed up with some leftover trash in the back, or with scuffed wheels or side scrapes on the exterior trim. Beyond the cosmetic appearance, there is always the potential that there could be problems with the mechanical systems too! What happens if a window won't open or the radio doesn't work? Even worse, you might suffer a breakdown like an overheated engine or perhaps the air conditioning stops working during your trip! Any of these things could potentially happen, and they've already happened to some unfortunate party somewhere in the past in the universe of wedding transportation.
This isn't something that wedding clients should have to be prepared for or have to worry about! That's why they hired someone else to do the job for them. And when the professionals fail at their own job, then everyone is negatively impacted.
While you can't avoid every unexpected scenario from happening to you, you can minimize your risk by choosing a reputable, experienced and well-reviewed wedding transportation provider. Their job is to do a thorough job maintaining their fleet on a weekly or monthly basis, and to make sure that if one particular vehicle isn't working right on the day of your reservation, that they have an secondary or backup vehicle available to take over the job if necessary.
4. Horrible Customer Service
Maybe they don't smile or act indifferently to guests? One you incorporate private transportation into your wedding plans, these staff people become part of your wedding now, whether you realize it or not. These people you hired will at the event and interacting with your family and invited guests, so you want them to share the enthusiasm as it has a bearing on your guests' mood and perception of the event.
This might just be a long-winded way of saying what common sense already tells us: that good old fashioned customer service is important! It's not just the details and timing of the trip or event that is important, but of course, the way it is delivered. Service should always be delivered with smile, but this is doubly important when a client is paying big money for an extensive wedding reservation.
Even if a vendor has mastered the operational aspect of your wedding, the manner and style in which that service is delivered is what the passengers or clients will really remember. And it is the excellence in that delivery that will lead to long lasting customer relationships! It is a win-win for everybody because vendors want to have those valuable relationships, and customers always want to have a supplier they know they can count on again and again!
4. Inadequate Planning
This item might seem like more of a wish list than a real problem. But all too often, mediocre transportation companies are only interested in getting the booking, without wanting to do a whole lot of extra work, like really work with the client in order to make their dream come true. You need a real customer service specialist is you want your transportation company to go that extra mile. But even when your transportation provider fails to step up to the plate, there can be consequences.
For example, on a large elaborate wedding, many different vendors and planners could be involved, from caterers, valet parking, event staffers, security, entertainment, etc, etc. If they transportation vendor is unaware of this, or just doesn't care, they won't properly coordinate with everyone involved and mess up your plans if you had envisioned a certain arrival protocol, or special ceremony, where you need to them to hit certain marks, not get in the way of others, etc.
A quality transportation vendor will anticipate these needs on the larger events and should suggest ways to work together. If these details aren't coordinated by the client, or their hired wedding planner, the transportation likely will not mesh well with the other vendors when it comes to an elaborate production.
Thus in closing, all of the above points are not meant to instill fear (or maybe so if it's a good motivator for you) but to help you realize that when private transportation is an integral part of your wedding plans, there is plenty you can do as the consumer to improve the experience and minimize your risk.
It comes down to choosing a quality provider, working with someone you can trust, and also being transparent and comprehensive in your communication during the planning stages.
If a small or big detail is really important to you, make sure you communicate that to your transportation company. They can't act on it or be held accountable for it you haven't been clear on what needs to happen and when.
If you're interested in getting a free consultation for transportation for your wedding, you can call us at 800-543-1001 or visit our wedding page for more info.