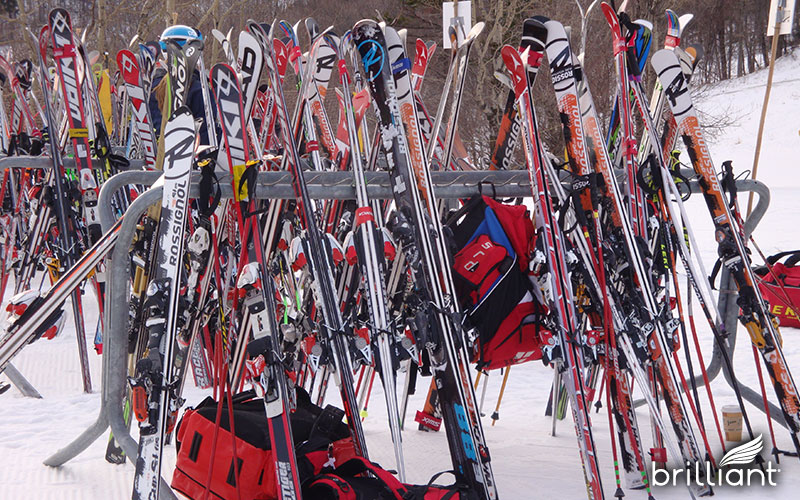 Winter, spring, summer and fall, any time of year is a great time to get out of New York City and head for the mountains! While there are plenty of great mountain getaways in upstate New York, one of my favorite destinations in the Northeast is the beautiful Green Mountains of Vermont.
Specifically, Stratton Mountain Resort is a fantastic retreat destination any time of year. Stratton is of course best known as a premier ski resort, and the winter ski season is perhaps its prime time. But this lovely little alpine village is no less charming in summer time, and offers an terrific abundance of outdoor fun, featuring activities like hiking, biking, golf, tennis, kayaking, running, horseback riding, just about anything you would enjoy doing on a lazy summer day. It's quaint little village also offers lots of great shopping, dining, live entertainment and plenty to keep the whole family engaged during your vacation.
Luxury Transportation for your Stratton Mountain Getaway!
Brilliant Transportation has a special connection to Stratton because many of our long time clients maintain vacation homes there. We find ourselves making regular weekend trips up to Vermont both in summer and winter. And Brilliant Transportation is really an ideal company to be taking clients to a premier resort because Brilliant is also a premier transportation company. We provide first class executive transportation to a large corporate clientele, as well as discerning travelers and luxury aficionados. When you need the best transportation, and when you need reliability without fail, people call Brilliant Transportation.
Our company is perhaps best known for our unique Sprinter fleet of custom luxury converted vans. Our all Mercedes Benz van fleet is specially designed to take small groups on charter trips in the greatest comfort, luxury, convenience and safety available in the ground transportation industry.
Calling our Sprinters mere vans is almost doing them a disservice. Our vehicles are really more like a private jet on wheels, as clients can relax in a private, first class cabin that has every amenity to take your mind off the road. Our Brilliant Vans as well call them are equipped to function like a mobile office if you're on a business trip, or a mobile lounge if entertaining guests is the order of the day. And of course, they are simply a great environment to spend four hours in if you going up to Stratton for the weekend.
Vehicles Choices and Sizes
Brilliant also offers a diverse luxury fleet that can handle different size groups. You have several vehicle options for your trip to Vermont, and the size of your group or the type of service you require will determine which option is best for you.
If you're by yourself, or in a group of less than 6, you have to option to travel by SUV. Brilliant features Cadillac Escalade ESV's for our SUV fleet. A comfortable and efficient ride, there are leather bucket seats for 6 and plenty of room for luggage for your weekend trip. If you would like to use your iPad for the trip up, we can provide WiFi upon request at no additional charge.
If you need a larger vehicle for more people, or if you're carrying equipment like mountain bikes or skis, I would recommend using one of our Sprinter vans for the trip. Our 14 passenger van is great for small groups, like a small school group or ski club and offers tons of room and luggage space for bulky equipment. The Sprinter passenger van is the best in class van worldwide. The Sprinter have more room, especially headroom (6'3"), performance, comfort and styling than any domestically available van. Your group will have a great time heading up to the mountain in one of these vehicles. The time will just fly by as you enjoy a road trip with your friends.
The Brilliant Van Is The Ultimate Ride
Now if you're more interested in a luxury vehicle, to transport some VIPs or simply because you prefer to travel first class, then our luxury vans are your best choice. Our 7 passenger luxury van is called the Brilliant Van, and it features 4 large leather captains chairs which face each other in a salon type arrangement as well as a comfortable rear bench will seat an additional 3 adults or fold down like a bed for overnight trips. Our luxury vans also offer our guests total privacy, with a full wall partition between driver and passengers, with an electronically controlled sliding window, privacy shades and tinted windows. It's limo style writ large in this voluminous vehicle with great headroom and elbow room all around.
Entertainment options also abound, with our two flat screen TVs with 158 channels of DirecTV and DVD player, Sony Playstation and satellite radio with a half dozen speakers for that theater experience. The vans also come with WiFi and plenty of connectors to plug your laptop or Apple TV into the big screen. Each seat also comes with a stowable desktop and 120 volt outlets for your devices and reading lights too. There's just no better way to travel on the road than in one of our Brilliant Vans.
Now if your weekend or vacation plans involve a bigger groups, say for school, business or private club, or perhaps a special occasion like a wedding, then you have the options of using one of our luxury mini-coaches. There are many companies in New York City that offer corporate coaches, but none offer the luxury and style that our custom coaches do.
Or Use Luxury Mini Coaches For Your Group Trip
Brilliant has two size models, our 28 passenger mini-coach and our 36 passenger mini-coach. These coaches are a cut above your average group transportation. Both sizes offer the same features and passenger comforts (the 36 passenger bus also features an on-board lavatory, perfect for those long road trips) including all bucket seats, using fine leather upholstery, hardwood floors, ambient lighting, overhead luggage space, reading lights and electric plug ins at every seat as well as a large, flat screen TV in front with DVD player and PA system. The coaches also come with additional LCD screen throughout the cabin so everyone has a clear view. WiFi routers are also available upon request, at no extra charge.
These extremely well appointed and stylish vehicles would make any group delighted when faced with a multi-hour road trip, and they look terrific pulling up at swanky private events or upscale hotels.
But regardless of which size vehicle you need for your upcoming trip to Vermont, all of the vehicles come with a guarantee of Brilliant's top notch service. We believe in treating all of our customers like VIPs, and we go to great lengths to make sure that everyone on board is comfortable and feeling great. Our chauffeurs are not only highly trained professionals, but they are also great hosts.
And our efficiency and reliability will also put the most jaded passengers at ease. We never let our guests down, because before any trip is run, we take the time to make sure everything is perfect. Vehicles are immaculately detailed, all mechanical, safety and on-board systems are checked, reservation details are double checked and confirmed. And any special request, like on-board catering or special signage will be taken care of and ready for you as soon as we arrive on location.
If you'd like to find out how Brilliant Transportation can make your next excursion to Vermont extraordinary, where the journey is as enjoyable as the destination, then you need to contact Brilliant Transportation ASAP. Our reservation team is standing by to provide you with a quote for your special event.
Photo Credit: Shannon