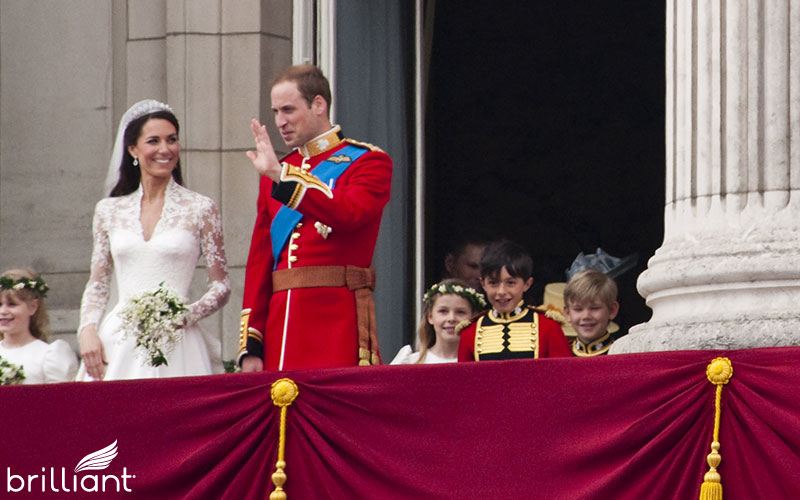 When it comes time to make that trip down to the altar, and you want to make sure your bride is treated like a princess on that special day, there's one thing you can do to make the experience extraordinary!
The solution is a lot easier than you might think: make premium luxury vans your wedding transportation vehicle of choice! Having a specialty vehicle at your wedding helps give you the extra flair you need to make the wedding celebration really stand out!
Not convinced yet?
Well how about asking the future King and Queen of England? Amid all of the pageantry and the millions of delighted onlookers, Prince William and his bride Kate used luxury vans to help transport many of their special guests to the ceremony at Westminster Abbey. You may not have noticed this detail as the cameras were focused on the bride and groom, and both of them arrived in royal Rolls Royces, but no matter! The luxury vans played an important role in their vast wedding as well.
Creating the Royal Wedding Experience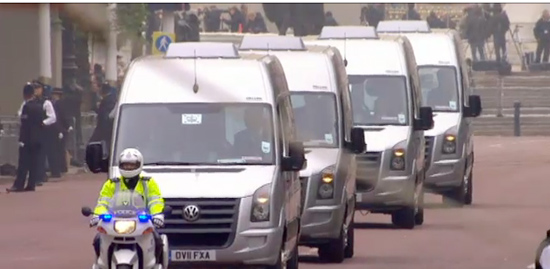 You probably won't be able to use Westminster Abbey and Buckingham Palace as part of your wedding plans, but luckily, a luxury van is much easier to arrange! While Will and Kate opted for the premium VW vans, not available in the US, the Mercedes Sprinter is nearly the exact same body style, available as a premium van choice in the United States.
The Perfect Vehicle Size and Style For Lavish Weddings
Why is this important you may ask? Well, adding that extra bit of luxury can sure make your loved ones and honored guests feel more comfortable and relaxed during the big celebration which is certainly a good thing. One of the primary advantages of using one or more luxury vans is the size of the passenger cabin.
The exterior size of luxury vans, depending on the make and model, is bigger than an SUV or car, but much smaller than using a bus or minibus, so it fits nicely into an in-between category which works well with many environments and locations.
But the interior space is where you find the real advantage. Particularly if you're using a tall van, like the Mercedes Benz Sprinter, you get 6'3" interior headroom, which allows most adult men to stand up straight. For men dressed in their suits and women in their dresses, this interior and the additional elbow room luxury vans provide allows for very comfortable riding and easy entrances and egresses from the vehicle.
Also the passenger comfort during a trip is much more considerable than what you would find in an SUV or sedan, or even a stretch limo. Usually there's room for 5-10 people to sit comfortably and have a conversation, or enjoy the entertainments that are provided on board, like using a satellite TV system, premium stereo sound or a DVD player.
Vans Can Serve Multiple Purposes at a Wedding
The vans are great for transporting small groups or using it as shuttle service to take multiple groups between event locations for your wedding. Also if the van is just being used by one or two people, the luxury vans can often be used like a private salon or trailer on site, whereby members of the bridal entourage can use the space to get ready, get dressed or change clothes, or even do their hair.
Many luxury vans come with the convenience of 110 V plug in outlets so guests can plug in their personal accessories, or even electronics if they need to during the event.
As I mentioned, luxury vans are custom converted vehicles so each company probably has a different model or type.
This can make hard to generalize about the benefits of these vehicles as equipment and features can vary, but to give you a more concrete example, Brilliant Transportation has often been called to use it's fleet of Mercedes Sprinter vans for many large society weddings.
Premium Luxury Wedding Vans
These, sleek, black vans look tremendous together when used in a wedding procession, and they also very efficient at moving small to large groups around the venues during the event.
For more shuttle type service, we often use our 14 passenger vans or minibuses to move groups around to the different locations. For more luxurious trips, particularly for members of the family or wedding party, our 7 and 9 passenger luxury vans offer the perfect combination of luxury, style and convenience. Many clients refer to our luxury vans as the 'jet van' because the luxurious interior is similar in style and comfort to an executive jet.
The interior of our luxury vans are black, and the interior color is a creamy beige. There are leather and wood surfaces throughout the cabin as well as a handsome wood floor, a full partition between driver and passengers as well as privacy shades and tinted windows. For those who want it, complete privacy is simple to achieve.
Our 7 passenger luxury vans, known as the Brilliant Van, features four large, comfortable, leather covered captains chairs with reclining backs and footrests. The chairs face each other in a salon like fashion, with a rear bench that seats an additional 3 persons. The rear bench also folds down into a bed like surface which can be great for relaxing!
Each place is also set up like a mini-workstation, which is also convenient for leisure or short trips. Each seat has a stowable desk which you can use to set your laptop on or other personal items, and each place also comes with its own 110 outlet and reading lamp too.
For entertainment our luxury vans also come fully equipped, featuring two large, flat screen TVs with DVD player and 158 channels of DirecTV and also Sirius Radio. There is also on-board WiFi and Sony PlayStation 3 for the gamers out there. The vans also come with a mini-fridge, crystal stemware and wet bar for enjoying drinks.
But the tremendous set up and luxury features of these custom vans are not the only reason you might want to hire them for your upcoming wedding.
For a Wedding, You Need Amazing Customer Service
The true purpose of these wonderful machines is the opportunity to offer our clients world-beating customer service and VIP treatment. The true measure of quality of a limousine service is not only job performance but outstanding customer service.
All of your guests should feel delighted and cared for when using a superior chauffeured service. Of course, basic transportation is the purpose, but it is the actual experience of being served and driven that people remember afterwards!
That is why, regardless of which vendor you ultimately select for your wedding service, you'll want to choose a company that understands what clients want and how to deliver it.
That is our mission at Brilliant, and while we cost more than many other companies out there, due to our first class equipment and customer care, we know that when it comes to your special occasion, you'll want to go with a firm that doesn't just avoid disappointment, but truly excels in providing the best service.
Image Credit: Grazia Daily