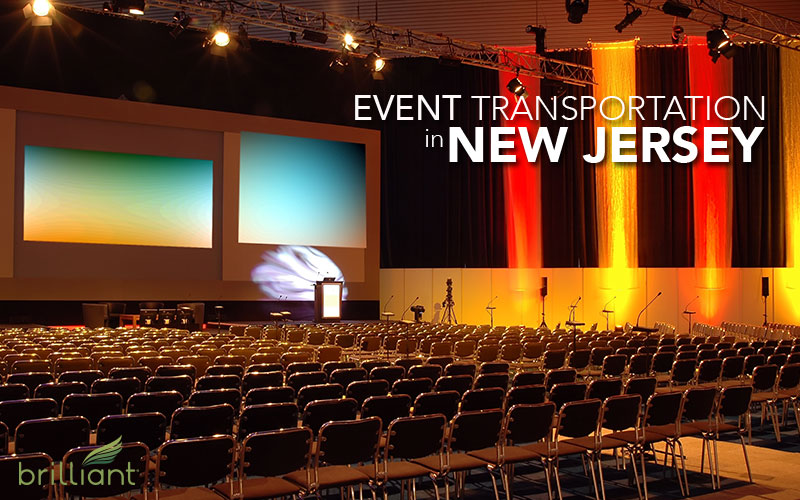 Planning a large event with chauffeured transportation can get complicated, especially if you're using a lot of vehicles to transport hundreds of guests and you have a large schedule with many different events and venues. That's why, when faced with such a scenario, it's a good idea to rely upon an experienced transportation vendor who has worked on many large events.
Luxury Van Service in New Jersey
Because each event is different from the next, we can only generalize about pricing and logistics; a transportation company would need a specific itinerary before being able to provide an accurate quote. However, there are a few basic things we can say about how these events get planned and how they are priced.
The purpose of this blog is help potential clients become more familiar with limousine billing practices so when it comes time to solicit transportation bids on an upcoming event, you won't be facing any surprises.
One of the most important concepts about limousine and van service pricing is that it's always done on a hourly basis. Even if your company is requesting a fixed priced bid, the quote you receive will be based on the total number of hours the vendor believes it will take to complete the job. And that figure is dependent upon a client's actual itinerary, so it's important to provide as much accurate information upfront to your transportation provider.
Van Service Pricing and Hourly Minimums
The thing about hourly pricing is that it's pretty straightforward. The more hours you use per vehicle, the higher the cost of providing transportation. If you are using multiple vehicles, you would have to add up the number of hours being requested for each vehicle to get an idea of your total price. So it's important to know ahead of time, as accurately as you can, the number of total passengers who need transportation. You need that figure before you can decide how many vehicles would be required for the job.
Another important practice to know about in van service and limo pricing is the use of hourly minimums. Almost all limousine service companies require a 2 or 3 hour minimum to hire any of their vehicles.
This rule only comes into play for a client if they are requesting minimal service, perhaps 1 or 2 transfers spread throughout the course of day. What the minimum means, however, is that even if you only need a chauffeured van or bus for 15 minutes at time, the client is still required to pay for the minimum, and that could be (for example) 3 hours per day or even 3 hours per use, or for each trip.
Limousine companies have to charge minimums because they don't operate continuously throughout the day the way a taxi or bus service do. Each trip is a pre-arranged charter and vehicles and drivers have to be prepped before each trip.
This takes more time than just calling a taxi, and also limousine charters have fewer opportunities for business as each trip must be pre-booked by a client. There's no cruising around to pick up random passengers and there's no regular schedule to adhere to. Therefore in order to continue to provide exclusive and on-demand transportation for clients, limousine companies use hourly minimums to keep the fleet rolling.
Vehicle Selection and Typical Hourly Rates
The other major factor in terms of van service or limousine pricing is the type and number of vehicles you need. There are many different types of vehicles one could choose from, and the type of vehicle you select will largely depend on how many people need moving. If it's a lot, you're better off choosing the largest vehicle size you can to move as many people as you can at one time; that cuts down on the price by limiting the total number of vehicles that are required.
The quality and size of chauffeured van you hire for your event can vary quite widely depending upon the specifics. The most basic and economical van service you can order starts with the factory standard 15 passenger van. This is usually a Ford E-Series Wagon (van) or the Chevrolet Express 1500 passenger van. Again, these are basic factory models which offer bench row seating and your standard van equipment features and not much else. They are comfortable and reliable but don't offer much in way of style or elegance.
Typical rates for these vehicles in the New York Metro area are around $65-$75 per hour. A competing version is the Mercedes Benz Sprinter Minibus which seats 14 passengers. The Sprinter are longer and taller than its American counterparts and also offer more standard features, which means they cost more as well. Look for hourly rates in the vehicle anywhere from $85-$150 per hour.
If you don't quite need to fit 14-15 people per vehicle, SUV service could also be a good alternative. These vehicles offer more comfort and standard features than the vans, and are good for up to 6 passengers per vehicle. SUV service is usually done in a Cadillac Escalade or Chevy Suburban or something similar. Rates tend to go around $75-$95 per hour.
Premium Van Services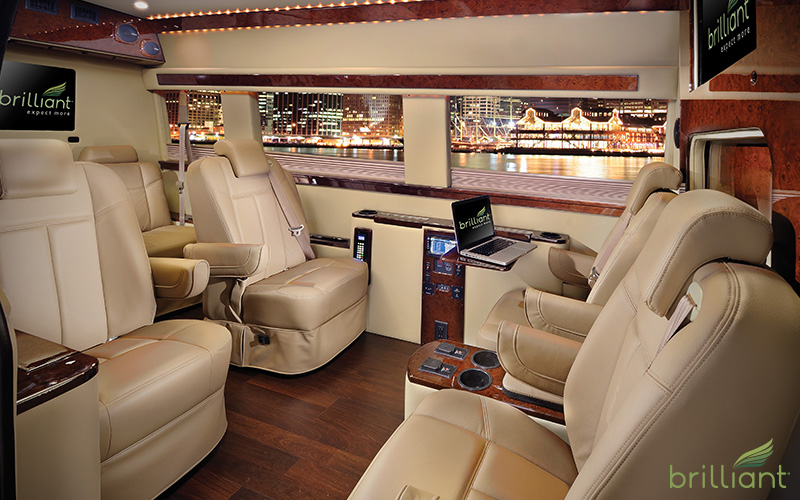 If a standard passenger van won't do. you can always move upscale to a luxury van or limousine van. This type of vehicle could be based on any one of the usual manufacturer's platforms, and in order to meet the standards, the luxury van should offer individual bucket seats, or captains chairs, upgraded interior materials like leather and entertainment technology such as satellite TV, DVD players, a premium sound system and the like. Also mood lighting and oftentimes a bar is included as well (just like in a limo).
Also because of the larger, more comfortable seats, these luxury vans will seat fewer passengers (by design). Typically they will have carry between 8-12 passengers, although I have seen some ultra-luxurious models that only seat 4, giving over a maximum amount of interior room to those few pampered passengers. Rates in the luxury category can start anywhere from $85 per hour for the more standard vehicles up to $200 per hour for the more exclusive custom jobs.
Brilliant Event Transportation
Brilliant Transportation is luxury transportation specialist with an exclusive fleet of Mercedes Benz Sprinter vans, all custom luxury van conversions. These vans are built to the highest standards and are without question the best luxury fleet vans on the roads today. Using the MB Sprinter platform, we are able to offer more legroom and headroom (a full 6'3") than any other competing class of vans.
Our vans also feature reclining, leather captains chairs which come with a workstation like set up: stowable desks, outlets, storage spaces and reading lights. We also feature hardwood floors and privacy shades, and a full partition between driver and passengers. Our luxury vans come with standard with satellite TV, large flat screen displays, a premium sound system and onboard WiFi.
The vans work great as a mobile office for busy executives on the go, or as a mobile entertainment lounge which is great for entertaining clients, or just a private night on the town. Hourly rates for these exclusive vehicles are $225 per hour with a 3 hour minimum.
We understand that with our exclusive vehicles and luxury pricing, we may not be the right option for every client who comes our way, and certainly there are lower priced alternatives that are easy to find. However, when you need that exclusivity and luxury for a very special group of passengers, or perhaps just the right first class occasion, our vans are an excellent choice. In the end, it's not the price you pay but the value you receive that's important, and making that critical client or special someone very happy just might be the most important decision you ever made!
For more details and to receive a custom quote for your next event, contact Brilliant Transportation at 1-800-543-1001.