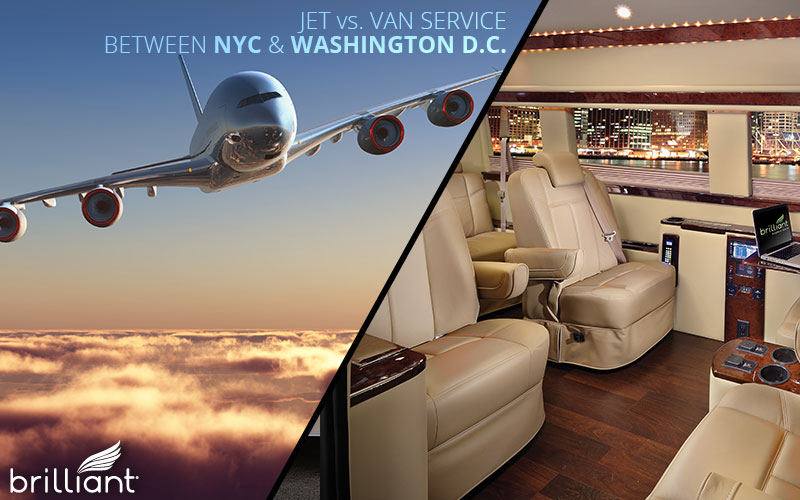 The New York City to Washington D.C. route is one of the most heavily traveled transportation corridors in the whole country. Obviously these two major population centers are at the heart of our nation's civic and commercial life and the demand for travel between the two is strong. As befits the popularity of this corridor, there are many good transportation choices available, including bus, car, train and plane service.
As an executive transportation company, Brilliant Transportation also provides luxury transportation between these two great cities, and it also one of our most in demand routes as well. Oftentimes potential clients have asked us about the relative merits of different forms of travel, including air travel versus van service. Which is better?
The Best Way to Get to NYC from Washington D.C.
That's a good question, but one with no cut and dried answer, because the answer really depends upon the particular needs of each client. That being said, we can explore this comparison a little bit further in this blog today, to give potential clients and idea of the pros and cons of each form of travel.
Flying is a pretty straightforward proposition. Dozens of flights leave between all the New York airports every day during all times of day, and if you shopping around and most importantly, give yourself enough advanced notice, you can also find pretty decent fares.
Flying from D.C. to New York City
For the business traveler, it's a bit trickier since many of their trips are often planned at the last minute, out of necessity. New York and DC are about 230 miles apart and a direct flight takes a little more than an hour to complete. Prices for a last minute coach seat can range anywhere from slightly below $200 to nearly $400 (one-way). Sometimes you can find a business or first class seat for only slightly more, but in some cases the cost, depending upon availability, could be as high as $800 one way.
Naturally, when time is of the essence and in cases where a round trip from New York to D.C. is necessary in one day, then flying might be your best option. Public transportation is abundant in both cities, and so are taxis and car services, so for short trips where you don't have to make too many different stops, simply flying and cabbing it in your destination city can be a very practical option.
More Intensive Travel Schedules Could Require A More Flexible Method of Transport
However, if you're spending multiple days in your destination and you local travel itinerary is extensive, the proposition becomes slightly more complicated. In cases like these, you might want to consider renting a car or at least hiring a driver or limo service to help you get around to accomplish your business quickly and efficiently. But this will also increase your expenses as well when you have to combine multiple modes of travel and multiple providers.
When you start pricing out the trip for a small group to fly, anywhere from 2-8 people, things can get pricey in a hurry. In cases like these, then you might want to consider the alternative of using a van service between cities, particularly a luxury van if it is an executive trip!
Consider Taking a Luxury Van Service to New York!
There are many different types of van service available between D.C. and NY, including regularly scheduled shuttle service which offer commingled travel with other traveling parties. However for the purposes of this blog, we are going to compare the flying option with a private van service, or limousine style service. This works much better when you have your own private group and it is easy enough to charter a van through a limousine service or dedicated van service provider.
One of the major benefits of using a private chartered van is that not only can it accommodate your whole group, but you can also use the van as long as you need, and not just for the city to city travel portion of your trip, as you would if you were buying a ticket on a schedule or transit van service.
Keeping the van with your group throughout the duration of your stay changes the equation considerably, because now you can economize by not having to switch modes of transport as well as having the convenience of accomplishing all of your local travel itinerary in one single swoop!
Hiring a private van gives you total convenience, privacy and exclusivity as well if you opt to go with a luxury van service.
Passenger van service is usually done using a standard 14 passenger van which is a staple in many livery and transit service fleets. They are practical and relatively inexpensive, especially if your group is up to 15 people.
But for a slightly smaller group, less than 10, you also have the option of luxury van service. Luxury van service is perfect fit for traveling executives, VIPs and luxury travelers. Using an upgraded van with more comfortable seating, a nicer interior and many more passenger features can turn the trip into a very enjoyable experience!
Premium Experience by Brilliant
Brilliant Transportation is a luxury van specialist based in New York City. We helped pioneer the luxury van market in New York City and also for inter-city transfers to places like D.C. and Boston when we opened shop several years ago and began providing outstanding service with distinction in top of the line vehicles.
The introduction of our all Mercedes Benz Sprinter fleet was a game changing move in the limousine industry and since we started, many other companies have joined the Sprinter bandwagon. Imitate as they may however, they have not been able to equal our level of service nor the custom quality of our vehicles because of our determination to be the best, but also because we are focused like a laser on this very exclusive market niche.
Brilliant's Luxury Van Features and Amenities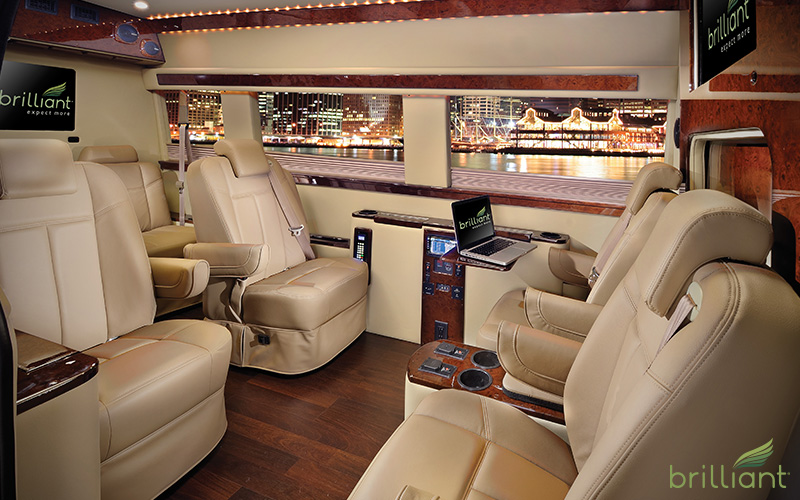 Our luxurious Brilliant Vans would make any trip long or short, or even multi-day worthwhile with our incredible interiors featuring large comfortable captains chairs that multiple electric adjustment, including reclining backs and lifting footrests.
In New York, our luxury Sprinters come in two variations: a 9-seater and 7-seater models. The 9-seater is configured just like the interior of a private jet, with two rows of leather captains chairs lining the sidewalls and a small aisle in the middle. This version is great for business excursions, scouting, sightseeing, or nights on the town.
Our 7 passenger model comes with four large captains chairs that face each other in a salon type arrangement. This version is particularly useful for face to face conversations; great for closing a business deal or just having fun with your friends. The 3 remaining passengers have a comfortable rear bench to sit on, which also folds down flat creating bed like surface. This feature is very handy for long-distance road trips or overnight reservations, especially when it's only a few people in the van, then it is easier to take advantage of the reclining bench for resting.
Both versions of the Brilliant luxury vans come with richly appointed interiors featuring lots of leather and wood. The vans also come with an attractive hardwood floor. Also common to both vehicles are tinted windows and window shades for privacy. The 7-seater also has a full partition between driver and passengers, which is great when you need total privacy.
The Executive Van: A Mobile Office or Board Room
Another key feature is that both versions also work great as a mobile office. Both versions feature seats that have an adjacent foldaway desk, electric outlets and reading lamps which can transform each seat into a mini-workstation. Your productivity doesn't have to end because you are in transit! And if you are entertaining, the desks and outlets still work as a wonderfully convenient feature to make the most use from the vehicle interior
Both luxury vans version also come fully appointed with the latest in vehicle technology. All luxury vans come standard with onboard WiFi and satellite TV and radio. There are also flat, large screen TVs (2, fore and aft in the 7-seater), a DVD player and even a Sony Playstation 3 for the gamers out there!
As Brilliant's luxury vans are extremely exclusive and top of the line, they also come with a premium price so that our company can continue to maintain our fleet and provide first class service and trip preparation for each and every client, day in and day out.
Delighting Our Clients is Our Top Priority
While we understand that our luxury service and premium price will not work with every customer who comes through the door, we always try to find the most appropriate service for clients who approach us, even if that means pointing them to another company. We are confident in doing this as it is our goal to provide excellent service, but we also recognize that we are cultivating and serving a very exclusive clientele, those who expect the best, and are willing to pay the cost to make sure it is provided in a flawless manner.
In the final analysis, discerning travelers realize that the value received from an excellent service is often much greater than simply the dollar and cents that have been spent. It is about creating the total experience, and delighting the friends, family and business associates that make our lives worthwhile. You can't put a price on that!
The choice is always yours however, and when you're ready to live the best travel experience one can have between New York and Washington D.C., you can contact Brilliant Transportation at 1-800-543-1001 to receive a custom quote for your next private motoring experience!