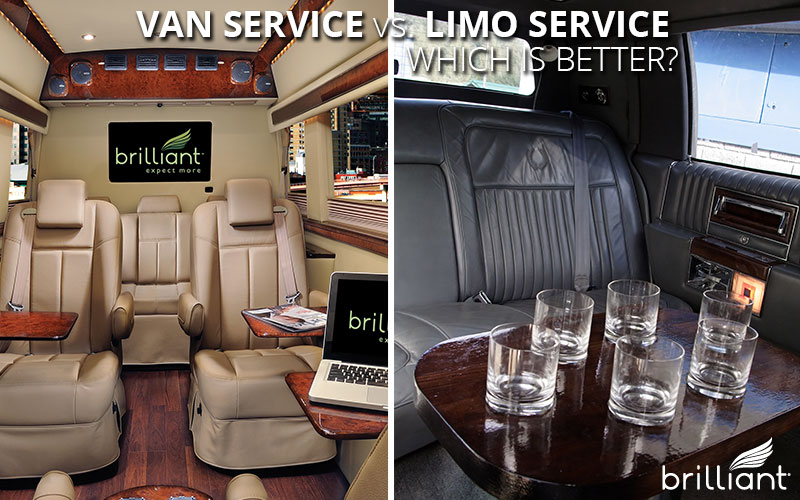 When choosing a chauffeured transportation service, you want to find a provider as well as a vehicle type that will work best for what you need. So the answer to that question really depends upon the client and for what purpose they are using the vehicle.
However, there are many different options you could choose from when deciding upon a chauffeured service, so in this blog we'll explore those options more carefully. Specifically here, we'll debate the pros and cons of van service versus limo service.
Limo Van vs. Limousines: Which is Best?
First off to clarify the terminology a bit: "limo service" is a generic term that's actually pretty vague. I take it to mean any kind of car or other vehicle service that is chauffeured. Whereas other people tend to think the word 'limo' refers specifically to a traditional, stretched limousine sedan, usually based on the Lincoln Town Car. For the purposes of this article, we'll be referring to stretch limousine sedans when we say the word 'limo service.'
Luxury Transportation Style Trends
Stretch limos have traditionally been the backbone of most limousine services but in the last 10 years specifically the industry has diversified. No longer are most trip with a limo service done in a stretch limousine, although they continue to form a sizable portion of the business.
In the past decade SUVs have really come into the livery industry in a big way and now they are very popular for all types of trips in the industry. With Ford's recent phase out of the Lincoln Town Car, I suspect that the business will continue to shift away from the traditional stretch into other vehicle types.
Stretch limos are still really popular for traditional limo occasions, like weddings, proms, graduations and nights out on the town. Whereas business trips, airport transfers and long distance trips are more often done now with SUVs and sedans.
Speaking of regular sedans, i.e. the Lincoln Town Car, black car service is also a way the limo industry has grown and expanded its base. For everyday types of trips and business travel, black sedans and SUVs now predominate.
Another newcomer on the scene is the stretch SUV limo. This has taken the idea of a stretch limousine and added an interesting twist. Especially for party occasions and prom nights, customers are more likely to request stretch SUVs instead of a traditional stretch sedan.
These bigger vehicles do cost more but they also provide more value as well. They seat many more people inside, anywhere from 10-20 passengers, compared to 4 to 8 for long sedans. As they are bigger and heavier, they tend to carry much more equipment and offer the passengers more amenities. Also they are much flashier and noticeable than a stretch sedan, which is exactly what some customers want. They have the 'wow' factor.
The New Luxury Van Trend
Another relative newcomer in the limo business is van service, specifically the luxury van or limo van. I haven't seen any stretch luxury vans yet, but who knows what lies ahead? Passenger vans have been around for a long time but their inclusion into limo fleets have been another way limo companies have expanded their business by getting into the group transportation business, which is a very organic way to grow the business.
What's new here is the growing popularity of luxury vans which carry fewer passengers but have a much upgraded interior and offer more amenities. Vans are longer than regular sedans but shorter than stretch limos.
Thus the extra space vans offer is not horizontal, but vertical. They offer much more headroom and in general more elbow room. Stretch limousines can have a lot of space in them but is it not really usable space. Passengers have to stay seated and moving around is quite awkward, as well as getting in and out because of the low headroom. Luxury vans have the advantage here in terms of comfort, ease of use and practicality.
Want the Best Vehicles? Vans are the New Premium.
The luxury van category has really taken off in the last 5 years with the introduction of the Mercedes Benz Sprinter vans. These tall vans are shaped differently than traditional American passenger vans offered by Ford and Chevrolet. The Sprinters offer class leading interior volume and cargo space, and an impressive 6'3" headroom, which allows most adults to stand up straight while inside.
Also these are Mercedes, so they offer better vehicle performance, reliability, interior features and build quality. They also spiff up incredibly well! Sitting or standing inside one of these beautiful inside-and-out Sprinter limo vans, you'd never guess that these vans or trucks actually started out originally as cargo vans and minibuses. These vans are extremely classy!
Choosing the Best Fit
So which would be better for you? Limo service or van service? Again, it really depends on your needs and what the occasion is. In this case, the comparison should really be between a luxury van service and a stretch limousine since they offer similar amenities: leather seating, a bar, mood lighting, extensive entertainment equipment like video screens, DVD players and in some cases satellite TV.
Choosing what's best for you is also a matter of checking out specific equipment at a number of different providers, because vehicles and style can really vary from company to company. If you have time, it's worth it to get call around get different quotes, ask specific questions about vehicle styles and features, and ask for current photos as well if they are available.
To my mind, the luxury vans, particularly the Sprinters offer better comfort, room and practicality for your trip, especially if it's a long road trip. And the Mercedes is no slouch when it comes to showing off. Some clients do prefer the traditional look and feel of a stretch limousine however. If you're going to an showy social event or party, or perhaps doing a wedding, the stretch limousine will get the job done and also look good doing it. What you decide, however, is really up to you.
Brilliant's Luxury Mercedes Sprinter Limos
If you're leaning towards the luxury van, Brilliant Transportation has the best fleet of luxury Sprinter vans available on either coast, New York or Los Angeles. Our all-Sprinter luxury fleet has been specially customized to offer the best in luxury, convenience and technology. Our luxury vans feature leather captain's chairs that recline and also have electric operated footrests. Premium leather has been used throughout the cabin and the floor is a blond, hardwood floor that is extremely attractive. Our vans offer WiFi and DirecTV satellite standard. Each seat also comes with a foldaway desk, almost like an individual workstation with reading light and outlets for your laptop.
Our chauffeurs are also trained to to highest standards and offer uncompromising customer service. The customer is king with Brilliant!
While our specialized service and luxury pricing may not work for every customer, for those who need or want the best, we stand ready to make your next journey an extraordinary one. Contact Brilliant at 1-800-543-1001 to get a customized quote for your next trip.