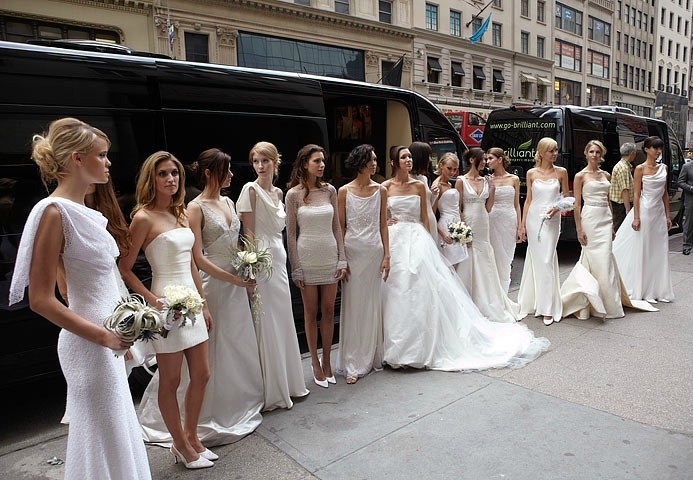 Love is in the air and wedding season is in full swing. Wedding planners, caterers, photographers and countless other trades have been working feverishly to ensure their clients' special day goes smoothly and is memorable. Interestingly, we find wedding transportation falls into one of two camps: critically important and planned months ahead of time, or, often neglected and overlooked until the last minute. Brilliant handles both needs with equal grace but given our hospitality and logistics leanings, where we truly excel is in the complicated and / or larger scale weddings that require a lot of planning and a ton of attention to detail.
Brilliant is a wedding transportation specialist having the privilege and honor to have worked on some of the most celebrated and exclusive weddings since our launch. In 2011, The Knot honored us by recognized our accomplishments and naming us "The Best Wedding Transportation" in the New York City area and beyond.
In addition to providing luxury van, mini bus and bus transportation in and around Manhattan (for groups ranging in size from 10 - 400+), we often provide transportation for guests to 'destination' weddings typically at client's homes located in the Hamptons, Greenwich Connecticut, Armonk, Locust Valley and other prime locations. The most frequent need is to transport guests from NYC to the wedding location, wait, and return at the end of the night. And providing transportation for your guests is perhaps one of the best investments you can make to transport your friends, family and loved ones safely and soundly.
On many occasions, where transportation to remote and or distant locations requires lots of planning and logistics, Brilliant is often involved for multiple days before (and after!). In such instances, Brilliant transports the family, guests, wedding planners, band members, hair and makeup coordinators, and stylists. Team Brilliant basically moves to the wedding location with our entire fleet of luxury vans, Cadillac Escalades, Mercedes Sprinter vans, minibuses and motor coaches. We bring on site dispatchers, detailers, greeters and all of our wonderful chauffeurs and live in nearby hotels serving our valued clients for as long as needed.
In addition to our valued added planning and on site services, we are also leading the industry in terms of vehicle preference. When we launched in 2010, the word 'van' was frowned upon and nobody wanted a van for their wedding. However, we created several different custom configured 'Brilliant' vans using the Mercedes Benz Sprinter as our creative platform. And, almost overnight, the era of using luxury vans for wedding transportation and eschewing tacky limousines was born. In addition, for larger group transportation, we also have a custom fleet of minibuses ranging in size from 28 passenger minibuses to 40 passenger minibuses. If you require more capacity and a lavatory, we recommend full size motor coaches that transport up to 56 passengers in total comfort and style. If the bride and groom prefer a specialty vehicle such as a Rolls Royce or vintage car, we can handle these special requests too.
Please give us a call at 800-543-1001 as we would love to work with you to help you design and coordinate the optimal wedding transportation for you and your guests (earlier is better for planning and fleet selection). The days of wedding transportation being an afterthought and / or a nightmare is over. Brilliant is providing full service planning, coordination, and transportation. Let us help make your wedding transportation smooth, effort free, and quite memorable.