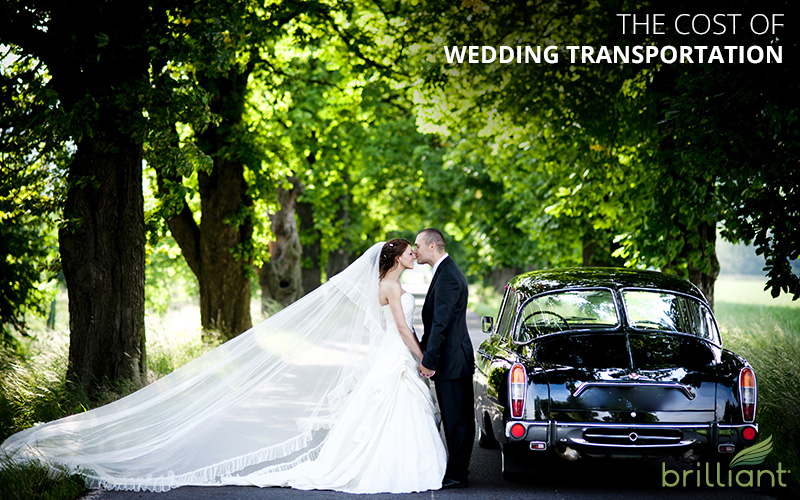 Brilliant does a lot of wedding transportation on both coasts and perhaps the most commonly asked question we get on this topic is 'How much is this going to cost?' Ah, yes, a good question. Well let me answer that with another question: 'How much do you want to spend?' I don't mean that facetiously, but gets down to the heart of the issue. The size of your wedding budget will ultimately determine how much transportation you are able to provide your guests, what type of transportation and the level of service you expect to get out of it.
Many people will want to spend as little as possible, out of necessity unfortunately. But at Brilliant Transportation, where we deal with many high end clients who expect first class service and luxurious vehicles, cost is still a concern, but it is primarily about creating the right experience for the event. When you're able to look at things this way, then you are able to come up with some really lovely scenarios for your special day.
The Cost of Wedding Transportation in New York
Let's take a look at some of the factors that impact the cost of your wedding transportation for a general audience. First you need to determine how many are coming to your wedding and how many of those will need transportation. Until you reach this point, there's not much planning than can be accomplished. With that knowledge in hand, then you can start to look at the nitty-gritty details, like how many vehicles will you need and what type of vehicles do you want to use? The style and theme of your wedding could also influence these decisions.
If you're a small wedding, you could get by with as little as two vehicles, one for the bride and groom, and the other for the rest of the family. But if you're inviting dozens of guests or higher numbers, you may need a couple more vehicles.
The vehicle options you'd have at most limo companies goes something like this: sedans, SUVs, stretch limos, super stretch limos and SUV limos, passenger vans, mini-buses or limo buses. For really big weddings, some people even choose to use full sized motorcoaches to shuttle everyone from venue to venue.
Choosing the Right Vehicle Style For your Wedding Limo
For smaller groups, a combination of sedans or SUVs and stretch limos might work best. For mid-sized groups, consider using a combination of passenger vans or mini-coaches. Style points count here too. Although it's not uncommon for the bride and groom to use a different style vehicle than the rest of our guests (they get the Rolls and rest of family gets the SUVs), when it comes to the group, it always looks nicer if you keep the vehicle type the same if you're using multiples.
If you're going for the visual impact, a long procession of black or white vehicles can look really impressive, especially if you're using Mercedes Sprinter vans, which make for excellent luxury vans, perfect for high end weddings by the way!
Time Will Influence the Final Cost
The other main cost multiplier besides the number and type of vehicle you're using is time. Limousine companies charge by the hour, so the longer the event, the more expensive it will be.
Most limousine companies will charge you a minimum of three hours for any wedding transportation (that's per vehicle). For more elaborate events and longer receptions, you're probably going to need more time. Many of our wedding clients will rent our Sprinter vans for the whole day, or at least need them for six hours.
The larger vehicles like mini-buses and super stretches will also have longer minimums. Five hour minimums are not uncommon for 28 or 36 passenger mini-coaches.
Also bigger weddings will often do multi-day bookings to accommodate several days or a weekend's worth of events, like rehearsal dinners, bachelor parties, the ceremony, reception, next-day brunch, the honeymoon departure, and hotel or airport transfers for guests on the final day. While yes, multi-days will cost more, the level of service you get is much more extensive, and wedding guests always appreciate the extra comfort and convenience of the extra trips provided for them.
When it comes time to tally up the cost, just keep in mind that more costs more. More vehicles, more hours, more luxury, all these items will cost more. But if you take the long view (and hopefully you don't plan on getting married more than once!) this is a once in a lifetime event and the goal here should be on making fine memories and not worrying about every cent. Long after the wedding is over, you may not remember how much you spent, but hopefully you will look back on this special time and say 'that wonderful day was truly priceless!'
Getting An Estimate
In terms of looking at actual numbers, there are just so many variables, something like this can't really be summarized unless one is looking at a specific, detailed plan. You should call a couple limo companies at a minimum, go over your plans and get a few quotes.
Just to give you the most basic idea, limousine service in New York City usually starts at $70 per hour and depending on the class and size of your vehicle of choice, it can go up to several hundred per hour for the premium vehicles.
SUVs generally go for $80-$100 per hour. Fancy stretch limos and Mercedes Sprinter passenger vans often go for around $120-$150 per hour. Mini-coaches will often be in the range of $150-$200 per hour. And super premium vehicles like a Rolls Royce (new models) or high-end luxury vans or coaches often start in the $200 per hour range.
To put your rough budget together, multiple the hourly rate of your vehicle times the number of vehicles times the number of hours, and that will give you your ballpark. Don't forget to add things like taxes, tolls and tips to the total, as these are generally extra, unless the limo company states that the rate is all inclusive.
Going Brilliant!
If your goal is putting on a high end wedding where luxury and style are important concerns, you should check out the amazing fleet of luxury Mercedes Benz Sprinter vans that Brilliant Transportation has to offer. We have covered some of the biggest and best society weddings in New York.
We would be happy to put together a quote, or schedule a free wedding consultation for your very special occasion.