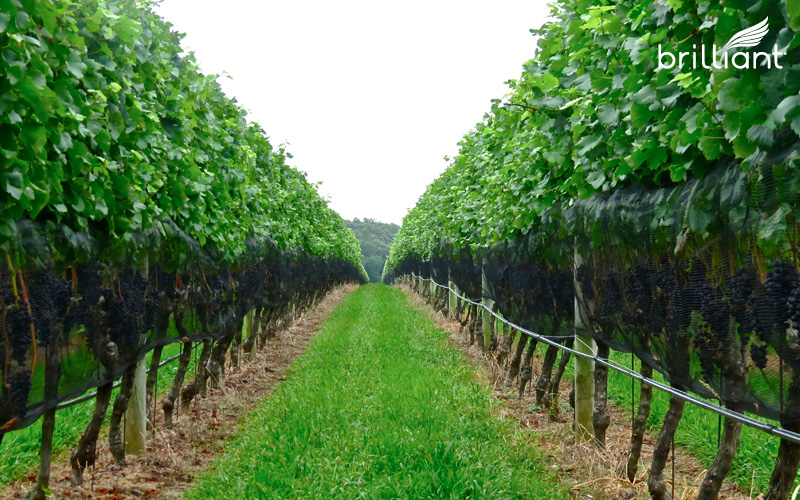 Long Island is known for many things, particularly its summer party scene for the rich and famous in the Hamptons, but one thing that doesn't offer come to mind is winemaking. That could be changing though, as the the eastern end of Long Island, particularly the North Fork is starting to cement its reputation as a premier grape growing and winemaking region.
Best Way to Get to L.I. North Fork Winery
Certainly a casual visitor might be surprised to see the concentration of vineyards located in the North Fork, and as well as the increasing expertise of the people who make and market this wine. Summer and fall are a great time to visit the area, and check out the local festivals, wine tasting, parties and also the harvest of grape crop. One of the advantages that this area has is its proximity to New York City, and its sophisticated culinary scene, as well as being a big marketplace for many quality wines.
Great Things Are Happening on Long Island's North Fork
Tourists and locals alike can take advantage of the relative nearness of this area and quickly escape the hustle and bustle of the big city. Within two to two and half hours you can find yourself surrounded by grapevines, lovely farms and farmhouse, and see for yourself the this burgeoning and exciting industry at work. In addition to going out there to taste some wines, the area with its many restaurants and inns is also a great area to host weddings, celebrations, corporate events and excursions.
Being in the transportation business, many times people have asked about the best way to get to the North Fork or take a wine tour. My answers is usually it depends on what type of transportation and occasion you are looking for, but if you're interesting in taking a high end or luxury tour of the area, then Brilliant Transportation might just have your needs covered.
Brilliant Transportation is a premier executive transportation company in New York City and we specialize in doing charter trips for corporate groups, VIPs and celebrity transportation, as well as helping discerning travelers who prefer first class treatment enjoy a higher level of travel than what they've come to expect from ground transportation. We are particularly well known for pioneering luxury van travel in the New York market, using our exclusive fleet of custom Mercedes Sprinter vans.
Brilliant Has A Solution For Your Trip Needs
Brilliant can also handle many different sized groups, from an intimate affair for two or a group of 100. If you are planning on taking a North Fork wine tour, we can help take a self-guided tour in one of our chauffeured luxury vehicles or if you want a bit more expertise, we can also help hook you up with local wine tour guides who will use their expert knowledge to impress you on all of the fine details of the Long Island winemaking scene. Especially if you plan on doing a lot of wine tasting, then using chauffeured transportation makes a lot of sense. It's just much more convenient and safer to have someone else drive you plan on tasting wines.
In terms of booking transportation, one of the first decisions you need to make is deciding the size of your group and what type of transportation would be appropriate for that. If you're a small group from 2–6 people, the most efficient choice you could make would be to book our SUV service. Brilliant features the terrific Cadillac Escalade ESV's (long wheelbase) for our SUV fleet. Our lovely black on black Cadillacs feature a leather interior with 6 bucket seats with plenty of leg room. Although as standard vehicles the Cadillacs don't come with lots of upgrades, we can offer you WiFi service upon request at no extra charge.
If your group is twice that size, then your next best choice would be to use one of our 14 passenger Sprinter vans. These standard passenger vans are extremely roomy and comfortable as well, Mercedes of course makes the best passenger vans you can buy! One of the big advantages of the 14 passenger Sprinter vans is their high roof option, which we have in our fleet. With the tall roof, you get 6'3" inches of headroom inside, which is great for standing up and moving around inside the vehicle. It also helps with getting in and out because you don't have to bend over to fit inside. The Sprinter vans also come with great luggage space as well. This may not be as important for a wine tour, but if you're doing an overnight stay, it can help with the bringing the group's luggage.
These stylish black on black Sprinters can whisk you and group of friends from NYC to the North Fork in about 1.5 to 2 hours, depending upon traffic. Just like in our SUVs, we can also equip our 14 passengers with WiFi upon request at no additional charge.
The Brilliant Vans Offer the Ultimate in Luxury Travel
If you want to take your travel up a notch, then use our luxury Sprinter versions, the customized "Brilliant Vans". These lovely luxury vans are like a corporate jet inside. We offer 7 and 9 passenger version. The 7 passenger has 4 big captain's chairs which face each other and make for a great conversation space. There is also a back bench which can seat 3 additional adults or fold down flat like a bed. The richly appointed interiors feature many leather and wood grain surfaces, including an attractive hardwood floor.
For entertainment features, it's hard to beat the Brilliant Vans. They feature two large flat screen TVs, facing both fore and aft, mirroring the seating arrangement and offer 158 channels of viewing pleasure thanks to DirecTV. There is also a WiFi router that comes standard, satellite radio, a great sound system, DVD player, and Sony PlayStation 3. It's really like an entertainment lounge on wheels.
The Brilliant Van would not only a fantastically comfortable option to take wine tour, but it also works for so many different scenarios. Imagine taking your spouse or significant other on a day long wine tour of the North Fork. It could get quite romantic with just the two of you in your own private luxury van, enjoying each other's company, having total privacy as we chauffeur you to your destination.
And getting there is half the fun! You can meander down country lanes, stop at your favorite restaurant, stop at the beach to dip your toes in the water, making a few stops are art galleries and your lady's favorite boutiques! And that's all before you even get to the wine tasting!
One of the best features of the van actually isn't high tech at all. What's great is that each seat has its own foldable table, so you can eat or drink while you're in the van without spilling stuff in your lap. They're also great for placing your device or laptop on to access your favorite content. And of course, you can use the Brilliant Van to take a picnic at your favorite beach or park. You can bring you own goodies, or we can also provide the catering for you!
But of course you don't have to keep the Brilliant Van just to the two of you. You might have a more family oriented event planned or perhaps you wish to take your close friends along! The Brilliant Van will hold up to 7 passengers in the back in total comfort and luxury.
If you have 9 people, you can opt for our 9 passenger Executive Van. This vehicles features all the same amenities as the 7 passenger, but in this case you have 8 individual captains chairs to enjoy, with one additional person up front next to the driver.
Luxury Mini Coaches Are Available For Group Travel
For transporting larger groups in luxury, Brilliant has you covered there as well. Brilliant has an exclusive fleet of luxury mini coaches that will completely elevate the style of your group transportation. We feature 28 and 36 passenger mini coaches. These buses come with all leather bucket seating, and passengers have access to electric outlets, reading lamps and ample overhead storage. Beautiful hardwood flooring welcomes passengers on board and gives the coaches a custom, luxury feel. These buses have been custom built to our exacting specifications using high quality, premium materials.
Your group can arrive at some of the best wineries in the area in a stylish luxury mini coach, setting the stage for a enjoyable day of great wine and other treats! These luxury mini coaches work great for corporate groups as well private parties. These buses would also be perfect for a high end wedding taking place out the Hamptons as well.
Quality You Can Count On
And every vehicle comes with Brilliant's guarantee of superior customer service and legendary dependability. Getting the best vehicle in the business is only half the battle, actually probably less than half. What really counts is being able to reliably serve the customer with a high level of care on a daily basis.
And that's where Brilliant focuses most of its energy. It takes time to find the right employees, train them extensively and develop them into true customer focused professionals. But our drive for excellence is what motivates us to move forward, and get you to where you need to go.
If you'd like to experience how Brilliant can take your next journey to the North Fork, or wherever it may be, extraordinary, then contact our reservations department to receive a custom quote at 1–800–543–1001.