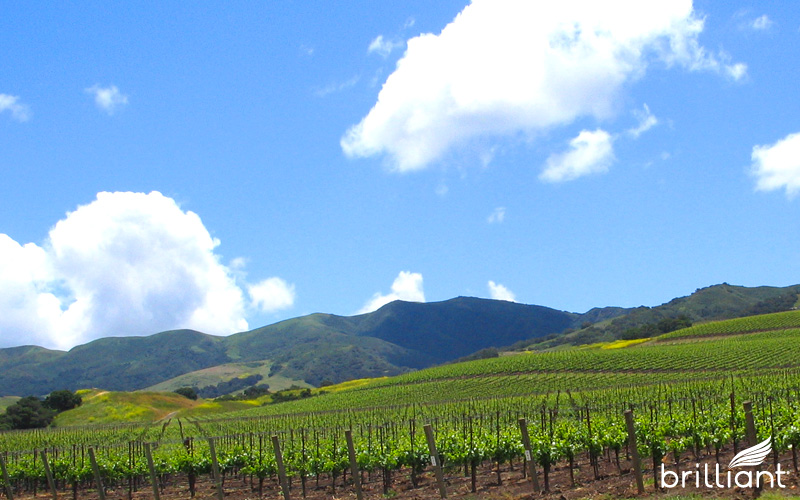 The Santa Ynez Valley of Santa Barbara County is one of the premier wine destinations in Southern California, and for the West Coast for that matter. Within a small geographical area, surrounded by beautiful mountains and incredible countryside, you have a concentration of many fine winemakers that have over the last several decades raised their profile to that of international stature.
Whereas Santa Ynez used to be known primarily for its horse ranches and being a sleepy agricultural area, now it is known worldwide as a vintner's paradise and culinary destination. You might say that while the Bay Area has Napa Valley in its backyard, Los Angeles has its Santa Ynez Valley.
Santa Ynez Wine Tour Transportation
For visitors the Los Angeles area, Santa Ynez is an easy day trip, and a pastoral diversion from the smog and freeways of LA.
You Have Many Options For a Wine Tour: Choose the Best!
Being in the charter transportation business, many potential customers have asked us about the best way to get to Santa Ynez and I tell them that if they're willing to hire chauffeured transportation, then you could find no better way to get their in comfort and style than to choose Brilliant. Brilliant is an executive transportation provider in Los Angeles and New York, any many of our discerning clients love our superior customer service as well as our unique luxury vehicles. We are happy to arrange day trips from Los Angeles to Santa Ynez for our clients or we can also accommodate overnight, multi-day tours of the wine country as well.
We Have the Right Sized Luxury Vehicle For Your Group
Depending on what your needs are and how many people are in your party, we have a selection of different vehicles and styles that you could choose from. If you have a small party of two people, or no more than six, your first choice might be to use our SUV service. We can provide a comfortable Cadillac Escalade ESV (long wheelbase) for your oenological adventures, seating up to 6 adults in a leather bucket seats and room for luggage in the back.
Now if you group is up to 14 people, then obviously an SUV will just be too small. The next best option is to go with a standard 14 passenger van. There are many makes and models in the category but the best is the Mercedes Benz Sprinter. These large vans with the tall roof offer more than 6'3" clearance inside and offer better comfort and performance than any other van make in the world.
And Brilliant Transportation uses exclusively Mercedes Benz Sprinters for its van fleet. Our 14 passenger vans in Los Angeles have a few extra features that customers will enjoy. Our 14s come with a large flat screen TV up front with 158 channels of DirecTV as well as a DVD player. The vans also come equipped with an on-board WiFi router so the passengers never need to be out of touch or off line while travelling. These terrific vans also come with plenty of luggage storage in case you're bringing plenty of bags for your stay in the Santa Ynez Valley.
Nothing Compares to the Brilliant Van!
However, if you are interested in something more exclusive and luxurious, then we have an even more premium option available. Welcome to the Brilliant Van! The Brilliant Van is what our company is famous for, it is our exclusive, custom converted luxury Sprinter van. The interior of this van has more in common with a private jet than an ordinary passenger van.
Our 7 passenger van features four large captain's chairs, with leather upholstery and electrical recline and foot rests. The chairs all face each other in a salon type seating arrangement which allows for great conversations on the road. In the rear of the van is an additional back bench that seat 3 adults comfortably, or it can also lay flat to make for a nice sleeping space for overnight journeys.
For entertainment options you get two large flat screen TVs (facing each way) with DirecTV satellite, Sirius satellite radio, a Sony PlayStation 3, WiFi is standard and we also have teleconferencing equipment on board as well as audio/video connector and USB so you can plug in your laptop to watch a presentation on the big screen if you wish.
Passengers can also opt for total privacy on board with a full drivers partition in front, handsomely clad in burled wood and privacy shades behind tinted windows. It's almost like having your own hotel suite on wheels. Plus our mini-fridge and wet bar allows our guest to enjoy refreshments on the way to a wine tour. Brilliant also offers extra services like on-board catering for your road trip. This type of service is unheard of with other limousine companies.
Great Service Makes the Difference!
While we are incredibly proud of our vehicles, which are second to none in the livery industry, what really sets us apart is our dedication to customer service and our incredible attention to detail. We want all of our customers to feel like they are on vacation, with their every desire taken care of when they travel with us.
Our chauffeurs are trained to make our guests feel at home and like they are checking into a 5 star hotel when they ride us with. Unlike many limousine companies, we will tailor our schedule around yours. If you want a fleet of luxury vans to accompany you and your guests on a special occasion, like perhaps a grand wedding in Santa Ynez, or wherever, we do that. We offer overnight/multi-day service where your chauffeur stays with you for the weekend or even a whole week if desired. The point is, we go to great lengths to satisfy our customers and no request is too big, or too small to handle.
Another way is distinguish ourselves is through our superior job performance. On-time pickups and drop offs, total reservation accuracy and incredible detailing and maintenance of our vehicles, these are all things we accomplish every day to give our customers the best service they can find anywhere. We don't take anything for granted, and we always double check our reservations and communicate clearly and accurately with customers at all times. If you're looking for a service that won't let you down, regardless of the occasion, then you know where to turn.
Mini Coaches For Large Groups Also Available
For bigger group travel, we can also arrange mini-coach transportation in a luxury coach for anywhere from 20 to 100 passengers. We handle mega events as well as reservations for one. Anything you need, Brilliant will strive to provide the best for you.
If you'd like to experience this extraordinary service firsthand, then you need to give us a call at 1–800–543–1001 and we will provide you with a custom quote today. Go Brilliant! Expect more!