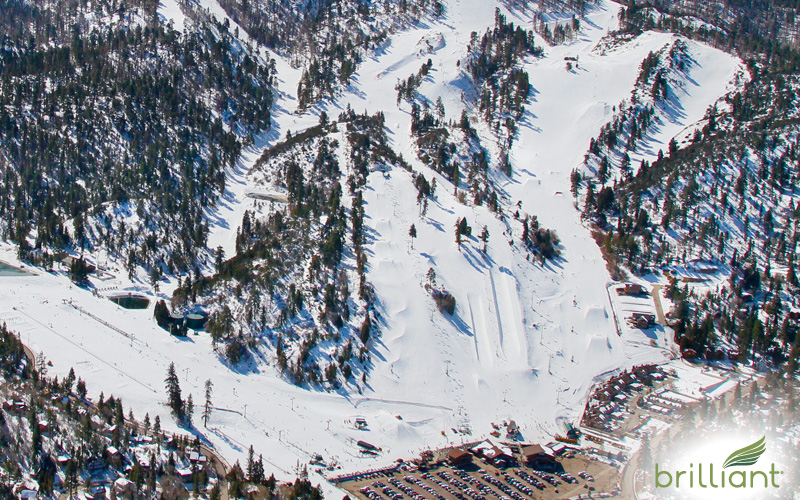 Many people who visit Southern California and the Los Angeles basin are initially unaware of LA's proximity to some amazing mountain wilderness areas. The Los Angeles National Forest is less than an hour's drive from downtown LA and the San Bernardino National Forest is also about a 2 hour's drive from downtown as well.
This mountain areas don't just serve as a magnificent background, but are also home to some great outdoor recreation as well. In the summer there's plenty of hiking, mountain biking and camping that can be enjoyed. During winter, when there's snow, outdoor enthusiasts can enjoy a bit of downhill skiiing or snowboard too.
The Best Transportation to Big Bear Mountain
LA County has two mountain resorts that are close by, Mount Baldy, on the front side of the range, can be easily accessed from the the town of Upland off the 210 Freeway. On the back side of the mountain range, there is Mountain High Ski Resort.
Southern California has a Wealth of Great Mountain Destinations!
A little further afield is the San Bernardino Mountain ranges and a pair of larger ski resorts that can get quite busy during a good ski season. Local ski enthusiasts will know I'm referring to Snow Summit and Bear Mountain Resort.
While this pair probably won't find itself on any national top 10 ski resort lists, for locals, these two nearby attractions are well loved and well used. Proximity is big draw here, with some pretty decent skiing available (weather dependent of course) only two hours from LA.
The other winter reports are much further away in Northern California with Mammoth being about a 5 hour drive away and wonderful Lake Tahoe being about a 7 hour drive from Southern California.
Charter Transportation Can Take Your Excursion to the Next Level
If you plan on having a fun group excursion to one of these destinations, regardless of the time of year, it's a good idea to look into booking charter transportation. That way you're whole group can travel together, you have more time to socialize with your group, and the driving aspect of your trip is simply one less thing you have to worry about. Plus getting driven around by a chauffeur in private vehicle can be plenty of fun in itself.
When looking to charter a private bus or vehicle, a local limousine company would be a good resource to turn to as they are in the business of putting together custom trips all the time. Many limo companies have a wide range of different sized vehicles to accommodate different groups and plus they know how to deal with leisure trips and to put their passengers at ease.
Brilliant Transportation is one such executive transportation company that serves a variety of high end clients in Southern California. We serve a luxury market with unique vehicles and superior customer service. We can help get you to your vacation destination whether it's just 2 people or 100. Our service include SUVs, passenger and luxury vans, as well as mini-coaches for larger groups.
Speaking of groups, one the first items you need to be able to plan on is the exact number of guest you plan to bring on your trip. That's important because your headcount will determine the size and number of vehicles that you need to reserve.
Brilliant Has A Fantastic Fleet of Luxury Vehicles
For small groups of 6 or less, you could be quite comfortable in Brilliant's fleet of Cadillac Escalades. These premium SUVs have bucket seating for six people and lots of luggage room. However, if you're going skiing and bringing your own gear, that can get quite bulky with a full car, so it might be advisable to move up to larger vehicle size, which is our Sprinter vans.
The Sprinter van line, made by Mercedes Benz, is known the world over as being the finest vans available on the market, whether it's for commercial or cargo transporting, or passenger trips. Brilliant has two kind of Sprinters available, the 14 seat, passenger van and the 7 passenger luxury van.
The 14 passenger van is a factory standard vehicle, and is very practical and comfortable for group transportation. One of the best features of the Sprinter vans is their available high roof option, which adds quite a bit of height to the vehicle and makes it possible to stand up inside! There is 6'3" worth of clearance inside. The passenger vans also offer very comfortable bench row seating with seat belts and headrests for 13 passengers and one extra person upfront with the driver. These practical vehicles come with cloth seating and and a rubber floor which makes them easy to clean. The 14 passenger also has a large space for luggage and with tall roof, putting in skis or snowboard presents no problems.
The Brilliant Van is the Ultimate in Luxury Transportation
Now for groups that would like a bit more exclusivity or luxury, your best option would be to choose one of our luxury vans. Known as the Brilliant Van, our luxury, custom converted Sprinter vans seat 7 passengers and they have an interior that is more like a private jet.
Beautiful leather covered captain's chairs facing each other in a salon like seating arrangement will cosset guests all the way to the mountain resort. In addition, a rear bench will seat an additional 3 adults or it can lay flat like a bed. The Brilliant Van has a rich interior with a lovely hardwood floor, leather upholstery and padded surfaces over the entire interior. For entertainment, passengers can enjoy two large screen TV with 158 channels of DirecTV or use the DVD player, listen to satellite radio or even use a Sony Playstation.
Just travelling in this exclusive vehicle for a short time can make your trip seem like a vacation in itself. The Brilliant Van is the ultimate in luxury travel, but it's maximum capacity is 8 passengers, including putting one person up front with the driver.
Luxury Mini Coaches Can Also Take Your Group in Style
If you need a much larger vehicle for group transport, then Brilliant also has you covered. Brilliant offers mini-coach transportation and our buses can seat up 36 passengers per vehicle. The two sizes we offer are a 28 passenger and 36 passenger mini-coach. Even our mini-coaches are luxury vehicles. All of our buses feature a premium exterior and interior.
Passengers can enjoy the comfort of having their own leather captain's chair and we also offer electric outlets and reading lights for our guests so they can work, read, or plug their device in. For group entertainment our buses come equipped with a large, flat screen TV which can show DVDs. There is also ample storage room overhead for luggage, as well as a lavatory included with the 36 passenger bus. The buses also come with tinted windows and privacy shades.
It can be a really comfortable ride for 20–40 of your closest friends if you decide to use one of our mini-coaches to go a club ski trip, or maybe plan an outing for your school or company. We are happy to assist you with your travel plans and to make sure that the ground transportation portions of your journey are exceedingly comfortable.
Quality Is Everything
But regardless of which size vehicle you choose, the important constant you'll have with Brilliant Transportation is our superior customer service and our commitment to quality. Although you will find that there are many different choices for ground transportation, not all transportation companies are the same. Reliability can be in issue in our industry. Even though most passenger get picked up most of the time, there are exceptions where things can go wrong, and people can get stranded. In such situations, naturally the customer will be irate and such instances can cast a negative shadow on the industry.
But with Brilliant Transportation you also get peace of mind about reliability and safety because we always stay on top of reservations and trips. We have multiple system in place to check and supervise trips in real-time, and we always confirm details with a client before we send out any vehicles. Brilliant has invested a lot in the training of our employees and staff members, to ensure that our clients always receive the highest standard of dependable service.
If you'd like to find out how we can make your next mountain adventure an extraordinary experience, contact our reservation department at 1–800–543–1001. We'd love to introduce you to the Brilliant Way of travel!