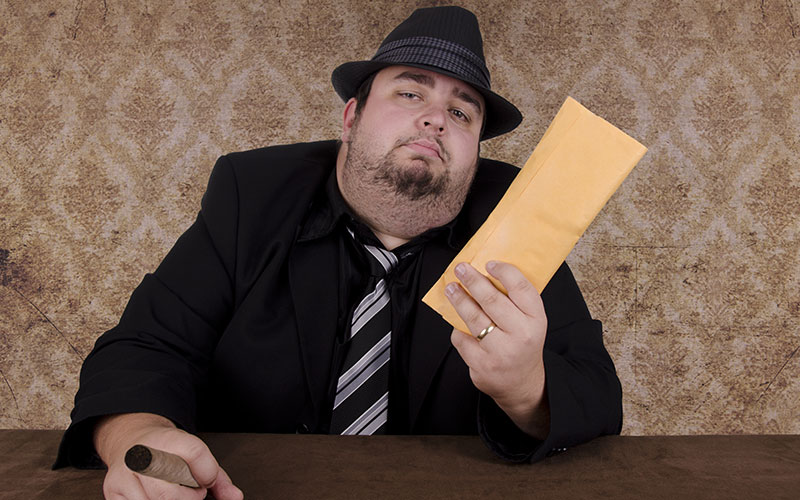 I don't know where to start with this one! I've been in the chauffeur service game for a while now and you learn to expect the unexpected. Things like having to drive back late at night to return something important a client left in the van or passengers changing their mind giving you a last second switch on a destination.
This trip was a little different. Everything going into it was the same, an address for pick up, and an address for drop off. This is point A to point B stuff, as Sherlock Holmes would say, "Elementary, my dear Watson!"
Well, the word 'elementary' is correct, but for a completely different reason. Because I got paid in $5's! One hundred and ninety-nine of them to be exact!
I had to use some of my 'elementary' math skills to make sure it added up.
Collecting this payment was fun to say the least. I felt like a mafia man:
"You talkin' to me? No seriously sir, I lost some of my hearing… are you talkin' to me? No? Ok.. have a nice day."
(Ok maybe not so mafia, but I tried.)
Now at Brilliant Transportation, we have a chain of command. There's me, your chauffeur; there is Steve, our logistics solution manager; and on the East Coast is Scott, who pretty much runs the company. But this time I needed to get a hold of the head of the Brilliant family, so I called Richard.
Here's our conversation
Jacob: "Hey Richard, its Jacob"
Richard: "What's up man?"
Jacob: "Hey, I got paid in 5's?"
Richard: "What?"
Jacob: "The client just gave me $995 in $5 dollar bills!"
Richard: Are you kidding me?"
Jacob: "I'm not kidding, its all here"
I thought Richard was going to let out a few expletives but this is what he said:
Richard: "Take a few pictures of it, and right up a blog!"
"LOL" Never a dull moment when you're a Brilliant chauffeur.
So, here's the blog and the pic. Enjoy!