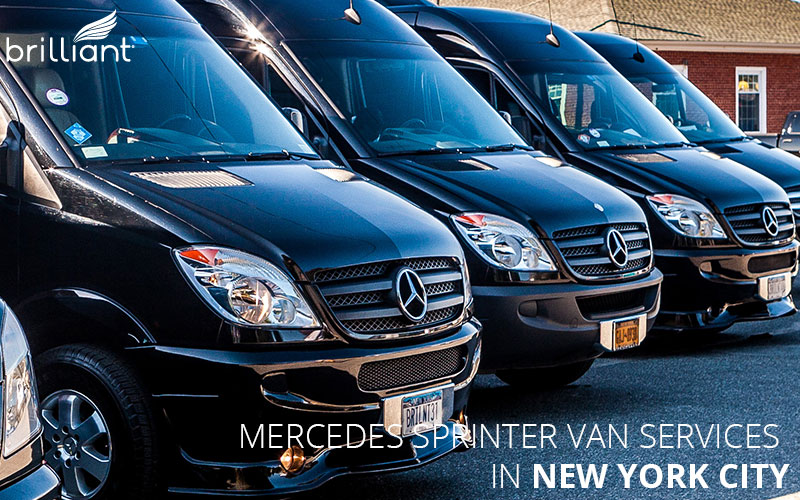 Frequent limousine service consumers are increasingly familiar with a newer and better option in executive transportation: the Sprinter van! Sprinter vans, made by Mercedes Benz, are setting new standards for room, comfort and style for large vehicles in the livery industry. And clients are loving them!
You can find many different versions plying the roads today, including the 14 passenger van version, which is like a standard factory minibus, as well as custom luxury versions that are taking the limousine experience to new heights (literally, as these are tall vans!)
While at first, many traditional clients didn't 'get' that large vans could make great limousines, people are starting to come around, especially after having the opportunity to ride in one. Now in many cases clients are requesting these vehicles as their first choice. In this case, bigger really is better. Being the executive transportation business, many times potential clients have come forward to ask what is the best Mercedes Sprinter van service in New York City?
What is the Best Sprinter Van Service in NYC?
'The best' is certainly a subjective term, so the answer really depends on what you want to do specifically. For some clients, this could mean the lowest price alternative, or to some it might mean the most luxurious vehicle, or to others, the most comprehensive customer service. Plus you want to make sure that you have the right Sprinter for the job. If you're picking up a group of 14 people at the airport, you want to make sure you book the minibus version, and not a luxury one which would hold fewer passengers and might be unnecessarily expensive for such a short airport trip.
But regardless of which particular type of Sprinter you choose or what type of trip you're taking, the common denominator is that you're going to want to work with a company that can provide a high level of customer service as well as deliver an efficient and effective job performance.
Now there's no guarantees in life, but generally companies with good reputations and a satisfied customer base will be more likely to deliver this kind of execution than a company that is inexperienced or perhaps has a spotty record. Often it is hard for the consumer to discern if a company is as good as its word, but doing online research and getting recommendations from friends or colleagues is a good idea.
One strategy is gauge a company's performance is to ask their representative specific questions about their training programs and what kind of quality control processes they have in place. If they don't have an answer for you, even with some follow up, that could indicate a red flag, or perhaps just a company that doesn't take preparation very seriously.
The Difference Between Standard Passenger Vans and Luxury Vans
Also when you're considering hiring a luxury van, another good strategy for getting what you want is being knowledgeable about the choices you have. One thing to understand about luxury vans is that there's no such thing as a standard model in the industry. This is still an emerging category and manufacturers don't build luxury vans as a standard option, so transportation companies have to custom convert their vans. There are many different coach builders out there and each has their own style.
Basically a conversion company will take out the bench row seating in a standard passenger van and then heavily modify the interior as well as improve the exterior appearance. Usually they will put in captains chairs, a partition separating the driver and passengers, upgrade the interior materials and add plenty of extra electronic and entertainment equipment. The result is a van that looks and feels different from its standard cousins, and one that offers the passengers a much more luxurious experience.
Brilliant's All-Sprinter Van Charters
Brilliant Transportation has an outstanding, industry leading fleet of luxury Sprinter vans that offer comfort and convenience that is second to none. The Sprinters offer an incredible 6'3" headroom, plenty of elbow room and total privacy for the passengers. The interiors of our vans are like that of private jet. Beautiful tan leather and blond wood paneling is used throughout the cabin and passengers are treated to electrically adjustable captain's chairs. We have versions that seat 7 and 9 passengers.
Also, our vans are designed specifically to create a productive environment for the business traveler. Each seat comes with its own stowable desk, storage bins, reading lights and outlets for your personal electronics. Connectivity is provided by an onboard WiFi router and two large flat screen TVs (32") beam 185 channels of DirecTV for your viewing pleasure. But it doesn't have to be all about work either. These extremely comfortable vans also work just as nicely as a leisure lounge for your night out on the town.
To sum up, you'll feel like a million bucks traveling in one of the exclusive vehicles, regardless of the occasion. To be fair, these special Sprinters will cost more than your average van rental, and it may not be the best solution for every customer. Brilliant services a very high-end niche, but there are also good van service companies in New York which may be a better fit for your particular needs. I recommend you contact a couple different outfits to get quotes before deciding what's best for you.
But with Brilliant's emphasis on comprehensive, first-class customer service and the nicest Sprinters you can find, you won't go wrong when you need to make your next excursion something extraordinary. Contact Brilliant at 1-800-543-1001 to receive a custom quote today.