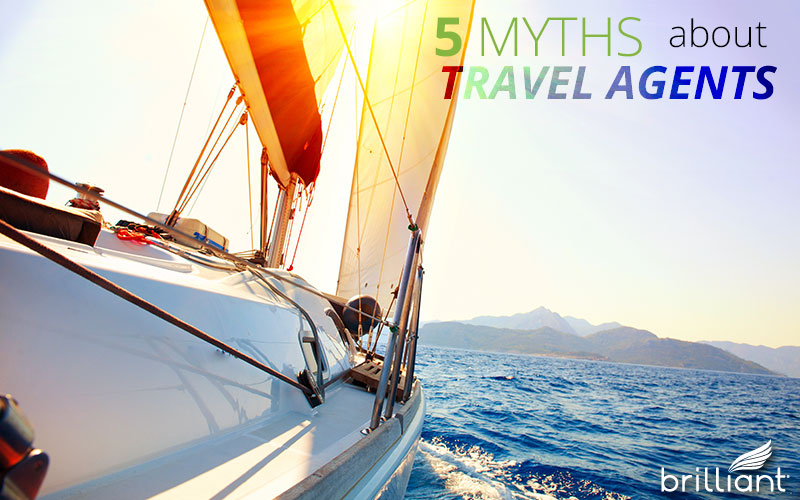 You might say the Internet has opened up a golden age of travel. Like never before, there are literally millions of places you could visit in this world, and each site, hotel, restaurant and attraction has their own website. All you have to do is go online to find whatever information you need about anyplace you choose!
With so many helpful travel booking sites available like Expedia, Travelocity, and Kayak, it is much easier for anyone to book a travel ticket for themselves. Naturally, many inexperienced travelers assume there's no need to use a travel agent anymore. In fact, why are travel agencies even in business anymore?
As we'll explore in this blog today, those assumptions aren't quite true. Travel agents still provide a lot of benefit to the traveling public, yet these stubborn myths persist.
Ten Myths About Travel Agents
Let's take take a look at some of these objections specifically to see why that's not really the case.
Myth 1: I Can Do Anything a Travel Agent Can.
Doesn't Expedia do the same thing a travel agent would?
While a travel agent has access to all of the online material that a consumer would, they also have access to exclusive pricing and package deals that are not offered to the public. Since travel agencies can drive a lot of business to the airlines and hotels, they provide them with special incentives to bring more customers their way.
As a client of a luxury travel agent, you can take advantage of these special deals. Additionally, your travel agent will have a lot more leverage in booking hotels or flights that claim to be sold out, when if fact, the hotels often hold blocks of room to release to their travel agent customers. Whereas you might encounter a 'No' when trying to book a popular destination, your travel agent can get a 'Yes.'
Myth 2: Travel Agents Are Too Expensive.
Travel agents do charge a fee for their services of course, but compared to your overall travel expenses, the fees are quite nominal. Fees range depending upon the agency and the type of trip you're taking. Luxury agencies will charge you a higher fee, but relative to the luxury buy, the up-charge is still marginal.
If you are concerned about travel agent fees, you can always ask upfront what the charges might be. Agents can also discount their rates in certain situations. It's also worth noting that even popular websites like Orbitz and Expedia will charge you a booking fee in addition to the cost of travel tickets.
What many people don't realize is that while they have to pay a small agency fee, the savings the agent is able to get from discounted airfares and hotel rooms more than pay for themselves. So the passenger is actually saving money, plus the larger picture is that travel agents are often able to find upgraded airline seats and nicer hotel rooms using their leverage. In the end, the customer is able to get more for less, and have an overall better experience.
Myth 3: A Travel Agent is a Waste of Time.
Au contraire mon ami!
Yes, you certain can plan your own vacation online down the smallest detail but doing all of this is going to take a lot of time, especially if when you you're trying to get the best rate, and confirming all of your reservations.
If you book something and then need to make changes later, you're setting yourself up for even more hassle. You could spend hours researching and trying to compare prices. That's why many people choose to go with travel agents in the first place, because they don't have the time or desire to make all of these plans.
Whereas your travel agent will have all of the latest pricing information, the best deals, as well as hotel conditions and interesting activities. Those are all types of questions that are hard to answer online
Myth 4: Travel Agents Only Book Flights and Hotels.
When planning a comprehensive trip, many people want and need more than just a flight and hotel, because they would like to have a full itinerary. And that's exactly what a travel agent can do for you too, program your whole trip down to the last detail so you don't have to worry about that stuff.
In addition to the basics, agents can arrange for car service, personalized tours, fun activities, tickets to shows and special events, dinner reservations, day trips, and also provide you with travel insurance to boot. When your time is more precious than money, that's the best time to use a travel agent, because they can set up everything in advance, and free you up for quality time with your friends or family.
Myth 5: They Aren't Worth It
Saving time and money isn't important to you?
As we can see from our discussion above, this myth is simply not true. Travel agents can add a lot of value, especially for the longer, more elaborate trips. In addition, travel agents have clout to get better rates and better deals on trips than you can. The reason is they're booking flights, cruises and hotels every day and the companies that offer these services want to keep the pipeline full. So even if you can't a get a booking or a certain directly, there's a good chance your travel agent will be able to get the better deal.
Myth 6: Nobody Uses Travel Agents Anymore.
While the industry may have shrunk somewhat due to competition from the Internet, travel agencies are alive and well.
For certain segments, like luxury or adventure travel, agencies are busier than ever. What the Internet has not replaced is the need for the human touch.
Despite all your online options, travel agents still have a lot of judgment and experience they put to good use when booking trips. Here are some statistics from the American Society of Travel Agents to show what's happening in the industry:
Travel agents sell 51% of all airline tickets
Travel agents sell 87% of all cruises
Travel agents sell 81% of all tours and packages
Travel agents sell 45% of all car rentals
Travel agents book 47% of all hotel rooms
Myth 7: Travel Agents and Agencies are the Same.
As with a lot of these common misconceptions, the myth couldn't be further from the truth. In fact, each travel agent is different and each has a different area of specialization. Some agents specialize in a particular part of the world or country. Others specialize in modes of travel like cruise ships, or private aviation, while others may specialize in specific types of travel, like adventure travel, eco-travel, cultural exchanges or gaming travel.
Depending on the type of trip you need to take, it's worthwhile to shop around and see which agency or agent in particular will be most suited to arranging your trip. Using an expert will help open up possibilities that you may never have thought of or heard about.
Myth 8: Travel Agencies Always Book Cheap Trips.
The job of the travel agent is not just to get you a good price, but also to make sure that you have a pleasant trip. The they the pros and cons of different itineraries. To have a satisfied customer you need to find the balance between those two aspects.
If they book a trip too cheaply, just based on price alone, that schedule could include many inconveniences that you won't appreciate enduring on your trip: like extended layovers, odd travel times, uncomfortable accommodations and the like.
Sometimes it better to pay just a little bit more to make your trip go far smoother and provide you with a better overall value. You're not really saving much if those sacrifices lead to discomfort or rob you off precious time dealing with things when the whole idea is to be on vacation, enjoying yourself. Of course, if price is your overriding consideration, you can instruct your agent to look only for the absolute lowest prices.
Myth 9: They Only Book Large Trips.
This is a myth that has a grain of truth to it. There are many simple trip you could book that wouldn't need or benefit from the use of a travel agent. Like a short flight from New York to Boston to visit your grandmother. And travel agents wouldn't make money off such of a short trip either.
However, any of them are glad to help with this routine requests, because the more they interact with their clients, the better they get to know them, their preferences and their pattern of travel. Once you get to know and use a travel agent on a regular basis, it makes it much easier and satisfying to work with them on planning those big trips, like that African safari adventure you've been dreaming about for 5 years!
Myth 10: Travel Agents Are High-Pressure Salesmen.
While certainly there have been plenty of high pressure closer agents around, in the current environment, those hard boiled sales tactics just don't work any more. Faced with that prospect, I'd rather book something online myself as well.
The agents who are staying in business realize that in the age of Expedia, the only way to survive is to develop a consultative approach to selling, while building up valuable relationships with the clients over the long term. Used car salesman need not apply here!
You are much more likely today to find agents are eager to work and consult with you on all of your travel needs so that they can create that long term bond that will bring you back again and again. If you don't feel comfortable bringing even small questions to your agent without feeling pressured, then it's definitely time to find a new one!