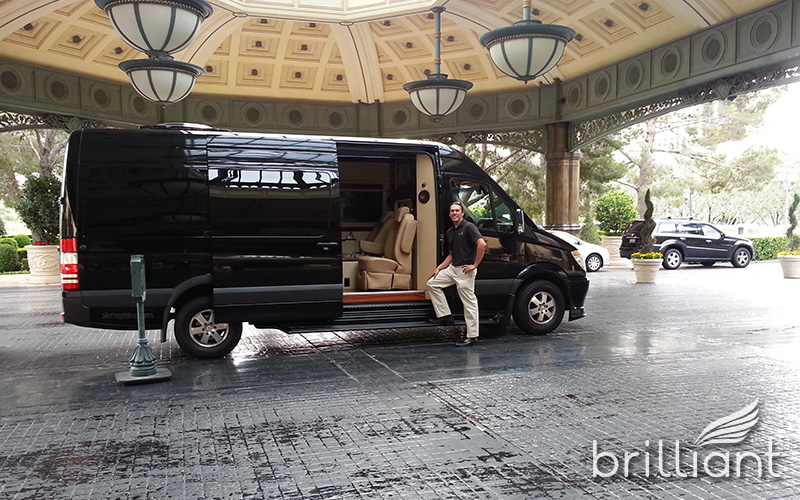 In our business, we get calls all the time to provide transportation to executives and for corporate events; sometimes taking large groups of people to hard-to-reach retreats.
A lot of corporate travel ends up in Vegas where the meeting facilities are plenteous and the after-meeting entertainment is all around you. One of the common questions we get is if we're the best executive transportation option in Vegas.
While I would love to say yes to that question, and we do offer very high-end executive transportation in Vegas, the true answer really depends on your needs.
For some, Brilliant is not the best solution, especially if you're working with a smaller budget. Our fleet is not local to Vegas, although we do a lot of business there. Our clients have to pay an extra travel fee to get our vehicles from Los Angeles to Las Vegas.
For our clients, the extra travel time is not a problem because they value the level of service we provide. For others, though, they simply can't afford the premium price tag associated with our service. So I honestly can't say we're the best solution for you.
We love serving clients, even when they can't afford to book a trip with us. We try to be the informative solution to everyone looking for executive transportation. To that end, we've written this article to show you how to find the best executive transportation companies in Las Vegas that fit your specific needs.
A Review of the Best Executive Transportation Companies in Vegas
This review is not meant to be an exhaustive review of the top executive transportation companies in Vegas. We recommend comparing and contrasting multiple companies to find the perfect fit for your corporate event or personal trip.
A company that's a perfect fit for Client A may be a horrible solution for Client B. Each company has it's own pros and cons. That's why it's important to contact many companies to find the one you feel most comfortable about using.
Remember, the actual limo ride is not the metric of success. If the customer service is horrible, a pristine vehicle is not going to make the experience enjoyable. Take the time to find the company that serves your needs the best, in vehicle type, budget, and service level.
These companies are the ones, we've found, that can provide a high level of executive transportation service in Las Vegas without totally breaking the budget.
Executive Las Vegas is a great company with a great, classy fleet from minibuses to the stretch limousines. They provide businesses and corporations with professional corporate travel programs. You can establish a corporate account with them, so if you're going to be in Vegas often, getting that account will be a good idea.
While their Yelp reviews have them at only 3 stars, and there's plenty of complaints, most of the complaints come from people who mistake Executive Las Vegas for a free shuttle service and are surprised when they have to pay a low fee. However, this is not indicative of their level of corporate transportation service. We recommend calling them and vetting them over the phone.
Prestige Limos
Prestige Limos is another company that has a very nice fleet of vehicles, especially if you're looking for the stretch limo or party bus. Their reservation offices are open 24/7, which is great if you run into problems with your reservation. Again, if you're a frequent user of executive transportation in Las Vegas, Prestige offers discounts for corporate accounts.
Vegas VIP Coach
VIP Coach can provide a luxury corporate travel experience for any size group. They have the ability to provide large coaches all the way down to 2 passenger executive black car service.
They've been in business since 1997 and bring a lot of experience to the table in offering excellent executive transportation to Las Vegas. They promise to meticulously plan your routes and booking to make sure it all goes off without a hitch.
Executive Limousine LV
LA Executive Limousine promises to completely pamper their clients. They can handle small and large corporate events with either stretch limousines or town car service. If you're looking for a cheaper solution to corporate travel in Vegas, this company might be able to provide the cheapest options. We recommend you giving them a call and vetting them against the more established companies before making a final choice.
EmpireCLS
Of course, if you're wanting to go with a proven executive transportation provider, Empire is one of the largest and most successful limousine companies in the Las Vegas area.
Empire provides an effortless experience, treating their clients to the experience that has helped them grow into a global limousine provider. With more than three decades experience in providing executive transportation in Las Vegas and other major cities, Empire has the knowledge and expertise to make sure your travel plans are met.
Choosing the Best Executive Transportation Company
While any one of these companies can provide excellent service, the chance they all serve you the same is very low. For each unique trip and customer there are better companies that can be a perfect fit.
Like we said before, if you're looking for a premium, high-end executive transportation solution while you're in Las Vegas, we would love you to give Brilliant a chance to serve you. To get a quote from us to compare against other companies, you can do that easily here.
We're not the best fit for everyone but hopefully this review of the top 5 executive transportation companies in Las Vegas will help you to know who to contact and who to compare/contrast against each other to find the best solution to your specific travel needs.