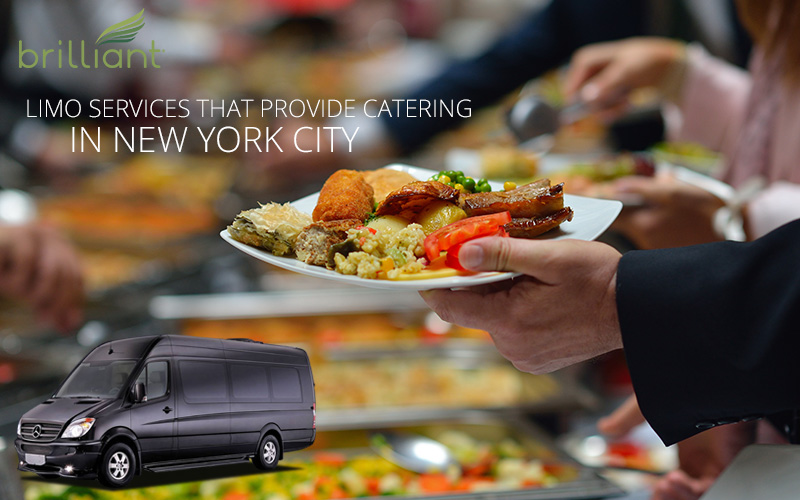 Clients come to us nearly every day asking if we can provide catering. That answer is yes, and no matter how meticulous the request is, we go out of our way to provide whatever our clients request of us.
However, we're not the best fit for everyone, and we field a lot of questions from potential clients who can't afford our level of service. So we decided to write an article and highlight the top limo companies in New York City that offer a catering service so our readers could decide for themselves which company to go with, and which limo services in NYC were a good alternative to Brilliant.
Limo Services in New York that Offer Catering
Honestly, I couldn't find one limousine company in New York city that offered catering as one of their services. I'm not saying there's none that will offer catering, only that most companies don't advertise it.
If you Google "limousine services that offer catering in NYC" you'll get a lot of results. But all the limo companies are talking about catering to your needs, not catering in the sense of providing food.
This isn't necessarily a bad thing as we don't advertise the fact that we provide catering when asked on our website either, other than this blog. So I'm not trying to spin the fact that no one is advertising catering as part of their limo service. I'm simply saying the information I wanted to originally provide for our readers is unavailable.
How to Find a Limo Service That Offers Catering in NYC
Like I said before, just because companies are not advertising it doesn't mean they won't step up to the plate and provide catering for your trip. It's just, until now, no one has taken the time to address the question.
As with trying to find out who the "best' limo service is, the answer to the limo service that provides the best catering service is relative. We recommend calling multiple limo companies to see if they can provide the level of catering you desire.
If you're looking for reliable limo companies that excel in customer service, we recommend Gem Limousine and Madison Avenue Limousine. Both of these services offer beautiful vehicles and a client-first mentality. If any limousine companies are going to offer catering, these two will most certainly be able to offer it to a point.
Again, we do provide catering and if you're interested in getting pricing information for your trip, you can submit a custom quote request here. However, we do recommend you check with multiple companies to make sure the one you choose is the best fit for your needs.