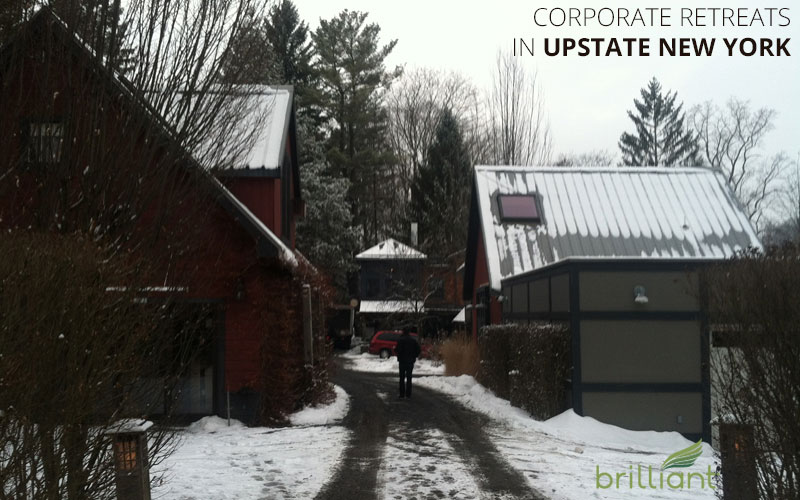 Corporate retreats are a great way to build teamwork, develop new skills, and boost the confidence of your managerial staff. That's why most companies do them and the practice is spreading to more companies all the time.
For those firms who have a track record of scheduling company retreats, the trend seems to be toward producing more elaborate events. These days, companies are traveling to popular resort locations with fancier properties that offer more amenities for those who attend.
Upstate New York is also seeing an uptick in its share of the corporate retreat business. It makes sense due to its geographic closeness to the corporate centers of New York City, Northern New Jersey, and Southern Connecticut. After all, in less than a couple hours driver you can go from the urban jungle to some of the most scenic and bucolic locations around.
Upstate New York has many different regions that provide suitable settings and great accommodations for corporate retreats. Close by is the lovely Hudson River Valley, the Catskills, the Adirondacks, and further afield is the Finger Lakes regions and the Niagara Falls area too!
Finding the Best Corporate Transportation in Upstate New York
In keeping with the trend of upgraded resort accommodations, better programs, team building exercises and well-known guest speakers, companies are also looking to upgrade their transportation options too. Gone are the rinky-dink shuttle transports of yesterday. Corporate executives want to be transported in style.
Luckily, many transportation companies are upping their game. Ground transportation doesn't have to be an also-ran anymore. It can compete with the best transportation has to offer. We've written an article reviewing the four best corporate limousine services in New York City, which you can read if you're interested.
If you are traveling from NYC to Upstate New York, ground transportation can be very competitive in terms of cost, and even timewise when you consider a group of executives flying somewhere generally has to arrange ground transportation anyway. They must do this, not just getting from the airport to the resort, but also on the originating end of the trip as well.
The Right Vehicles for Corporate Retreats
When selecting a corporate ground transportation provider, there are a couple of major areas you'll want to consider. You need to decide what type of vehicle you want to match with your group as well as the level of service you want to provide. Both these areas will impact cost, but before you can get to that stage you need to determine the number of passengers you will be transporting to the retreat. That will, in turn, determine the type of vehicle coverage you need for your event.
If you are planning on a large group (at least 40 people or more) you might want to consider using large luxury motorcoaches. These buses fit up to 59 passengers and if you have more than that you can use multiple buses. This will be the most efficient way to go both in terms of logistics and cost.
If you have a smaller group of around 20-40 people, you could choose to go with a smaller mini-coach. Even if you use multiple vehicles for more people this can still be an efficient way to go. Many providers also have luxury versions of these mini-coaches, so there is no sacrifice in terms of comfort or convenience. If fact, some of these mini-coaches are more luxurious than typical motorcoaches from the bus companies.
Using Brilliant For Corporate Retreat Transportation in Upstate New York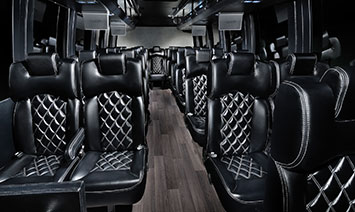 At Brilliant, we have a wonderful fleet of 28 and 36 passenger luxury mini-buses that would be very suitable for a premium transport of executives or sales staff to a corporate retreat.
The buses' exterior are done in a very tasteful silver grey. The interior features black leather bucket seats with white piping and a hardwood floor. In addition there are multiple drop down video screens to provide entertainment from the DVD player, a premium sound system and reading lights at each seat. There are also household outlets distributed throughout the cabin. Your executives can now arrive at their corporate retreat relaxed and in a good mood after a smooth ride. Also, the 36 passenger mini-bus features an onboard lavatory; which is handy for those long trips!
Brilliant also has an even more exclusive solution for a smaller group of passengers. Our Mercedes Benz Sprinters are custom converted luxury vans that are outfitted like a private jet. They feature beige-cream colored leather interiors, also with blond hardwood floors and adjustable captains chairs.
These vehicles come in 7 and 9 passenger variations and would be perfect for your top level executives on their way to the corporate retreat. They are equipped with WiFi, Satellite TV and radio, a Sony Playstation, teleconferencing equipment as well as two large flat screens. Each captains chair has it's own stowaway table, outlet and reading light.
It really is like having a private jet on wheels! In addition to being supremely comfortable, they offer a perfect environment for getting work done en route or holding meetings during transit. And if you're planning for mutiple days, we've also written about booking transportation for multi-day corproate events.
Getting the Best Corporate Retreat Transportation
Brilliant Transportation excels at providing top-notch customer service for both corporate and private clients. In order to provide this exemplary service, however, our prices are in line with a premium product. This is not always a price point that every customer will be able to afford.
We understand that different clients have different needs and we're okay with that. There are other transportation companies in the executive market that provide a good product at different pricing levels. Of course, each company has different equipment, so it's a good idea to shop around first to make sure you find the right vehicle at the right price for your corporate event.
A couple other good companies in the New York market worth looking for corporate events (both big and small vehicles) are firms like Empire CLS, Carey Limousine, Executive Town Car & Limousine, and Bermuda Limousine.
We wish you luck with your search in finding the right corporate transportation for your Upstate New York corporate retreat. If you'd like to find out more about Brilliant's Sprinter vans and luxury mini-buses for your next corporate retreat, you can get a quote online.