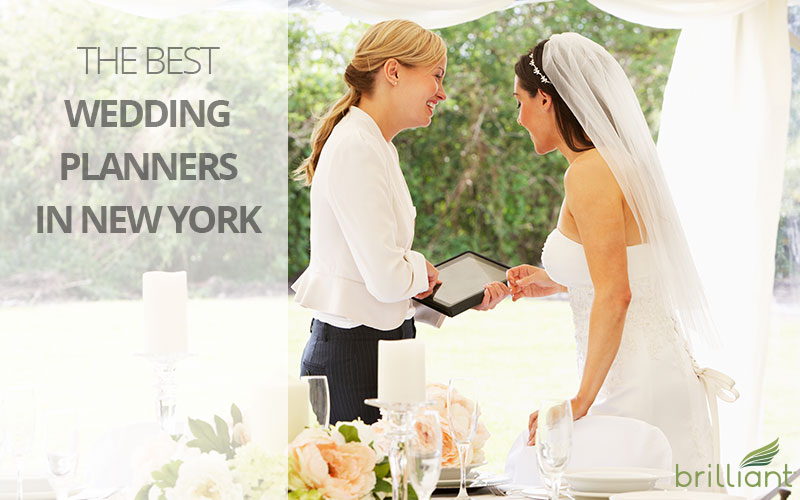 New York City is one of the largest cities in the world. Known mostly for it's commerce and international trade, Gotham is also a host for some of the most romantic locations in the world. It has become an iconic setting for weddings of the affluent. New York City provides the classic backdrop for many classic romantic movies, adding to the allure of the city as a desired location for brides-to-be.
At Brilliant, we've been fortunate enough to work with some of the leading wedding and event planners in the New York City area on some distinguished, high-profile weddings. In doing so, we've been able to watch the genius and artistry of the finest wedding planners in the industry.
We thought it would be interesting for our readers to see who we think are the top wedding planners in New York City. This article will list the top 10, and why they are considered the best in their field.
New York's 5 Best Wedding Planners
Collin is not only one of the leading wedding and event planners in the country, he's also a thought leader in the industry. Whether you book with Collin or not, his website is full of information for brides-to-be on making your day extra special.

Marcy is not just known in the New York, or even the nation. Her events have made her a must-have event planner all over the world. She's famous for making each event and wedding the direct extension of her client's style and not her own. She had the uncanny ability to get inside her client's mind and make their dream event come to life.

David is not only a leading expert in the event design industry, he's also an expert on entertainment and imagineering experiences. David has found success in wedding and event design, hosting his own television show, "David Tutera: Unveiled," and has published seven books. If you're looking for a top designer that brings an abundance of eclectic experience to the table, David is a sure thing.

Preston is a favorite of high profile celebrities, consistently producing awe-inspiring events over a three-decade career. On his website, Preston maintains a goldmine of information in his personal blog; answering questions from his readers and giving insight into the difficult art of wedding and event design.

Stefanie is one of those rare, covert wedding planners that are in high demand to A-list celebrities and super stars. She's what one paper called a Stealth Wedding Planner, staying behind the scenes and out of the public eye while providing intricate design to the most lavish weddings of the century. She doesn't have a claim to fame, or one of her own event companies like other high-profile planners. Instead, she's a managing partner at Yifat Oren and Associates.

However, if you're looking for the best of everything, Stefani's low profile demeanor does not effect the splendor of her events. Take it from us, if you don't have the right connections, you may never get an appointment with Stefani. But if you're fortunate enough to have her as your wedding planner, you'll have the best in the business. You can follow her Twitter feed here.

Karen's not only written the book on wedding planning, she's written several books on it. She's one of the few event/wedding planners that is an absolute expert on every aspect of the event. She's an expert on food and hospitality, an excellent sommelier, a gifted designer, and a artist with floral arrangements and decor. All in all, Karen Bussen is the best investment a bride could make for a perfect wedding in New York.

Subscribe to the
Event Planner Blog Today!