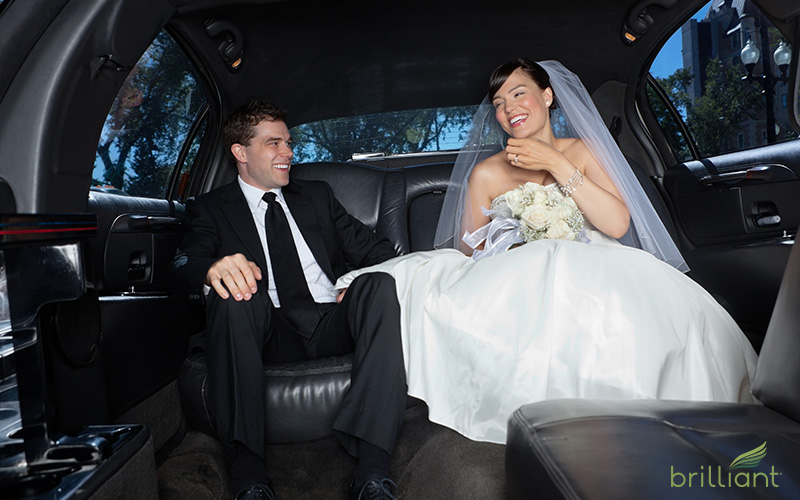 We are fortunate to have provided wedding transportation for some of the top wedding and event planners in the nation. While we do provide wedding transportation for the Boston area, we're not a local company and our prices are normally higher than local limo companies.
Fortunately, there are many competent transportation companies that will handle your wedding with care. After all, weddings are a mainstay of the limousine business, so it is important to get this aspect of the business right.
We put together this list of local companies in Boston that provide high-quality wedding transportation. Which company is best, of course, depends on the style and unique needs of your Boston wedding.
While we would love to be the transportation provider for your wedding in Boston, we realize we're not the perfect fit for every wedding. That's why we recommend you use this list to compare and contrast each local Boston limo company and find the one you're most comfortable with using.
A Review of the 5 Best Wedding Transportation Services in Boston
As a consumer you should vet your limo company as best you can. Quality of service varies from company to company. The transportation aspect usually isn't noticed or commented upon until something goes wrong. You definitely want to deal with a pro when choosing a wedding transportation company.
ATR Limo is a friendly, local company with lots of experience providing wedding transportation. ATR provides a wedding package which includes 3 hours of service in a stretch limousine or a specialty vehicle like the Rolls Royce Silver Cloud. They provided fully uniformed drivers for wedding occasions (tuxedos) and red carpet service.
The owner and many of his drivers are also well known for their good customer service and friendly, fun loving attitude. Their wedding fleet includes 10 passenger stretch Lincolns as well as the Navigator SUV stretch limo. Many times the owner has helped customers find suitable transportation for when their own cars were unavailable for specific dates.
Boston Coach is a large corporate provider of transportation in the Boston area and with other offices worldwide. They have been in business almost 30 years and have worked with 60% of the Fortune 500. Their focus is more in corporate transportation, but they also provide service for weddings.
They may not deliver the personal touch that a small company might provide with a small wedding, but if you're going big, with potentially hundreds of guests, then this might be a good provider to check out as they specialize in complex logistics.
They also have a large staff of event specialist that can help you book large venues and they can also help you find reliable service providers in the special event space. They also have access to thousands of vehicles worldwide so you don't have to worry about them running out of capacity.
In addition, they have a unique Control Center feature on their website that allows clients to book their own trips, run expense reports as well as perform a cost/benefit analysis.
This company was founded in 1985 with a focus on providing exceptional service. They have a lot of experience providing limo service for weddings in New England. Starting out as a limo company, they expanded into a bus line as well and now have a fleet of over 100 vehicles, including full sized coach buses for 56 passengers. They can accommodate a wedding of any size.
They also have strong ties and service in Connecticut as their main office is based in Central Connecticut. They are able to provide exotic vehicles for wedding parties upon request and also offer transportation concierge services to help you arrange your plans for the upcoming wedding.
Another multiple decade veteran of the Boston transportation scene, Boston Chauffeur handles many large corporate clients as well as individual retail customers. They also have a full service fleet of black cars, stretch limousines, vans, minibuses as well as full sized motor coaches.
Boston Chauffeur offers lots of late model luxury sedans, also being one of the first to offer the newly released and designed 2014 Mercedes S550, an ultra luxury vehicle. For the environmentally conscious, their fleet also includes many hybrid and flex fuel sedans and limos. If anyone has ever thought of doing an all hybrid vehicle wedding party, this could be your chance to be one of the first!
Having covered the gamut from large corporate providers with hundreds of vehicle this provider would be more akin to providing you with that small town feel. Located in Walpole, just outside of Boston, Christopher Limousine is a specialty wedding transportation provider that can provide stretch limos, buses, trolleys and what they are most known for, their antique limousines which are a rarity! In particular, they offer over a half dozen antique cars, including a marvelous 1937 Packard Limousine, a 1940 Packard Touring Sedan, a 1940 Buick, a 1959 Rolls Royce, and another 1937 Cadillac. If you're interested in having a vintage wedding in the Boston area, then this could be your ticket!
Just remember to pick the company you feel most comfortable with that comes closest to your budget. Going with the cheapest isn't the best strategy when it comes to your wedding. Choosing the company that you feel understands your needs, and is willing to work with you to make your wedding day great is the company to go with, every time.
If you're curious how Brilliant would handle your wedding transportation in Boston you can request a free wedding consultation.