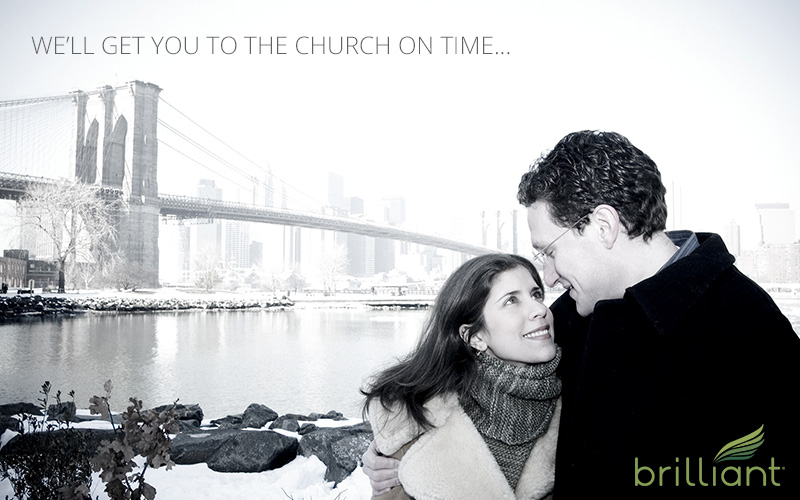 We provide wedding transportation in New York quite often. In fact, it's one of our specialties and we're fortunate enough to work with some of the top wedding planners in the nation. We field a lot of questions about the cost of a limo for a wedding in New York.
Pricing a limo for a wedding is different than a normal limousine booking because there are a lot of extra things involved in wedding transportation. The chauffeur has to know where to go and when, which entrances to pull up to and what direction he should be pointed for which part of the wedding celebration. There's a lot of logistics involved in providing limo service for weddings, so the pricing becomes a customized agreement most of the time.
We've found the cost of a limo for a wedding in New York can depend on many variables. In this article we'll explain the top five variables that impact the price of a wedding limo in the New York area specifically.
Variables That Affect The Cost of a Limo For a Wedding in New York
Making decisions on these variables before contacting limo companies will help you side-step a lot of frustration and ensure you get the right company that can deliver the exact service you want, and on the budget you've set.
1. How Many Vehicles You Need
This may seem like a no-brainer, but you would be surprised at how complex this decision can get for larger weddings.
The first step is do decide on who will be provided transportation. Those normally forgotten about until the last minute are relatives from out of town who will need to get from their hotel to the wedding venue, to the reception, and back again.
You'll need to consider family members, the bridal party, the bride, the groom, the getaway vehicle, and any important guests.
The second step is to determine how many trips will be needed to transport all those who need it. For larger weddings, it can take multiple trips to get all the guests from the hotels to the ceremony, and then again to the reception, and then back again.
If your wedding is large enough to make this a concern, as is most of the weddings we service, whichever limo service you choose should be able to help determine the logistics.
2. Distances Between Locations in NYC
This variable has two ways it can impact the cost of a limo for a wedding in New York City:
The first way is time. The further the chauffeur has to travel through New York traffic, the longer each commute is, adding to the total for the whole wedding package. If your venues and hotels are close together, it's not much of a problem. If the drive is lengthy, especially if it's in the downtown area of New York, it could significantly impact the price of the wedding limo service.
The second way is in trips. If you determine in #1, that multiple trips will be necessary, long distance travel becomes a compounded problem to deal with.
If the main hotel is a good distance from the wedding venue, you may need more vehicles than previously thought to make sure wait time at the hotel or venue isn't too long to frustrate your guest or ruin your wedding plans.
Again, whichever wedding transportation service you choose to secure, they'll be able to help you figure this out tailored to your wedding.
3. Vehicle Type
Some people still love the thought of the stretch limousine for their wedding, which is the old-style, classic look. For weddings, these are usually the go-to choice for brides, depending on the aesthetic style they want for their wedding.
Most choose to go without the party-bus style limos, and SUV limos; mainly because they don't like the party-style atmosphere during their wedding. Most prefer the sleek, classic style of transportation.
Choosing which vehicle type, or types can impact the transportation budget quite a bit. In the weddings we handle, which are high-end, celebrity weddings, we supply a fleet of our blacked-out Sprinter Vans. We've had as many as 30 lined up in downtown New York before, and we've even shipped a smaller fleet to a private island for a wedding.
However, getting vehicles like that will cost quite a bit more than one or two stretch limousines. The best advice is to head to Pinterest and look at the different styles of wedding transportation vehicles available. Choose the aesthetic style you desire, and stick with it!
4. Venue and Route Restrictions in NYC
I list this because it's frequently an issue, and usually not considered until the day of the wedding when it's too late to adapt or adjust. Imagine the horror of having a line of 30 Sprinter vans that are too tall to get through the gate to the main wedding venue.
That would simply destroy your wedding plans!
This is why we do dry runs with our chauffeurs, vehicles, and on-site logistics coordinators long before the date of the wedding. We can find any potential issues, do timing runs, and make sure we know the best way to approach the venue, get a feel for the route, and ensure everything is going to go perfectly.
We've actually built a wider driveway for one particular wedding so our vans could pass each other safely between venues.
The limo service you choose for your wedding in New York may not be able to offer this, so it might be up to you to scout the landscape. Make sure to check for low-hanging obstacles, turning restrictions, and construction zones.
5. Level of Service
This is the variable that will impact the cost of a limo for a wedding in New York more than anything else. As a general rule, the cheaper the limo service charges, the lower level of service you can expect. Depending on your needs, you may find a cheap solution that provides the perfect service for your wedding.
On the other hand, just paying a higher price doesn't guarantee you'll receive better service either. Just as you can't judge a book by it's cover, you can't judge a limo service by it's price point.
To decide on the level of service your wedding will require, make a list of all the things you would like the limo service to provide. In our experience we provide the vehicles, on-site logistics coordinators to communicate and coordinate all chauffeurs and vehicles. We've also done the things we mentioned before, the planning stage checks and even going to the lengths of getting a road widened.
A lot of people can't afford the level of service we've held ourselves to and that's perfectly fine. There are a lot of fine options for a wedding limo in the New York area that can provide simple transportation options and be reliable. One I recommend is Gem Limousine, which is based in New Jersey but close enough to New York to handle any wedding there.
If you would like to get a free consultation from us regarding your wedding, you can submit a consultation request here. If we're not a good fit for your wedding, use these five variables to ensure you get the best limo for your wedding in New York, for the price you prefer!