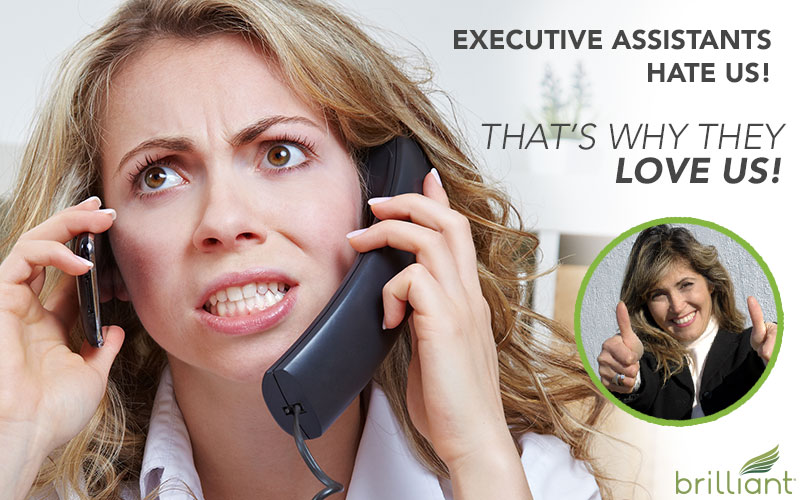 Yes, it's true, I'll be the first to admit it in print: executive assistants don't often like dealing with ground transportation companies. Why, pray tell, would this be? Well, it has to do with the fact that, in general, dealing with transportation requests, particularly last minute transportation requests, can be very stressful!
Although transportation companies are common, everyday, well-established services, transportation is by its very nature, moving, changing and dynamic. Everyday brings new challenges and new passengers and new itineraries. Nothing is set in stone, and so often important details or deadlines get missed and people get upset.
Why Executive Assistants Hate Transportation Companies
Beyond those generalities, I think there is something to executive assistant complaints. All too often, transportation companies fall short when dealing with customer service. Often times, people will call in with important trip information and the because of poor customer service, the vendor will get the wrong dates or times, or wrong contact number.
Too Many Hassles, Too Many Mistakes!
And when clients call in last minute changes, it can be hard to get the right person on the phone:, 'Oh that representative isn't here now; or the driver has already left,' or maybe you have trouble just reaching a live person at all.
When minutes count, and vehicles are in motion and passengers in transit, delays can be frustrating and problematic. Of course, no one likes to deal with those sort of things, and it's usually up to the executive assistants to make those travel plans for their bosses. And like any underlings, assistant's know they have to get their boss's travel plans correct, or he or she will be rightly miffed!
We've written an article to help you determine if your current transportation provider needs to be replaced: Five Signs You Need a New Transportation Provider.
Ground Transportation Needs Improvement
Perhaps because of their very nature, whether it be one-time drivers starting limo companies or truckers and shippers getting into the passenger hauling game, many transportation companies simply aren't as good at customer service as they are at operations, and running vehicles.
While it's of paramount importance that the customer get from A to B on time, and in the right location, for the consumer, it's the whole experience that's important, not just the trip, but also planning and booking the trip as well that's important. If they have a poor experience in any one of those areas, they are likely to look down upon the whole experience, or company involved.
And as I mentioned above, any mistakes made during the reservation process are fundamental and will affect the basic outcome of the trip further down the line. Any one missing detail could potential cause problems, like a chauffeur unable to contact his passenger at the airport because of a wrong cell number, or an incorrect flight number. So it's important to get everything right if you want to have a smooth trip!
There is a Better Way!
While many transportation companies get their assignments right most of the time, for most customers, just about good enough isn't good enough at all. You may have a very important business or personal date that requires transportation and you need the company you hire to hit the nail on the head that VERY DAY, because as far as you're concerned, there is no second chance to get it right. You need to be able to hire a professional service provider that you can trust 100%.
Lucky for you, there ARE transportation companies that get it right every time, and who excel at customer service. Brilliant Transportation happens to be one of those companies. We stand by ready to offer you the highest customer service travel experience you can find, and offer you seamless performance in terms of serving our customers in transit as well.
Brilliant Transportation was founded by a former Wall Street executive who traveled the world, often in first class style, and still found that ground transportation, as an industry, was wanting where it needed to do better in terms of customer service and job performance. So our company was founded with that singular goal in mind: the provide the best customer service possible for discerning travelers looking for more, for better. To offer that superior service is in our DNA. It's our reason for being, really.
Brilliant Transportation is Customer-Centric and Detail Oriented
That's why executive assistants love US, even though they have less than happy opinions about our industry. With the countless executive assistants we have dealt with in our beginning years, booking trips, they found they had a partner in transportation that they could trust.
Assistants would call in to book a trip and be pleasantly surprised that a knowledgeable, helpful and friendly person was on the other end of the line, actually interested in helping make the reservation process a pleasant and efficient experience. It starts by taking a true interest in our customers, what they need, what they want, and understanding what they need to accomplish.
All of our reservation information is checked and double-checked. Confirmation emails are sent out to the clients right away, and our reservation staff with follow up to confirm receipt or see if any additional questions linger in the mind of our clients. Once a job is confirmed, those details are checked again by dispatch and the drivers themselves before a trip departs, so that no mistakes or made or no important detail goes unchecked.
In addition, all of our managers and reservationists are accountable for their trips, and need to check their manifests for accuracy and follow up with clients at any time it is necessary. We are still a small company, and don't yet offer 24 hour operations, but with the latest in office communications and software automation, all of our managers have finger-tip access to any reservation at any time, and can respond to clients requests or complaints almost instantaneously.
We Take the Stress On Ourselves
At Brilliant Transportation, we understand that an organization is more than the sum of its parts, or employees, that's why we rely upon systems and procedures guide us through our work; it's not just dependent upon any one person's memory or notes or even emails. All of our office computing is cloud based, so any authorized person at the company can quickly find information about any customer, or any trip, at any time, regardless of who booked the trip or spoke to the client. It's that kind of detail orientation and seamless integration of knowledge that makes our organization more efficient and more response to customer needs.
So anytime you need superior customer service and job performance as it relates to ground transportation, you should consider working with Brilliant Transportation.
We only serve two markets at this time, New York and Los Angeles, but those are 2 of the top transportation markets in the North America, and contains many dynamics industries and players who require top-notch transportation services. We do focus on a very exclusive luxury market, so we are not for everyone (We're not out there trying to compete with the Greyhounds of the world). But for a select group of travelers, we are just what you are looking for.
To receive a custom trip quote today, contact Brilliant at 1-800-543-1001 or visit go-brilliant.com.