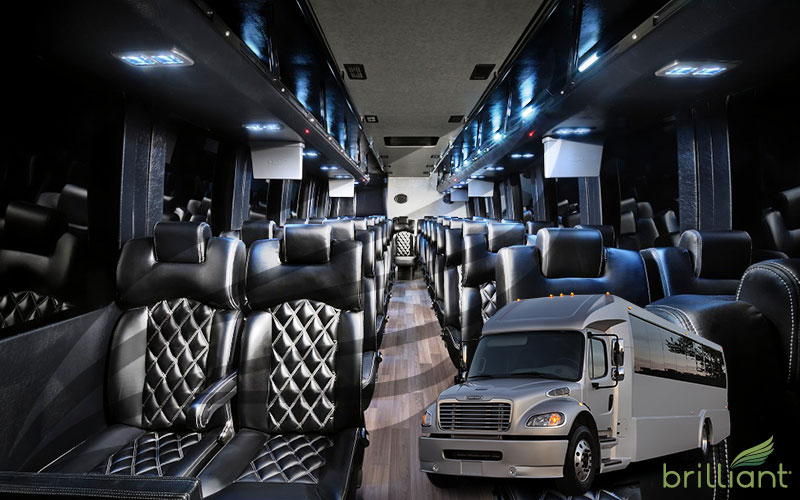 Sometimes you need more than a limo or a van to transport your group. However, most group transportation options are available if you're willing to drop the luxury requirement. Going from a premium luxury limousine or luxury van to a bus is undesirable; but so is splitting up the group into multiple vehicles.
When you want everyone on the same vehicle, but you want to retain the luxurious experience, the best choice is a luxury minibus. Chartering a luxury minibus in New York just makes sense. It's one vehicle in traffic, rather than multiple vehicles. Everyone can visit and chat with each other because they're all on the same vehicle. Tours are enjoyable and you'll only need one tour guide; unifying the experience for the whole group.
There are tons of reasons why I could recommend book a luxury minibus. But you're wanting to know how much it costs to do so. Well, the answer to that questions isn't exactly a cut-and-dry answer. There are too many variables to give an absolute cost for each trip, but we'll do our best to simplifying the process and giving you a good idea what you can expect to pay for a luxury minibus in New York City.
How Much Does a Luxury Minibus Cost in New York?
Several variables will determine the cost of a luxury minibus charter. Let's take a look at the three most common variables and see how they'll impact the bottom line for your trip.
Time Variables
The first thing you need to consider when searching for the cost of a luxury minibus in New York is how long you'll need it. Most limousine and luxury bus services in New York work on an hourly basis; which means the more hours you need, the higher the cost.
But there's other time variables as well. Depending on the distances from the base to the pickup or drop-off location, luxury minibus services will charge for the transit time. A lot of customers are blindsided by this because of a breakdown in communication from the transportation company. This is something we do, and we want our clients to be aware of it before they book with us.
We charge on garage-to-garage pricing. So if you are getting picked up or dropped off at a destination of a considerable distance from our office, the time of travel between the two points is added to the time of the charter. Luxury bus charter services must do this to maintain their fleet and ensure availability for their clients. We just like our clients to know about it rather than us quoting a low-ball quote, and tacking on extra fees at the end.
Also you should remember that luxury minibus services will charge a minimum for usage. No matter how short your trip is, booking with some companies will still cost a minimum price. Brilliant, for instance, charges a 5 hour minimum for our minibus charters.
Why do we do charge a minimum?
We're not a shuttle service that concentrates on booking A-to-B transfers, although some of our clients use us for that. We make sure our vehicles are in tip-top shape for each booking; including a complete detail and inspection between trips. We really don't want to get into the business of quick-turnaround trips where we don't have time to ensure the best quality experience.
Group Size Variables
This may seem common sense but when discussing price, group size is a common variable to take into consideration. Different size vehicles are priced differently, and with some companies, even the minimum charter time is increased.
Taking the size of your group, it may make more sense to take two smaller vehicles over one larger vehicle, depending on the type of trip you're expecting. For tours, or longer trips, everyone usually likes to be together so a larger vehicle is nice to have. However, for point-to-point or trips that rely on quickness and schedule keeping; smaller vehicles in the New York traffic could be a smart bet.
We have 3 different bus sizes for our clients; 28 passenger, 36 passenger, and large 56 passenger coaches. Our minimum hours remain the same for all size but the pricing is different. If you want to get a quote on our pricing for your trip, click here.
Downtime and Waiting Variables
This is the most common unexpected variable that influences pricing, and a lot of our clients appreciate that we're up-front about it before they book with us.
Because of time minimums, wait time is a factor when estimating the cost of a luxury minibus in New York City. If your group is going to an event that lasts 3 hours, but your trip to and from the event only takes an hour, this can lead to unrealistic expectations of transportation costs.
Those who have never booked luxury minibus services in New York usually believe they will only pay for the 2 hours of drive time. However, time minimums of bookings make this unrealistic. To charter a luxury bus for this night out would be closer to the 5 hour minimum, and maybe more depending on the extra wait time pre and post event.
Luxury bus companies are tying up important vehicles if they park a luxury minibus for 3 hours, making it unavailable to other clients. Especially in the case of Brilliant Transportation. If we turned this event into two, small 1 hour bookings, one to the event, the second from the event, the quality of our service would drop.
We've made commitments to our clients that our vehicles are detailed and inspected before each and every trip to ensure they are in premium shape. Changing our commitments, or cutting corners, to offer smaller hourly minimums would invariably deteriorate our quality of service.
Therefore, it becomes important to factor in the time for transit, the time for the event, time for all passengers to load/unload, and the final leg of the transit. Of course, this is only a remedial example, all events and bookings are different and introduce their own, individual challenges and timetables.
We recommend speaking with customer service representatives for whichever company you decide to book with. They will be able to describe exactly what you need for the charter depending on your event, travel routes, and the expected downtime as well.
Remember, the actual ride in the minibus is only part of the luxury experience. Dealing with a company that's focused on providing top-notch customer service will make a huge difference in your overall experience.