Now, I'm a little biased on this one, but I think you'll see my point. Right after I started working for Brilliant, I was flown to Los Angeles to meet with Richard Fertig and my new colleagues in the LA office. I work remotely in Seattle and don't get a lot of face to face time with my colleagues.
We had a lot to do and only two-and-a-half days to do it in. We needed to brainstorm some ideas for our new website, the content we could offer our clients, and ideas for our marketing department. This task alone was going to take the bulk of my time in LA. We also needed to capture some video footage of our chauffeurs, the office, and the vans in action while we were there as well.
I arrived at the airport looking for the Brilliant van. Richard and Stephen picked me up in a old-style Ford Bronco thing. I was pretty disappointed as I pictured myself lounging like a rock star on my way to the office. However, I did get my wish after the first day of working. We decided the office was holding us back, and we could do more than one thing at once.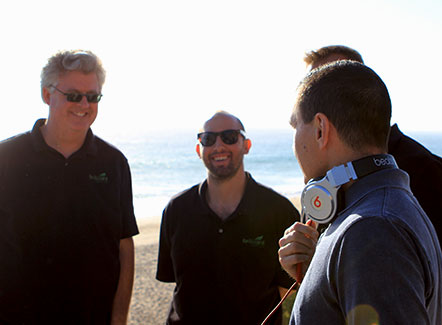 So we grabbed two of our best chauffeurs, a Brilliant van, and we headed out onto Highway one along the coast of California. Oh my word! The van was incredible, and the beach outside was very distracting for me. We went through Beverly Hills Rodeo drive, and several other LA landmarks. I was tempted to have Jacob pull over so I could hop out and act like a movie star to see if anyone would want my autograph.
After getting video footage of some of the landmarks, we headed out to the coast driving all the way up to Big Sur. As we settled in for the long drive, with the Go Pro camera attached to the outside of the van, we turned back to the business at hand. We drove for nearly an hour with me, Richard, and Stephen hashing out our marketing plans in the cabin.
I had my Macbook out on my stowaway desk, plugged in so it would charge. I was connected to Google Analytics, e-mail, and all the website I frequent. I could have snuck in a game of solitaire like most geeks do during meetings but I was too busy taking every opportunity to watch waves crashing against the shore outside my window.
I had my DSLR camera set up, transferring the videos we just shot onto my hard drive. I had my notebook out, pen in hand, as we sketched out nearly our entire content strategy; all while rolling down the sunny California beach.
All in all, I'm now spoiled. I want all my future meetings to be in the back of our flagship van. We were able to have a very productive meeting, get great video footage for our marketing videos, and relax in complete luxury in the back of a Brilliant van.
The only downside to the whole trip, I didn't get an autograph of a celebrity while I was in LA.
Maybe next time...
Here's a video we shot on that wonderful California day.