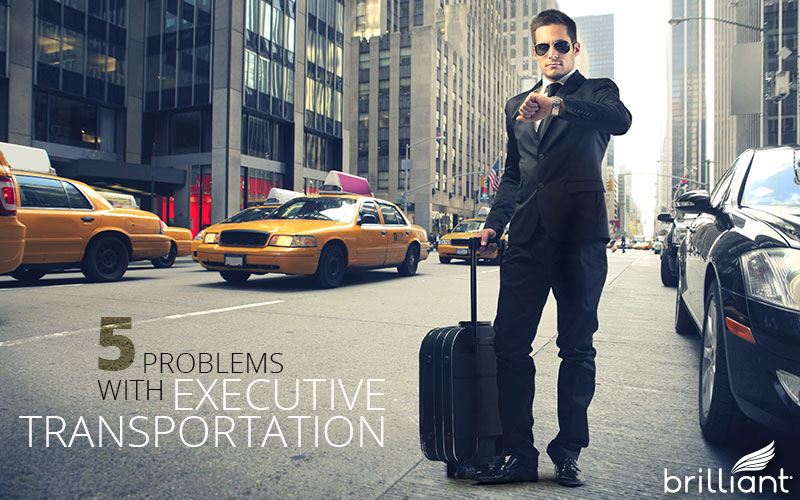 At Brilliant, we provide transportation for many high end executives in the New York area. Whether for personal, leisure travel or business trips, we're privileged to have many influential executives on our client roster. We do our best to set ourselves apart as a 5-Star quality provider of executive transportation, who can deliver on even the most difficult itineraries.
Our clients come to us when they want performance and service, not mere transportation. As a matter of fact, we're not embarrassed to admit if you're looking for simple A-to-B transportation at an affordable price, we're probably not a good fit for you.
We're priced at a premium on purpose. One of the reasons we have the clients we do is because they've experienced the problems associated with mere executive transportation.
Our clients don't want to be left in the snow at JFK while their car is supposedly "circling." Our clients wouldn't use us more than once if we picked them up in a vehicle that wasn't spotlessly clean, or needed mechanical work done.
Put simply, our clients come to us because we're the Waldorf Astoria of transportation. We're not anywhere near the cheapest, but we deliver on quality and value for those that want to experience the best.
Problems Executives Face With Transportation Companies
With that being said, here are five of the most common problems with mere transportation for executives. These are the ones we hear about most when a new client comes our way. So, if you're in the market for an executive transportation provider, make sure who you choose can overcome these 5 major problems.
1. No Connectivity/Productivity
For busy executives, this is a major problem with transportation companies. Especially in New York, where the average commute is over an hour, being connected and able to be productive during transit is essential. Hopping in a cab or booking a normal limousine just doesn't provide the tools for the executive who needs to maximize his time and productivity.
Most limousine companies are focused on a different demographic than top executives. They are in the business of providing as many trips, as fast as possible, to as many clients as possible to turn a higher profit. They may advertise executive transportation services, but it's not "what they do."
One of the things our clients like about our Brilliant Vans is the power outlets, retractable desks, and high-speed WiFi. Our vans have been called mobile offices for good reason, they have all the technology you need to be at work while on the road.
2. Shady Billing Practices
To be honest, shady may be a strong word. To us, it's shady, to most transportation companies it's "industry standard." If you haven't heard the term, "Plus Plus Pricing," you need to before you think about a long-term relationship with a transportation provider.
The way it works is to quote you a low flat rate or hourly price up front, then add on multiple charges after the fact to increase the amount you owe. Much like a car dealerships "doc fees," plus, plus pricing takes advantage of your business relationship and tacks on a ton of smaller fees to nickel and dime customers for a higher profit margin.
Usually, these fees are mileage fees, fuel fees, toll fees, forced gratuity, and anything else they can think of to tack on. That's why, for most of you, you've experienced a final bill that was significantly different than the advertised price. Good luck dealing with customer service to get a clear answer on why/what you were charged for.
At Brilliant, we believe in net pricing. We tell you up front how much a trip will be, and that's the final cost. We've lost business before by advertising our high price transparently, rather than the opposite. Our clients appreciate that, and we have much return business. Not just because of our pricing transparency, but it's one of the many reasons our clients love us.
Extra Reading: Why We Price Differently Than Other Limousine Companies
3. Dirty Vehicles
This is just a byproduct of going with a cheap provider. Like I mentioned before, most limo companies rely on volume to make up for their low pricing. If they can get rid of one customer quickly, they can move that limo on to the next customer as soon as possible.
The downside of this quick-turnaround mindset is that the vehicles get dirty with each use. Often, with such high volume, it doesn't get cleaned at all.
We've heard some horror stories!
If you're paying a premium price for your transportation, like our clients do, a dirty vehicle is a deal-breaker! Most of our trips average over $1,000, and up, per trip. How could we possibly send you a dirty vehicle?
Well, we took it a step further, to the extreme actually, and put in place a policy that ensures our clients always get a clean vehicle. That policy is to completely detail each vehicle between each trip, even if the same client is going to use it the next day.
When we handle large events, we actually bring in an army of additional detailers so we can clean the vehicles, top to bottom, between uses. This is just another reason we are premium priced, we're offering quality most companies can't compete with.
4. Unprepared Chauffeurs
This is one of the most common complaints we hear from all of our clients, not just executives. We're always hearing stories of drivers getting lost, not showing up at all, being rude, or being completely unable to follow directions.
That's that low price coming back to bite you. ;)
The best companies are the ones who take chauffeur training seriously, and are selective in their hiring process. Brilliant isn't the only one with high standards when it comes to drivers, there are other fine transportation companies that screen and train their drivers. You just have to find them.
At Brilliant, we have a stringent screening process in which less than 10% of applicants make it through. Then, we put each driver through an intense training period ensuring they are one of the best in the business before they take the wheel for a client.
We like our drivers to operate with absolute precision. They should know the route, the best way to drive in all types of weather, and the exact timing of their routes.
5. Horrible Customer Service
This is one we've all experienced. The sad thing is, some high-priced companies still provide low-level customer service. I once had a limo company give me the wrong receipt, and it took 3 days of calling and arguing with them to get the right receipt sent to me.
Needless to say, this is the problem I'm most passionate about. As a matter of fact, all the previous problems could be sub-headings under this one section.
Everything begins and ends with customer service! (Tweet this)
What's great customer service and what's horrible customer service really depends on who you're asking. Great customer service to one may be the lowest price. To another, like one of our clients, it's the specific type and flavor of yogurt and water waiting in the vehicle when it arrives at his doorstep 15 minutes early.
For our clients, customer service is one of our top selling points, and we're very proud of it. Many have been surprised to find the same person they chat with online answering the phone when they call. They're used to online chat being outsourced, and calls being handled by a phone bank.
Where the value is, again, depends on the person evaluating it. For those who demand the utmost in service and attention to detail, Brilliant has become their favorite service.
Executive Transportation You Need
You don't have to be a client of Brilliant to appreciate the 5 problems people experience with transporting their executives in New York City. Just make sure you thoroughly vet a transportation company before getting in to a long-term relationship with them.
If you are looking for a company for a long-term relationship, we would love to take you on a date! Call 212-799-555 and let us know how we can help you.