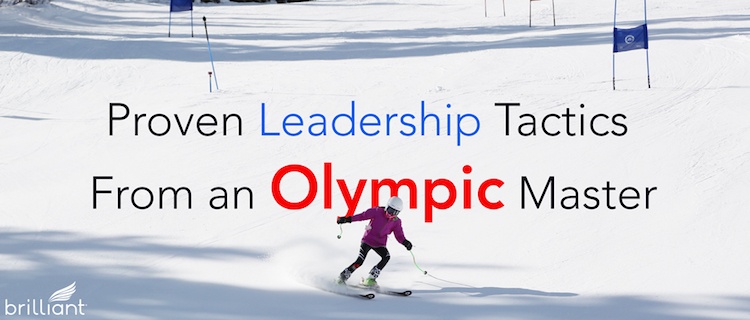 This blog post is a transcription of a Monday team meeting at Brilliant Transportation. We've created this post for two reasons:
We feel small business owners/entrepreneurs will find the content helpful
To be completely transparent

In this meeting our CEO, Richard Fertig shares the tremendous leadership tactics he witnessed while at ski camp with his daughters.
Proven Leadership Tactics From an Olympic Master
---
It's rare to come across an individual, much less a team of people truly driven by the pursuit of excellence. However, I had the honor to witness greatness this week. My three daughters are fledgling ski racers and during the summer, those similarly inclined flock to Mt. Hood, Oregon to attend ski racing camp.
This is the second year my girls have attended, but the first time they attended the Erich Sailer Ski Racing camp. Mr. Sailer who was inducted to the US National Ski Hall of Fame for his coaching of over 25,000 young athletes, and many recognizable names including Lindsay Vonn, Julia Mancuso, and Resi Stiegler. And, one of the most amazing facts is that his local Ski Club and Mountain is near Minneapolis and has all of 304 vertical feet! From a small hill in the Midwest, Erich Sailer and his team are turning out world class athletes at a remarkable pace.
His talent is really at motivating people and bringing out the best in them.
For me, I enjoy seeing my kids push themselves. Just to give you an idea, they're waking up at 4:30 in the morning. They ski all morning, they have lunch at 9am because they've already skied for hours. They sit outside in the snow, and eat in the cold.
At one in the afternoon they stop skiing, we go down and watch videos about their technique and drills to improve on. After an incredibly full day, they go and do dry-land training - running 4-5 miles.
At night, they have a debrief meeting with Erich and all the coaches who, by the way, are 4-time US Olympic skiers. The Olympic skiers are all here because of this one guy, Erich Sailer. He started this ski camp in 1958; he's 90 years of age now and sharp as a nail. He goes up to the top of the mountain every single day, irrespective of the conditions and gives our kids instruction. He knows the kids' names, he knows their strengths, he knows their weaknesses, it's unbelievable how remarkable he is.
At 7 PM, he breaks down "the world according to Erich". It's like liquid gold. I'm sitting there just taking it all in. Some of the parents are sitting there in awe. It's really just, what's important in life. He mentioned,
---
"You want to be proud of what you do. The only way to be proud of what you do is if you try, and it's not results based. You don't have to be an Olympic winner. What you need to do is be focused and disciplined and do the hard work. No one wants to put in the hard work; no one wants to go on that last run, nobody wants to do the same drill over and over again. The fundamentals matter, and that's the most important thing in the world. If you don't have the fundamentals, I don't care how talented you are, someone with the fundamentals will come and WIN."
---
The point of this camp is to get these kids thinking about the fundamentals and routine and getting them to do it again and again. The kids actually love it because they see the improvement.
As it relates to my company - Brilliant Transportation - if we're doing the fundamentals of dispatch, marketing, operations, sales and we get our heads into that mindset, then we will all improve. But we need to do it from a conscious perspective. If we don't do it from a conscious perspective, then we're just going through the motions, or being re-active.
Similarly, a kid on the ski team who has all the talent might win a lot. That is until another kid comes along who has more discipline, more focus and does the fundamentals. That kid will kick his/her butt.
In the luxury transportation world, we're that new kid.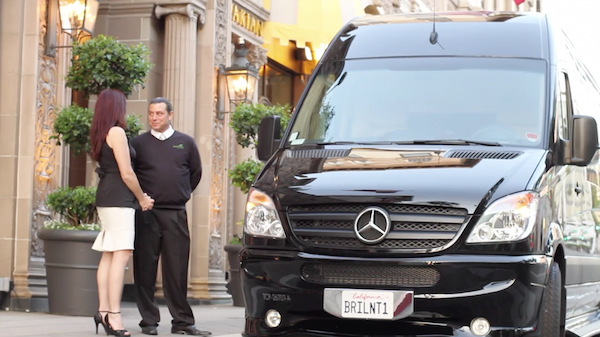 Pictured: Brilliant chauffeur on-site
We're the guys that are coming in and disrupting the industry. We're the kid who has a lot of potential. We're showing eagerness, but at the same time I think we need to focus on the discipline of getting the basics done right.
That's the sort of thing when we're checking communal inboxes, when we're building reservations, when somebody asks for a trip, and we ask them "what about your return trip?"
All of these little things are important in what we do and we don't want to take it for granted, we don't want to assume everybody is doing it. We don't want to assume that all the sales people are equally as good. We want to think about it and we want to learn from the best. If we do that, in combination with being the new/eager kids on the block, we're going to have an incredibly bright future.
Tracking backwards, on the last night the coaches were saying their goodbyes to Erich, and the theme seems to be,
---
I'm a better person for my time spent with you, Erich. The amount that you pushed me, and the amount that I learned from you, and achievements that I wanted to build for you, not for me personally, but for us. I wanted to show you what I could do, you brought the best out in me, you motivated me, and for that, I'm a much better person.
---
Olympic athletes are on the verge of tears saying these things.
So my point is, whether it's my kids, or my spouse, or my co-workers - my goal is to get people to think being around me has bettered them. As much as I might be pushing them, or texting at midnight, or saying the Home Page could be better - the pressure they may feel at a given point in time is because I completely believe in them.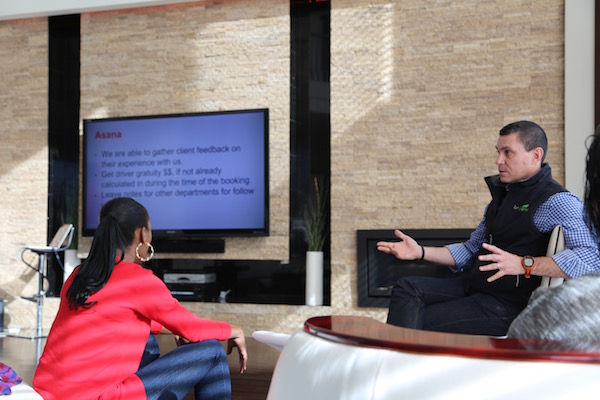 Pictured: Brilliant Team Meeting
In fact, I believe in them more than they believe in themselves, and I want to push them to be better. It's done from a place of support and strength and not a place of criticism. I think that kind of mentality coupled with the right student yields great results. So my time at my daughter's ski camp was a study of unbelievable leadership.
On the last night of camp, they gave out awards. There were two big awards given out during the ceremony. One was a ski helmet and that went to the best skier of the week, a 16 year old national champion - no surprise there. The second award was what they called the hard charger award.
The way they described it was the one kid that all the coaches recognized came every day, was motivated, excited, tried incredibly hard, and who brushed off hard falls. So the coaches came up with this award for just charging hard every single minute and every single day and just being in that zone.
I was incredibly proud to see my daughter win the award. My daughter, who is tiny. She's off the charts for height and weight, one percentile for both. But she's incredibly strong mentally, and she has this vision of herself as some type of superhero. She doesn't care that she's smaller than everyone else, she believes in herself.
So I just think it's really important that each of our team members think about what's important to them, their work, don't take things for granted, and just don't assume they're naturally gifted. Doing that will only going to get you so far. What's going to get you far is taking the time to think, be critical, and disciplined.
98% of the people we interface with today, and tomorrow, and the next day won't have that motivation. They're just going through the motions, and they're going to go to the grave just doing whatever came their way. And the other 1-2% of people are like Erich Sailer - who is a leader. I want to spend as much time as possible with these people. Model the masters, do as much as I can to learn from them and emulate them to become like them.
Finally, I want my whole team to win the hard charger award. Whether it's the hard charger in detailing, the hard charger in marketing, the hard charger in sales but whatever it is, f**king charge hard at it.
Enjoyed this article? I would love if you shared it on social media.