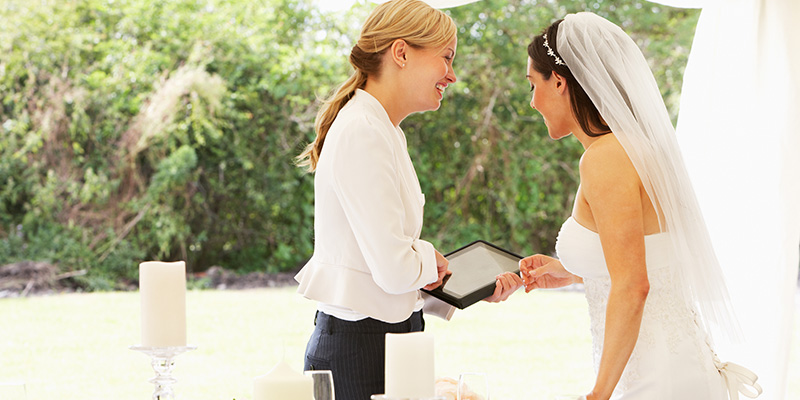 Most limousine services can provide transportation service for a wedding without any major problems. According to some of the top wedding planners in the business, not causing major problems is as good as it gets.
Being "good enough" is not a principle Brilliant was built on. We want to be perfect, spot on, operating with graceful precision.
For high-end event and wedding planners, weddings are an art form. The beauty of their event hinges on every single detail; creating a vibrant experience. We believe transportation should complement the artist rather than detract. To integrate with the experience instead of transportation to and from the experience.
That's why we pride ourselves on our ability to turn 'normal transportation' into an extension of the artful wedding experience.
The Top 5 Wedding Transportation Faux Pas
To describe the difference, here are the top wedding transportation problems of wedding planners, and how Brilliant solves them. While not an exhaustive list, this highlights how Brilliant Transportation turns ordinary, recurring problems into peace of mind for the wedding planner, and a superior experience for their clients.
1. Graphic Vehicle Mistakes
Brilliant has witnessed first hand the disastrous consequences of van and bus services that don't understand eminence. We've seen angry brides and teeth-biting wedding planners fuming at the appearance of the transportation fleet.
As we said, weddings are a work of art. The bridal gown, the groom's tux, the coordinated flower arrangements. Everything is in perfect harmony except for the transportation fleet. They showed up with vehicles wrapped in advertisements for movies, and their own limo service.
We keep our vehicles in only the most pristine condition. And we never have an ad for James Franco's new movie, or logos splashed on our van's exterior.
Clean-cut, sleek black is our forte.
2. Everyone's on time but the limo
If our chauffeurs are less than 15 minutes early, they are late.
With weddings relying on such strict scheduling, taking longer than expected to shuttle guests from the service to the reception can throw off the entire itinerary.
Some delays are expected, like a flower girl who suddenly refuses to walk down the isle, but transportation services shouldn't cause any delays.
Brilliant focuses on superior performance, and military precision. Our punctuality is a byproduct of this focus, allowing us to truly provide superior customer service.
This is your wedding. We run on your schedule.
3. Dirty cars make dirty dresses
The bride is resplendent, her hair is beautiful, her face is glowing. She waits at the end of the isle ready to walk into the biggest day of her life…
"Is that oil on her dress?"
Unlike other transportation companies, Brilliant understands the importance of having the absolute cleanest vehicles when transporting wedding guests and guests of honor.
All our vehicles go through an extensive white-glove detailing that makes our vans and coaches shine like the groom's face when he lifts his bride's veil.
4. Everyone, go your separate ways
Other wedding transportation services don't get the culture of a wedding, nor the fanfare that surrounds it. Family and friends come together from all over the globe to celebrate the union of the happy couple. You shouldn't have to separate people just to transport them from place to place.
With Brilliant, our wedding transportation workhorse is a luxury Mercedes Sprinter van that comfortably transports up to 14 passengers. For larger groups, we also have luxury minibuses that can transport 28 or 36 passengers at a time. Our premier luxury Sprinter, the Brilliant van has face-to-face seating that allows for uninterrupted discussions throughout the ride.
Our entire fleet from the minibus to the Brilliant van have the same, sleek exterior aesthetics ensuring your guests are transported together, without sacrificing one style.
5. Complaining in-laws
Sometimes the hardest person to please isn't the bride. No matter how perfect a wedding is, there always seems to be a few in-laws that want to complain about something. Our luxurious interiors and amenities, have ceased the complaints of many between the ceremony and the reception.
The on-board refrigerator keeps the stemware full, 185 channels of satellite TV so dad doesn't miss the golf match, and high-speed WiFi ensures mom can update her Pinterest and the kids can catch up on Facebook.
Bonus Item: Extra Measures
Our chauffeurs have been trained to do little things like turning off headlights when pulling into a reception so to not blind the guests. We minimize time in reverse, unless we can avoid it altogether, to avoid noisy back-up alarms. We utilize air-ride suspension to make sure the ride is smooth.
Brilliant has the "wow" factor! We'll put a smile on the face of the most hard-to-please guests.
Experience the difference. Go Brilliant! Book your wedding transportation.
Image Source: Ceci New York
---