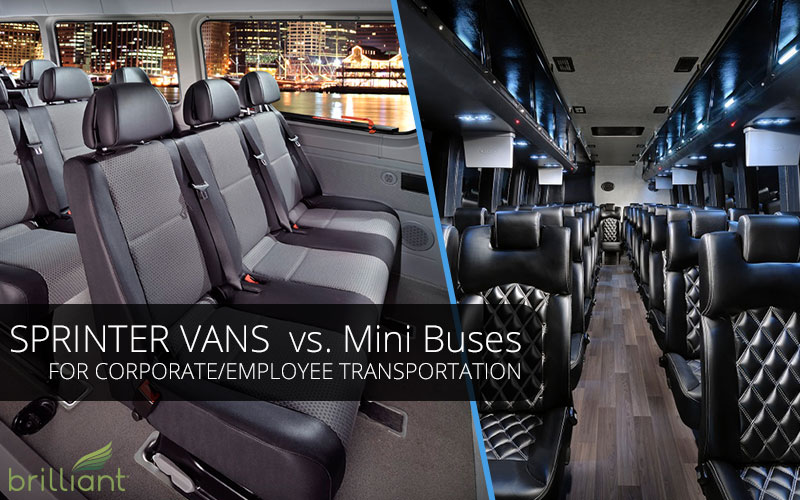 If you're looking to provide corporate transportation for your employees, you have a lot of options to choose from. You can go with normal car services to move your employees on a budget. However, if you're looking to provide a more upscale experience for your employees, you can also go with high-end executive transportation options.
What we've found in our experience of providing this service to both large corporations and small businesses is that Mercedes Sprinter vans and Mini Buses are the number one choice.
Luxury Sprinter Vans For Employee Transportation
Our luxury vans are particularly well suited for acting as mobile offices for your executive staff. Our fleet of custom converted Mercedes Benz Sprinter vans come in two varieties: the 7 passenger Brilliant Van and the 9 passenger Executive Van.
The only difference between the vans is the seating arrangement and the luggage space. Otherwise the vans have the same equipment. Both come equipped with leather covered captains chair with multi-way electric adjustment and footrests. And each seat has its own stowaway desk with a 110 electric outlet and a reading light. There is on board WiFi as well as two 32" flat screens with satellite TV and radio reception, plus plenty of connectors for other audiovisual equipment and a teleconferencing phone.
This comfortable, convenient and private environment is perfect for getting work done while you're traveling or also for holding a meeting. But of course, given the number of seats, these vehicles can only work for small groups. A perfect fit for a group of top executives however!
Large Group Transportation for Companies
For employee groups of 20-40 people you would need a larger vehicle. Brilliant also has a fleet of 28 and 36 passenger luxury mini-buses. With the greater number of seats, you sacrifice some of workspace.
The bucket seats in these buses don't come with their own stowable desktops, but the material, fit and finish of the interior do speak of luxury. Not too many minibuses offer real (not faux!) leather seating.
Each seat also comes with its own reading light and there are household outlets distributed throughout the cabin. There are also drop down video screens and a DVD player is provided, as well as onboard WiFi.
Which One is Better For Corporate Employee Transportation?
If you have more than 14 employees to move, and your route picks up the passengers at a centralized location, a mini bus is probably the best choice, saving time and money by moving one vehicle.
If you're employees are spread out and require several pickup points, using multiple Sprinter vans may make more sense. The cost, of course, will be more. However, the speed and efficiency of the shuttle service will improve with more vehicles on the road making less stops per vehicle.
Again, this really just depends on your needs. At Brilliant, we provide higher-end vehicles and quality of service. Less than half of the people that come to us can afford our premium pricing. We understand we're not going to be the best for everybody as we are sticklers for the quality of service we provide and also that our target customers are at the higher end of the market.
There are plenty of companies out there that offer the factory Mercedes Sprinters and can provide transportation for your employees on a smaller budget. We've actually written an article about that called, The Cost of a Luxury Minibus in New York that is worth reading.
If you're interested in the services we offer to corporations and small businesses around New York and Los Angeles, you can leave a quote request online and one of our corporate specialists will contact you as soon as possible.