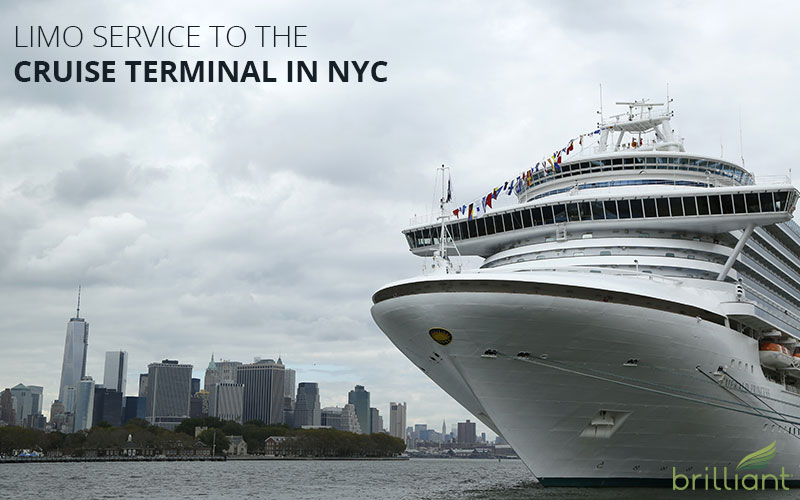 For people stuck in the middle of winter in the Northeast, taking a cruise to someplace warm sounds like a pretty good idea right about now. Imagine escaping the snow and ice and enjoying a couple of days on a warm beach in the Caribbean.
Well such an escape is surely possible if you have the time and the money. And for residents of New Jersey and New York, the closest egress to this floating world of happiness is the Manhattan Cruise Terminal.
Brilliant Transportation drops off passengers at the Manhattan Cruise Terminal on the Westside all the time. In fact, many potential customers call and ask us what it would cost to get dropped off there, like for example, 'what is the cost of limo service from Newark airport to the cruise terminal?'
Limo Rates From Newark to Manhattan Cruise Terminal
In terms of pricing, it is a good idea to contact several transportation companies to get quotes for this short trip. Limousine companies usually charge by the hour, so many limo companies are likely to give you an hourly quote.
Another pricing possibility is to ask for a transfer rate. Many limo companies offer convenient pricing for frequently made trips like for airport drop offs for example. Brilliant Transportation offers transfer rates to all New York area airports as well.
While we don't have a transfer rate specifically to the cruise terminal, we would be able to substitute the airport transfer rate for a drop at the cruise terminal as long as the trip starts and ends within the city limits of New York City. For trips originating outside city limits however, we would have to charge you an hourly rate.
The trip from Newark International Airport to the Manhattan Cruise Terminal in a Midtown is a short one: only 17 miles and it takes roughly 35 minutes to do this trip in moderate traffic.
Although this trip would probably only take 30 minutes, one thing you should understand about about executive transportation is that limousine companies charge travel time as a standard business practice.
Travel time is the portion of the trip that covers the time from the limousine base to the pick up location and the from the drop off point back to the base. This can usually double the amount of the time on the reservation since it is making it like a round trip.
Limo companies will charge you for the round trip because, unlike a taxi trip, each limousine trip is prearranged and limo companies aren't allowed to pick up new passengers on the street. The limousine needs to be cleaned and restocked after every trip, and sometimes a new driver assigned as well. In order to make up for the inability to access walk-up business, travel time is a necessity.
For this particular trip, it shouldn't take much longer than an hour, even with travel time added in. However, one other pricing quirk that a consumer may have to deal with is that limousine companies also usually charge an hourly minimum if you are given an hourly rate. Three hour minimums are quite common, as is the case with Brilliant Transportation.
Vehicle Selection Makes a Difference
The other major factor that will affect the price of your reservation is the type of vehicle you select and the number of passengers you have going. Obviously, group transportation for 30 people is an entirely different ball of wax than transporting 2 people to the cruise line.
If it is only 2 or 3 passengers traveling, then you also have the least expensive options available to you. The smallest and most economical way to make this trip would be with a black car service, your entry-level choice of limousine vehicles.
Typically this vehicle would be a Lincoln Town Car. Town Car service in New York City starts at around $55 per hour and can go as high as $75 per hour. The more exclusive vehicle you select, the more expensive it would be. For example a Mercedes or Audi luxury sedan could cost you $95 per hour.
Let's not forget about the traditional option of stretch limousine service. This vehicles offer much more luxury, features and style when you're on your way somewhere. These vehicles can generally hold from 4-8 passengers. Larger super-stretch limos can hold up to 10-12 people. Prices can vary since there are so many different kinds of stretch limousines, but the average price range is $70-$120 per hour.
If you're traveling with a group, we've also written an article on limousines that have the most space for group transportation you may want to read.
Moving away from the sedan option you're next platform would be SUV service. SUVs are good for carrying up 6 adults and can handle more luggage than a sedan. SUV service is generally around $80-$90 per hour. If you need to handle more passengers, you could also choose a 14 or 15 passenger van. The rate on these vehicles is generally around $65-$75 per hour. Some vans are bigger than others however. The Mercedes Benz Sprinter vans, which we use also have a 14 passenger model. The rates for those can be in the $100-$150 range.
Premium Transportation Options
Just as the budget traveler will have different options, so too does the premium transportation user. Luxury travelers have many different options, perhaps more since they aren't limited by price.
For the premium category, this could encompass exotic cars like a Rolls Royce or Maybach or even custom luxury vans. Prices in this category usually start in the $150-$200 per hour range and can even go higher. In this category, outstanding customer service and exclusive vehicles are absolutely expected. The emphasis will be on your experience and convenience, and not on budget.
One premium option in taking your family to the cruise line or airport is to use Brilliant Transportation's luxury vans. Our Mercedes Benz Sprinter vans are custom converted luxury vehicles with interiors and passenger features that would rival any first class private jet. Even if your trip is just a short, 30 minute transfer, you can experience a world of luxury and calm for that short duration before embarking on your wider journey.
At Brilliant Transportation, we understand that due to our exclusive market positioning that we will not necessarily be the best choice for every traveler, and there are many other good transportation alternatives. Some limo companies we have worked with and can recommend are Executive Town Car & Limousine, Bermuda Limousine and Partners Executive Transportation.
While you have many options, if you do need a limousine service that can provide you the ultimate in customer service and luxurious vehicles, you shouldn't hesitate to contact Brilliant Transportation and get a custom quote for your next trip at 1-800-543-1001.